Donald Glover, also known as the artist Childish Gambino, just announced a pop-up fundraising event for Democratic candidate Andrew Yang as a way to support his campaign.
The 36-year-old actor and musician made the announcement on his Instagram Story on Wednesday afternoon, according to Complex. The event, called "The 46 Campaign Donald Glover x Andrew Yang", will take place on Thursday, Dec. 19, at 507 N. Fairfax Ave., Los Angeles, California, at noon.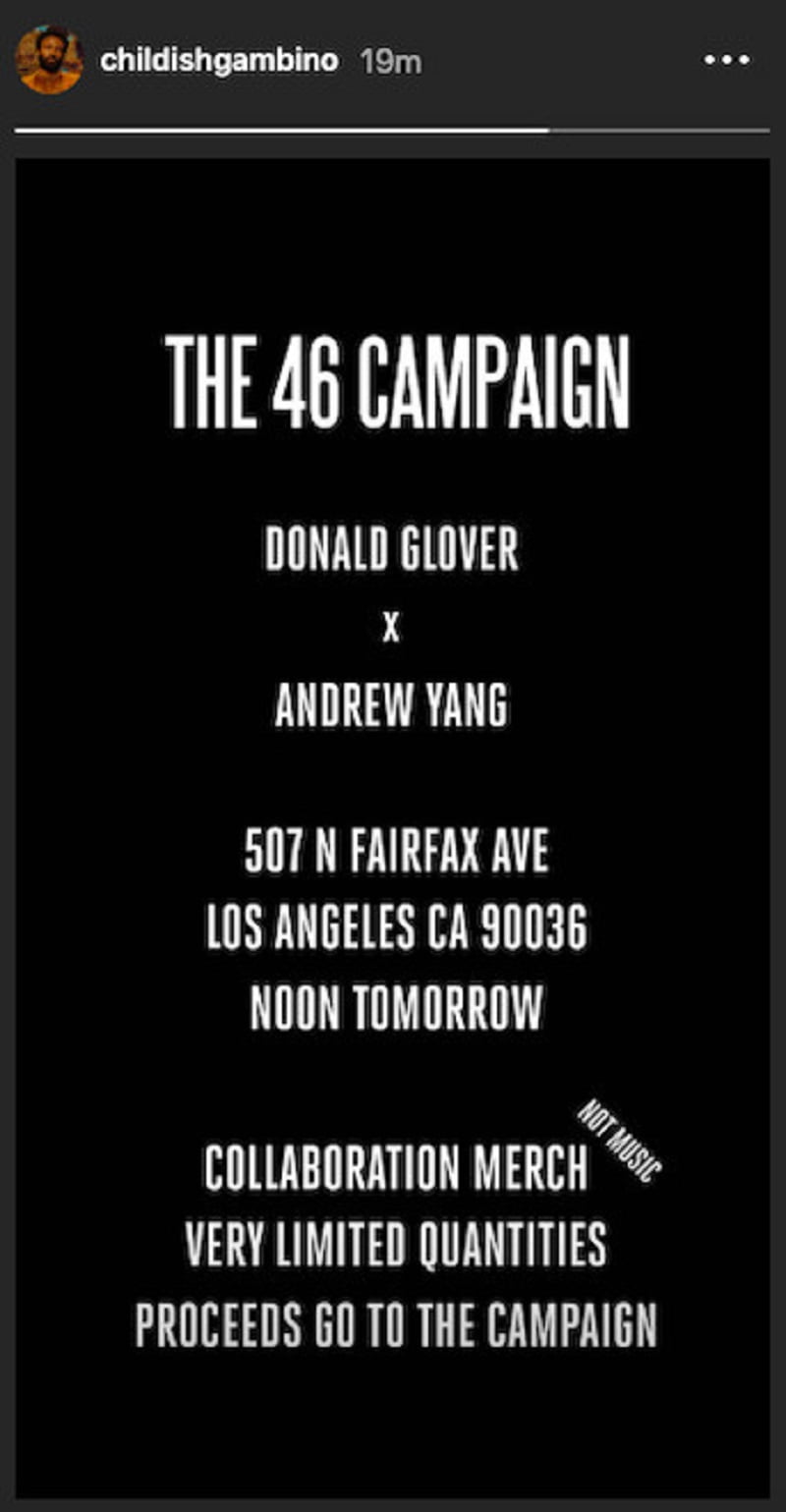 In his post, Glover explicitly states all the proceeds of the pop-up will go to Yang's campaign and there will be no music at the event. Fellow Democratic candidates Senator Bernie Sanders, former Vice President Joe Biden, Senator Elizabeth Warren, Senator Amy Klobuchar, Mayor Pete Buttigieg, and billionaire philanthropist Tom Steyer will also reportedly be in attendance.
The 44-year-old presidential candidate also shared the collaboration on his Twitter page where he thanked the artist for the fundraiser.
Thank you @donaldglover – you see and create the future. 🙏🚀

— Andrew Yang🧢 (@AndrewYang) December 18, 2019
Childish Gambino's manager, Fam Udeorji, confirmed the pop-up fundraising event on Twitter, stating both Yang and Glover will be in attendance, Pitchfork reported.
Yang is solid. Before media gasses shit up just now both will be in attendance and we're raising money for the campaign. Simple and easy, show up and support or don't. https://t.co/3NiE7fe26j

— Fam (@famlikefamily) December 18, 2019
After his event with Glover, Yang will then take the stage at Loyola Marymount University in LA for the last Democratic presidential primary debate of 2019.
Feature Image via Getty