A 30-second commercial by Domino's Pizza in the U.K. has sparked outrage for its explicit dismissal of Chinese food in a fictional context.
The ad, which was first posted on Dec. 23, has since been slammed as "racist" by critics on social media, with one activist recently taking it to the U.K.'s Advertising Standards Authority (ASA).
The commercial skit shows "Claire" and her flatmates — all women of color — deciding where to order food for dinner.
"Anything but Chinese," one of them says.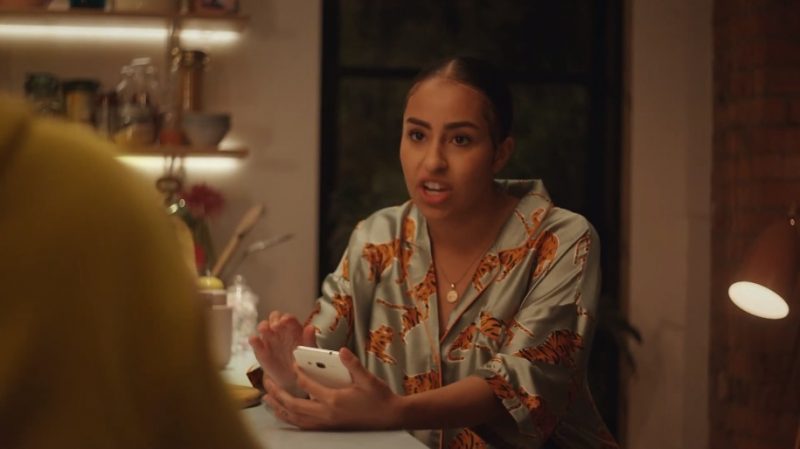 The ad proceeds to reference a fake competitor called "Madagascan Halloumi Pop-Up," which supposedly runs so slowly that customers are ultimately forced to pick up their orders themselves.
The skit reaches its climax when a future version of Claire arrives covered in cement and, finally, urges the group to order Domino's.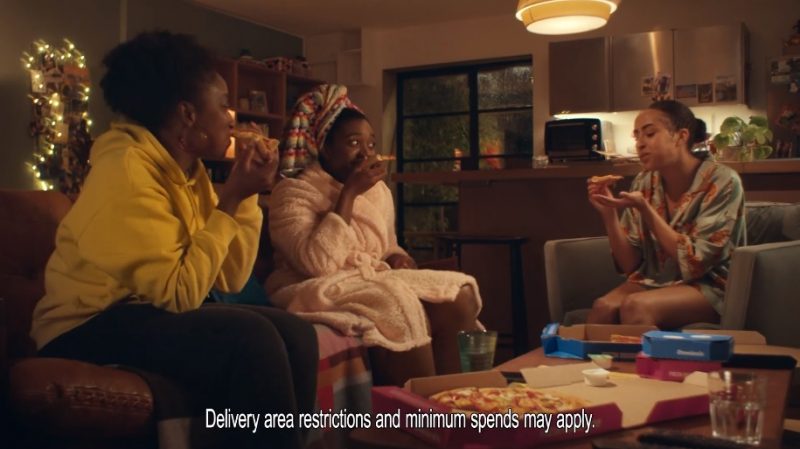 "We can't wait to bring 'We got this' to the masses, we've listened intently to our customers and know that reliability is one of the things they love about us, so in a year like no other, it feels apt to bring this truth to life across all our customer touchpoints," Rebecca Rose, head of marketing at Domino's UK & ROI, said of their new campaign.
"Claire's story is one we can all relate to and a solid reminder that when you want something done properly, call on Domino's because 'We got this.'"
View this post on Instagram
For weeks, the ad appeared to have no issues, until TikTok user Viv Yau posted a video about it and took it to Instagram on Monday.
"WTF Domino's UK?! 'Anything but Chinese'? A corporate to perpetuate and imply that we should avoid Chinese (and thereby ESEA businesses) given the current climate where independent ESEA businesses have never been so affected by COVID-fuelled racism is IRRESPONSIBLE and RACIST," Yau wrote.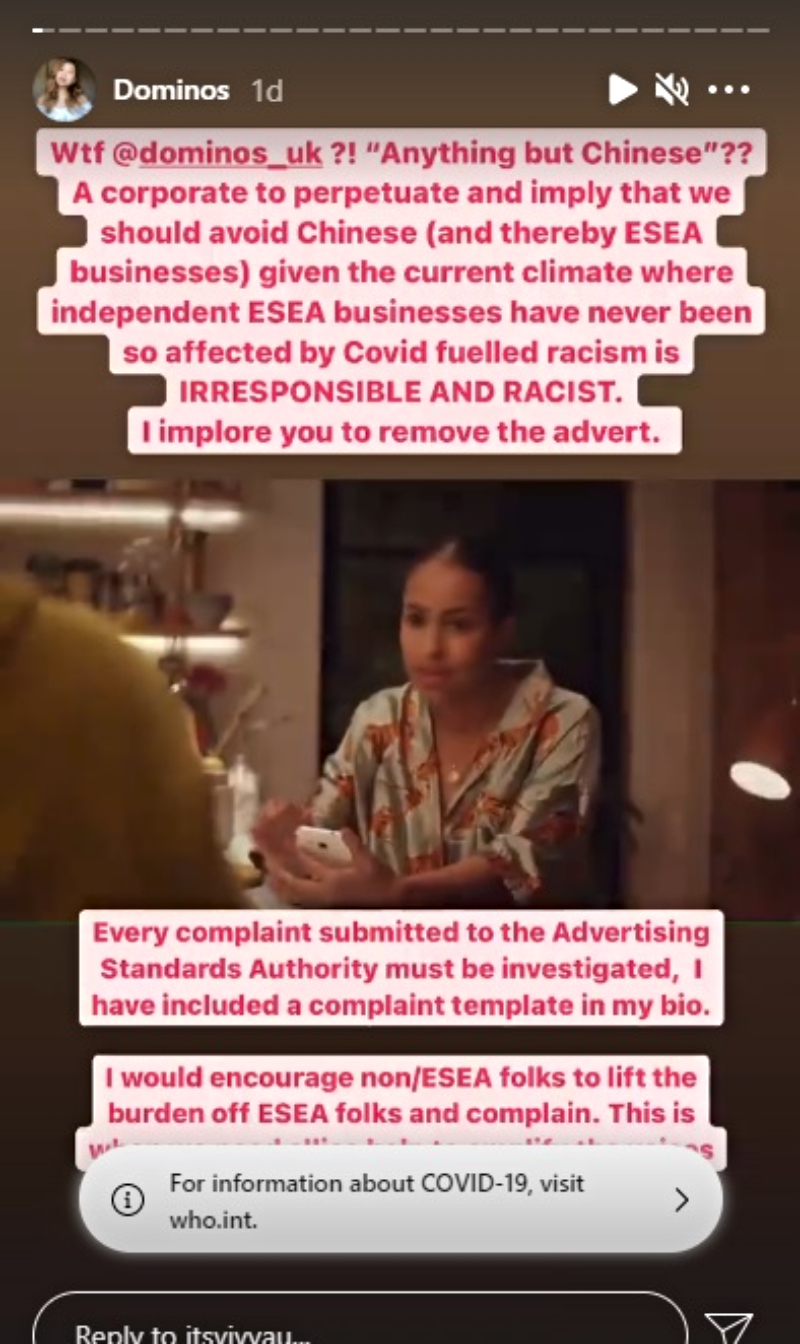 Yau, who is British Chinese, advocates for East and South East Asians (ESEA) in the U.K. and Britain's East and South East Asian Network (besea.n) — a grassroots organization with five other ESEA women. She reported the ad to the ASA, the country's independent regulator of advertising across all media.
"I would encourage non-ESEA folks to lift the burden off ESEA folks and complain. This is when we need allies' help to amplify the voices of those affected," Yau added.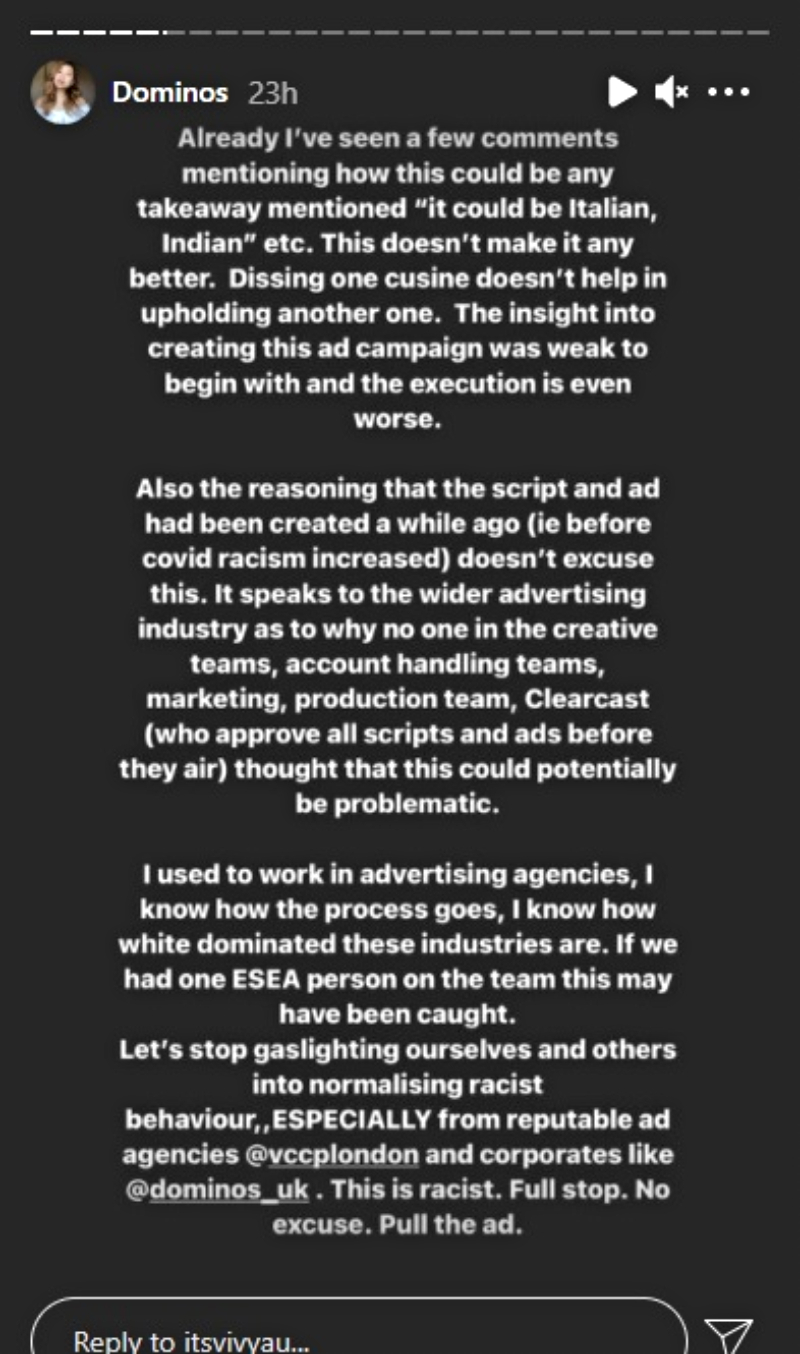 The activist revealed in follow-up Stories that she had worked in advertising agencies herself. She claimed such industries are white-dominated.
"I used to work in advertising agencies. I know how the process goes. I know how white-dominated these industries are," Yau noted. "If we had one ESEA person on the team, this may have been caught."
Other Instagram users have echoed Yau's sentiments. "Domino's UK, what were you thinking? This is racist and disgusting. Please take it down," one demanded.
Yau shared a complaint template for anyone else who wishes to report the Domino's ad to ASA. Complaints can be sent here.
Feature Image Screenshots via Domino's Pizza UK & ROI