Disney is warning users of "outdated cultural depictions" in some of its older movies available on Disney Plus this week.
The streaming service, which launched to more than 10 million sign-ups on Tuesday, currently boasts a library of about 500 films and 7,500 episodes of TV, according to Variety.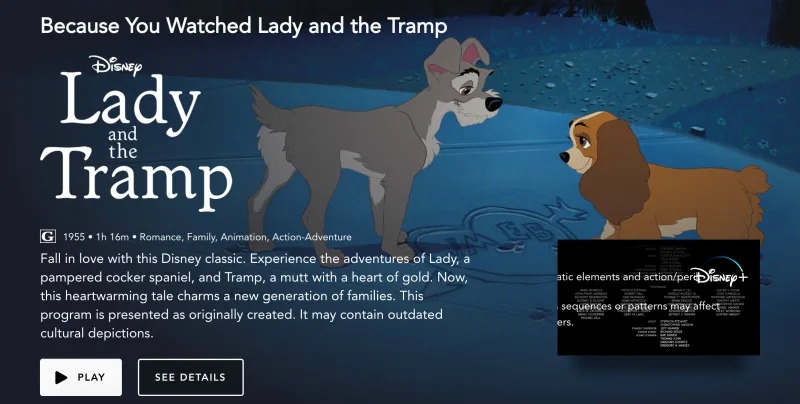 For $6.99 a month (after a seven-day trial), users can stream content from Disney, Pixar, Marvel, Star Wars, National Geographic and 20th Century Fox.
The service also includes original programming exclusive to Disney Plus.
Don't get left behind. Start streaming all your favorites now, only on #DisneyPlus. pic.twitter.com/w0K8NoYwSO

— Disney+ (@disneyplus) November 12, 2019
Films that come with the disclaimer include "Dumbo," "Peter Pan," "Lady and the Tramp," "Jungle Book" and "The Aristocats."
Released in 1955, "Lady and the Tramp" has been slammed as one of the most racist movies Disney has ever made, primarily due to a pair of Siamese cats that starred in a stereotype-rich song believed to depict Asians as duplicitous, exotic and vicious.
"The Aristocats," which came out in 1970, has also been criticized for a Siamese cat that plays the piano and sings about fortune cookies in a mock Asian accent.
Both "Dumbo" (1941) and "The Jungle Book" (1967) have drawn flak for depicting African American stereotypes, while "Peter Pan" (1953) has been accused of appropriating Native American culture.
"This program is presented as originally created," Disney says. "It may contain outdated cultural depictions."
Some Twitter users compared the network's disclaimer with that of Warner Bros.' which supposedly uses "a stronger wording":
"The cartoons you are about to see are products of their time. They may depict some of the ethnic and racial prejudices that were commonplace in American society.
"These depictions were wrong then and are wrong today. While these cartoons do not represent today's society, they are being presented as they were originally created, because to do otherwise would that [sic] same as claiming these prejudices never existed."
Checking everything out and wanted to point out that movies like Dumbo, The Aristocats, Jungle Book, and Lady and the Tramp have a disclaimer about outdated cultural depictions. This is good. #DisneyPlus pic.twitter.com/tpFoPAEpOl

— Evan (@324_B21) November 12, 2019
No plug forthcoming. Let's be clear, Disney did harm. A lot. The only question is how to best address this. If the consensus from those directly harmed is that we need stronger wording you will receive no argument from me. Many have referenced the WB. Here is that wording. pic.twitter.com/X9aGjXv97o

— Evan (@324_B21) November 12, 2019
The live-action "Lady and the Tramp," which also premiered on Tuesday, eliminated the problematic Siamese cat sequence with a jazzy performance from a pair of obnoxious Devon Rex felines.
Instead of wreaking havoc at the Dears' home like the original Siamese duo, the new pair is reimagined as would-be interior decorators.
"This movie obviously did a big re-work on that, and I think it's an improvement," Justin Theroux, who plays the Tramp, told Yahoo Entertainment. "These are movies that are meant to be watched and enjoyed, and it's nice to see them updated in several ways."
Feature Image Screenshots via Disney (Left) and Disney Plus (Right)