A Chinese woman reportedly infected with the deadly coronavirus bragged online about how she was able to hide her infection, successfully traveling by plane from Wuhan to France.
Social media users are livid over the woman's images that showed her meeting her friends upon arrival, reports Express. Many were angry that she made light of a virus that has so far killed 17 people and infected 440 others, according to Chinese authorities.
"This kind of person is the most shameless," one Weibo user wrote.
"She is now a time bomb," another commented. 
The unnamed woman who took antipyretics to disguise her flu-like symptoms wrote about her "escape" from Wuhan, the city where the coronavirus outbreak emerged. Antipyretics such as aspirin or cold medicine masks fevers as it lowers the body's temperature.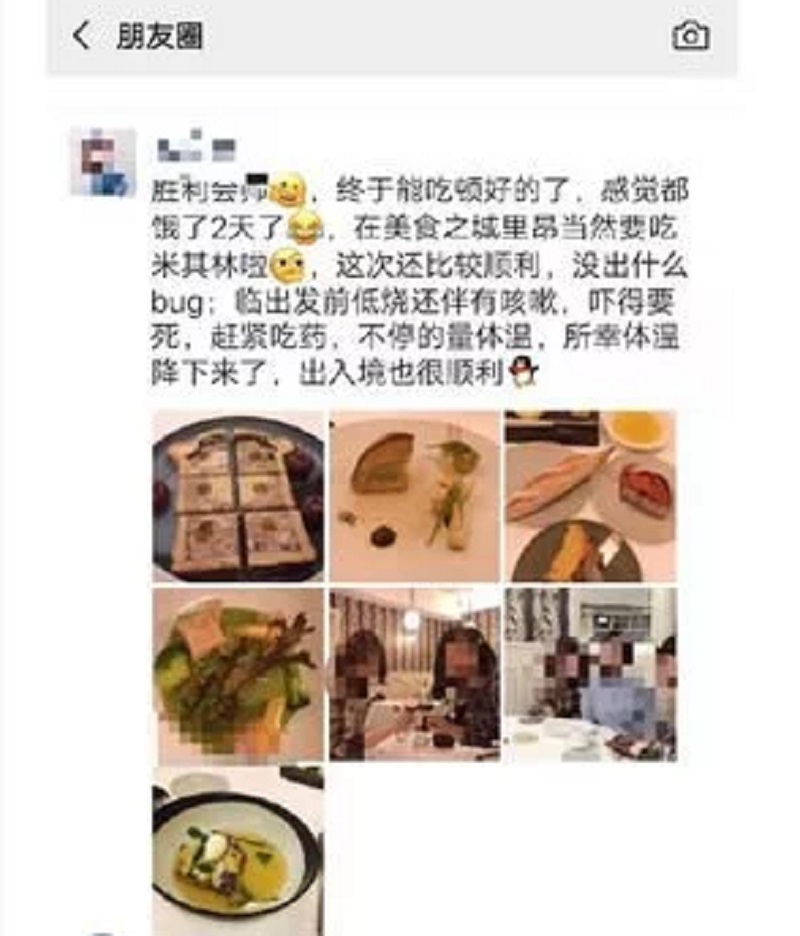 In her caption, she boasted about enjoying food in a French city: "Finally, I can have a good meal, it feels like I have been starving for two days. In a city of global delicacies, of course we have to eat food with Michelin Stars. This was also more successful, with no bugs. Just before I left, I had a low fever and was coughing quite heavily, I ate lots of medicine, which lowered my fever. finally, my fever went down, and I was able to exit."
The woman also wrote a post that if she could be diagnosed as a "super-infected person."
The Chinese embassy in France released a statement on Wednesday telling citizens in China to adhere to border checks.
"Our embassy has received multiple phone calls and emails from Chinese nationals regarding a woman from Wuhan who posted on social media about deliberately taking fever medication in order to evade the airport temperature checks," it said, according to the Guardian.
"We attach high importance to this incident and were able to contact Ms Yan, who is involved in this incident. We have requested that she call the French emergency hotline [for her case] to be handled by the relevant departments."
The embassy has reportedly contacted the woman and urged her to turn herself into French emergency services. It remains unclear when she arrived or what airport she traveled through.
Since the virus first appeared in Wuhan at the end of December, 26 cases have been reported in Guangdong and 14 cases were discovered in Shenzhen.
In a bid to control the outbreak, Chinese authorities have set up infrared temperature screenings in airports, train stations, coach stations and more. Although, this effort to contain the virus does not appear to be foolproof as demonstrated by this story.
The virus has since been reported in other countries, including the United States, Japan, South Korea, Thailand, Taiwan and Macau.
Feature Image via Weibo