A resident of France was left in shock after a message from an Uber driver saying they wouldn't take Asians as customers because of the coronavirus (COVID-19) was shared online.
The Instagram post, which has since been deleted, reportedly shows notification from an Uber driver, which read in French: "Hello as a safety measure children are prohibited from car seats due to the coronavirus Asian customers cannot be taken care of."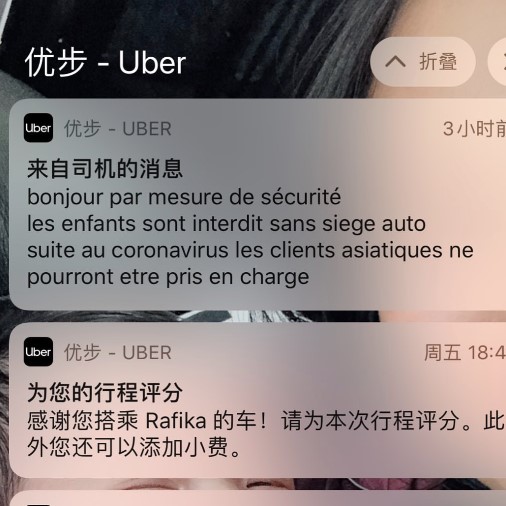 An anonymous source told NextShark via Instagram that the message wasn't sent by the Uber app.
"Only the drivers who send it to warn us that if we're ever Asian, they refuse us," the source said.
According to Uber's Safety and Security page, the company is working closely with public health authorities to keep riders and drivers up to date on how to protect themselves.
"Late last week we began rolling out a global in-app message for drivers and deliverers that summarizes official health advice and links to more detailed guidance from local authorities," a company spokesperson told NextShark.
They further insisted that Uber does not discriminate.
"We've reminded drivers that if they feel unwell they should stay home, and if they feel unsafe with a passenger they may decline a trip without penalty—but that they may not discriminate against anyone based on their race or national origin," the spokesperson added.
The message follows a number of drivers from ride-sharing apps, such as Uber and Lyft, reportedly using the COVID-19 as an excuse to refuse Asian passengers over the past month.
In a closed Facebook group consisting of 12,000 Lyft and Uber drivers, one member revealed that drivers constantly write posts about not wanting to pick up riders of Asian descent because of safety concerns.