A Malaysian student was evicted from her rental house in Perth, Western Australia (WA) because her landlord believes she had picked up the 2019 novel coronavirus (2019-nCoV or COVID-19) when she returned home for the Chinese New Year.
The student of Chinese descent, identified only as "Helen," traveled to Malaysia on Jan. 24 to celebrate the Lunar New Year with family and friends.
She flew back to Perth on the morning of Feb. 4, but only to find out that she no longer has a place to stay.
A sign on her door greeted her in capital letters, saying, "WARNING: NO TRESPASSING — HOUSE IN LOCKDOWN DUE TO CORONAVIRUS."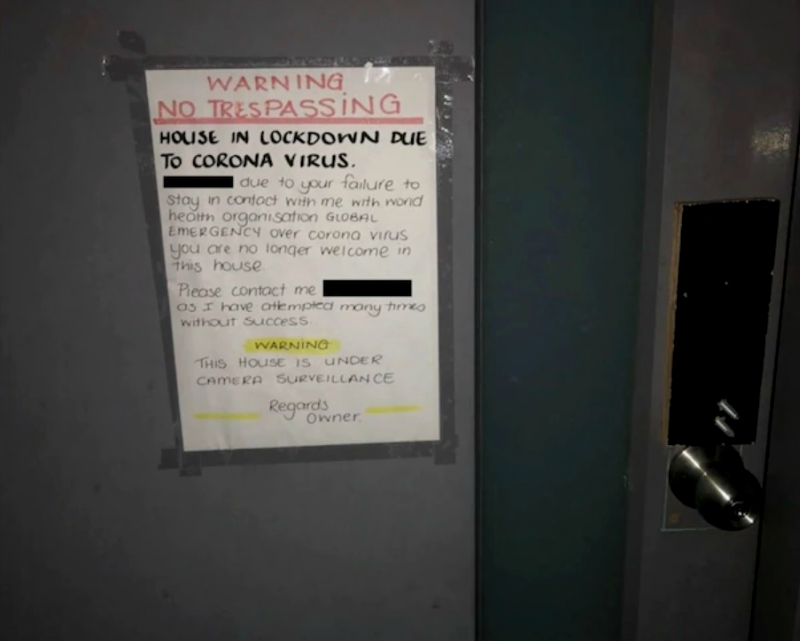 "Due to your failure to stay in contact with me with World Health Organisation GLOBAL EMERGENCY over coronavirus you are no longer welcome in this house," the sign continued.
The owner, who claimed to have contacted Helen "many times without success," ended the note warning that the house is under surveillance.
Helen claimed that she did not receive any text message from her landlord while she was in Malaysia. Instead, she started receiving them after landing in Australia.
"I was so confused and upset," Helen told ABC Perth. "I feel so sad."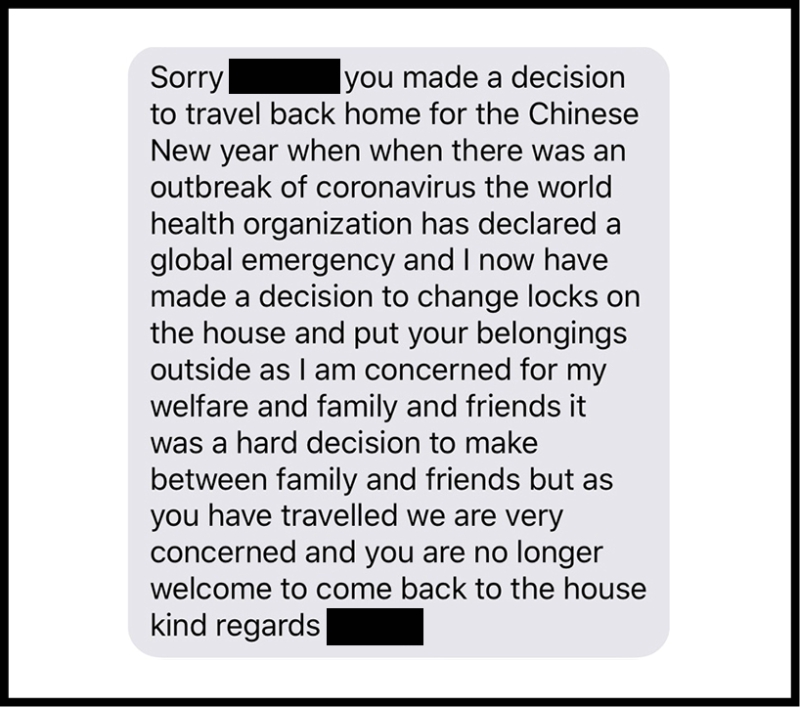 Helen said that she went to the police for help, but they failed to take any action as she had no formal agreement with her landlord.
"I understand what they are worried about now," Helen told ABC Perth. "But it doesn't mean everyone from Asian countries have the virus. I want to educate people that you can't [just] do this."
As of 6 a.m. on Feb. 13, Australia has confirmed 15 cases of COVID-19. The country also extended its travel ban on people who have traveled through mainland China for another week, according to news.com.au.
Helen's story has since reached WA Premier Mark McGowan, who slammed the incident as "disgraceful" and "un-Australian." There are no cases of infection in the state.
"Using the coronavirus outbreak as an excuse for racist behaviour is disgraceful and un-Australian. This is not the Western Australian way. There are still no confirmed cases in WA, but we are hearing far too many stories about people facing hate and discrimination just for their heritage," McGowan wrote on Facebook.
"Now is the time for us to rally behind the communities that are feeling the effects of this outbreak and extend a helping hand."