A video of an elderly couple saying goodbye to each other as they allegedly suffer from the 2019 novel coronavirus (2019-nCoV) has crushed hearts on the internet.
The video, which first emerged on Douyin (China's TikTok), shows the couple holding each other's hands while hooked on contraptions in their hospital beds.
The couple can be seen locking their eyes on each other as the wife struggles to breathe.
"What does a couple mean? Two elderly patients of coronavirus in their 80s said goodbye in ICU," claims Jiang Wei, spokesperson of the Chinese Embassy in Panama, who reposted the video on Twitter. "This could be the last time [for them] to meet and greet [sic]."
What does a couple mean? Two elderly patients of #coronavirus in their 80s said goodbye in ICU, this could be the last time to meet and greet pic.twitter.com/GBBC2etvV9

— 姜伟 Jiang Wei (@juliojiangwei) February 2, 2020
The scene took place at an intensive care unit in Xindu No.3 People's Hospital in Chengdu, Sichuan province on Jan. 30, according to Red Star Video.
"In this life, maybe I'll never see her again," the husband, identified as Zhang, told his children. "I want to see her."
Zhang, 85, was reportedly admitted to the hospital on Jan. 16 due to coronary heart disease, chronic pulmonary obstructive disease (COPD) and lung cancer with bone metastasis.
His wife, Wen, who originally suffered from Alzheimer's Disease, was reportedly admitted the following day after struggling to breathe and suddenly fainting.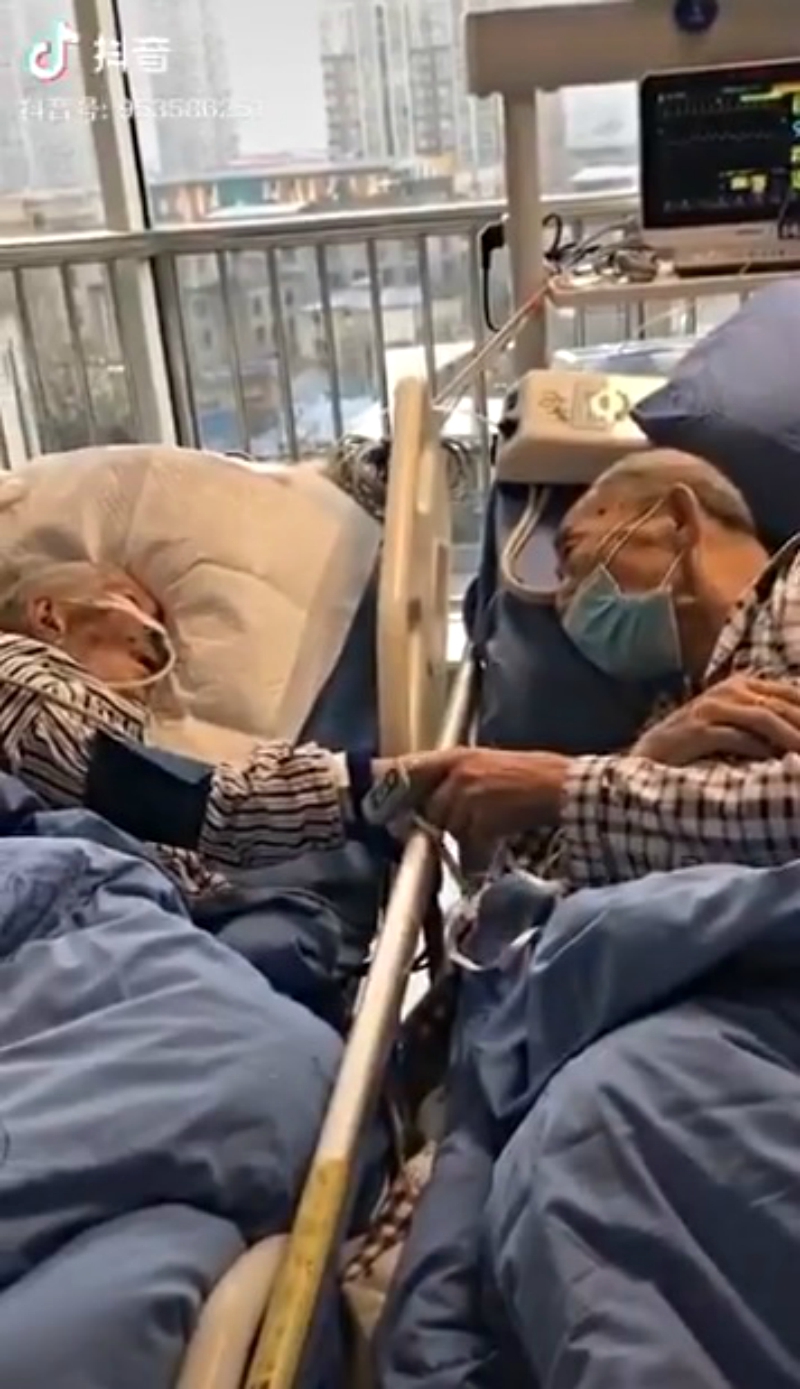 Despite efforts to resuscitate her, Wen remained unconscious. This prompted Zhang to request seeing her.
"Knowing the status of the patients, we realized this may be the last chance for them to meet," their doctors said, according to the Beijing-Tianjin Network. "We wanted to do our best to realize the grandfather's [Zhang's] wishes."
Due to their conditions, Zhang was only able to hold Wen's hand for a few minutes. However, Wen, who was still barely responsive, grabbed Zhang's bed pole as they were about to be separated, according to Sina News.
Wen eventually passed away the following day, Jan. 31. Zhang remains in the hospital for treatment.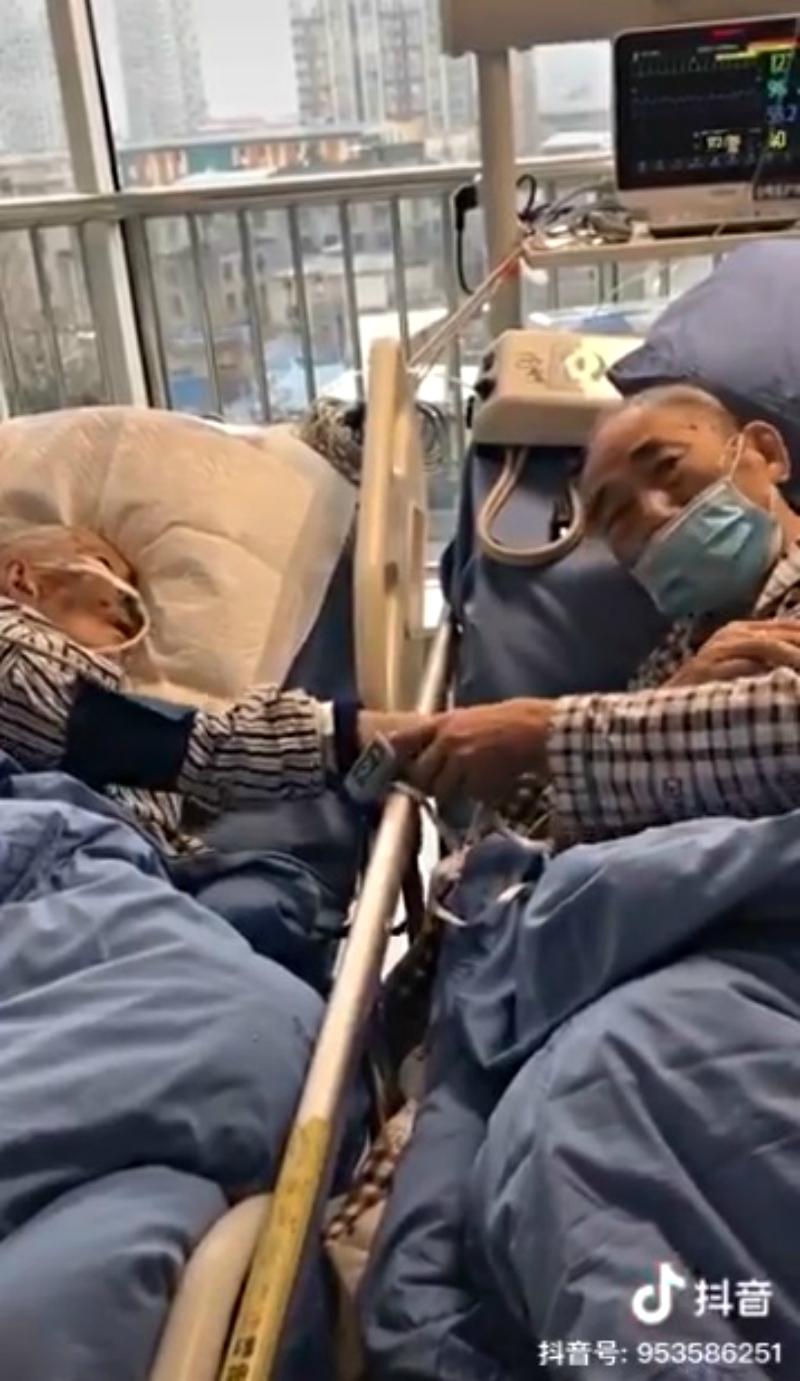 Whether the couple truly suffered from coronavirus — as the reposted video on Twitter claims — is unclear.
Nevertheless, people offered sympathies in their heartbreaking moment:
So much love for his wife.

— Northern soul (@Northernsoul22) February 2, 2020
That's true love… till death do us part.

— Scott Rein (@scott_rein) February 3, 2020
This is the truth of this and other illness. This is sadness, love , and humanity. I pray China and the world to battle this quickly and compassionately, and with strength.

— AureliusNow (@NowAurelius) February 3, 2020
Heartbreaking! She is in angonal breathing and he is coming to terms she isn't likely going to survive. No matter what language is spoken the tone and the expressions are the same when one questioning and perhaps coming to realize their love may not live.

— mistress.rose.67 (@67Mistress) February 2, 2020
My heart. So sad

— Yuliet Magri (@yulietmagri) February 2, 2020
Any which way you look at this, it's heartbreaking to see.

— BeeDee (@zoeybird9) February 2, 2020
So heart warming yet so heartbreaking

— (@deyna_renae) February 2, 2020
This is heart breaking. But one thing they can b satisfied of is that they at least got a chance to say one last goodbye. Many in the world don't get a chance to say goodbye to their loved ones. Please pray for China & elders who r diagnosed by this virus they are most vulnerable

— #Luv ™ #INC (@Luv_Datta) February 5, 2020
Watching her labored breathing and seeing the love they have for each other is heartbreaking. Praying they will meet again. May God help us all.

— alliann (@alliann) February 3, 2020
That is hard to watch them say goodbye forever

— Mary Joe (@marysynthia) February 2, 2020
Feature Image Screenshots via @juliojiangwei