After the passing of many of her colleagues from coronavirus (COVID-19), a doctor in Wuhan is now openly criticizing Chinese health authorities for keeping the early warnings of the outbreak from the public.
Wuhan Central hospital emergency department head Ai Fen spoke out about state censors have reportedly been trying to scrub the internet. 
Speaking with Chinese magazine Renwu, Ai Fen revealed that she was reprimanded December for trying to alert her superiors of a "SARS-like virus" seen in patients.
The novel coronavirus has since killed over 3,000 people in China, including four of her colleagues at her hospital.
For those who're already applauding China's COVID-19 responses, CN is still heavily censoring info. A magazine's feature on a whistleblower is being taken down from the entire CN internet. Ppl have to turn article into EMOJI to avoid censorship. Chinese readers can u decode it? pic.twitter.com/4p4vgXJ3I5

— Tony Lin 林東尼 (@tony_zy) March 10, 2020
At the risk of losing her job and landing in jail, Ai has joined other critics in putting the Chinese government to task for its handling of the outbreak.
"If I had known what was to happen, I would not have cared about the reprimand. I would have fucking talked about it to whoever, where ever I could," she said in the interview released on Tuesday.
Immediately after Ai's interview was posted and shared online, it was removed from Chinese social media sites. Even the online magazine that hosted the interview has removed the article.
But as the censors worked to do the cleanup, some Chinese social media users were able to save the article, and now screenshots of the article are being shared in creative ways.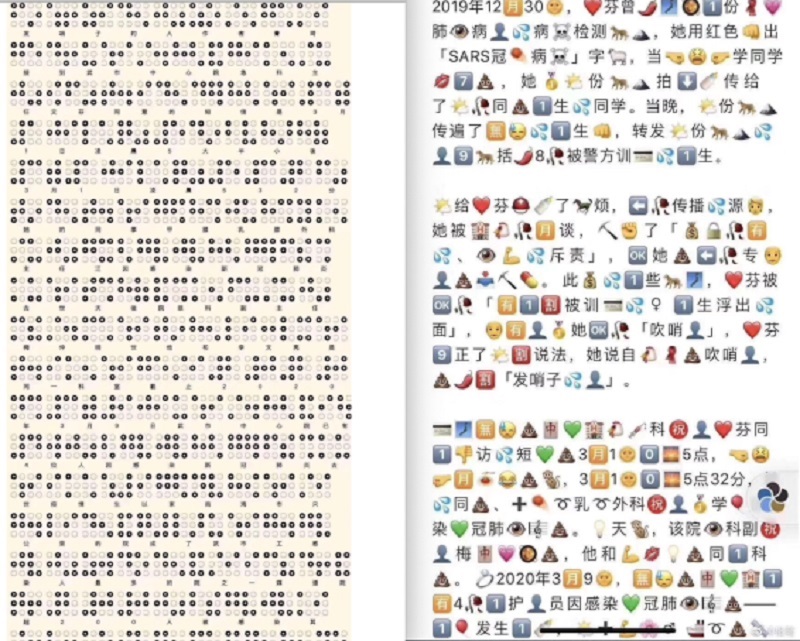 In their bid to evade censors, some users posted versions written in emojis and even Morse codes. There's also a version done in pinyin, the Romanization system for Mandarin.

Based on the article, Ai received the lab results of a case containing the word "SARS coronavirus" on December 30. She felt nervous after reviewing the report as she has previously seen several patients with flu-like symptoms and resistant to usual treatment methods.
She took a photo of the report with the word "SARS" circled and sent it to a doctor at another hospital in Wuhan. 
The rally to repost the censored Dr. Ai Fen's story is now a visual/performance art. The Braille version — or at least how it looks. pic.twitter.com/VWZkzZUiGJ

— FAN Wenxin (@xinwenfan) March 11, 2020
The image immediately spread within the medical community in Wuhan overnight. Among those who saw it was Li Wenliang, the doctor who eventually became a whistleblower when his warnings were later shared publicly on WeChat.
According to Ai, she received a message from her hospital that night warning her against sharing information about the disease to the public as it would cause panic. 
She was then summoned and reprimanded for "spreading rumors" and "harming stability" by the head of the hospital's disciplinary inspection committee two days later.
As even the hospital staff were prohibited from discussing anything related to the virus, Ai asked her staff to wear protective clothing and masks despite hospital authorities telling them not to. She also instructed staff in her department to wear protective jackets under their doctor coats.
"We watched more and more patients come in as the radius of the spread of infection became larger," she was quoted as saying.
They soon noticed the influx of patients without any connection to the seafood market, which was thought to be the source of the original cases.
While Ai already observed at the time that there must be human to human transmission, Chinese authorities maintain that there was no reason to believe the virus was being passed between people. 
It was not until January 21 when the Chinese officials finally confirmed that there was human to human transmission of the virus. The number of patients coming to the emergency room was already over 1,500 per day, which was three times the normal number of cases.
Ai said that over the last few months, she saw many of her colleagues fall sick and four die from the virus, including Li Wenliang.
Feature Image via the Hong Kong Free Press