A Chinese MMA fighter, who has made it his personal quest to humiliate traditional martial artists, sparked new discussions online after defeating a self-proclaimed Wing Chun master.  
Xu Xiaodong drew backlash last year for his brash comments after defeating a supposed Tai Chi master.
On Sunday, the 39-year-old trash-talking fighter was again victorious against martial artist Ding Hao, a Wing Chun practitioner touted as a descendant of legendary kung fu master Ip Man. 
He defeated Ding six times in a three-round live game on March 18 in Chengde, Hebei Province. The event was a part of a live-streaming combat show "City Fighting," which Xu produced himself.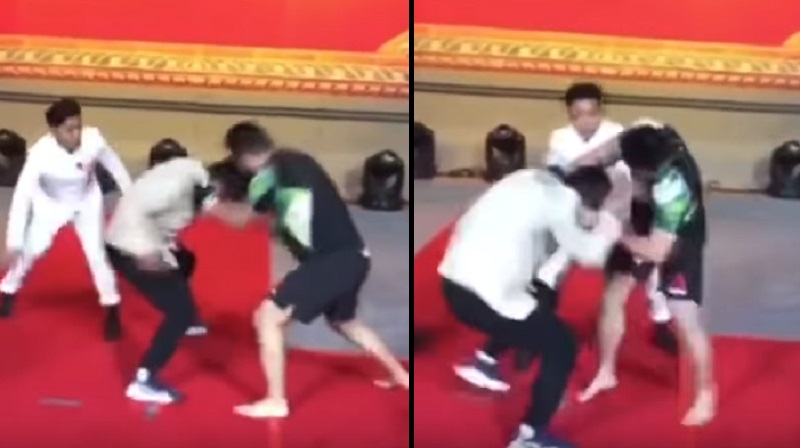 Xu has received criticisms after his controversial fight with the Tai Chi master last year, when he vowed to prove that traditional Chinese kung fu is a scam. The high-profile match sparked a heated debate online over whether or not the modern combat style is superior to the traditional martial arts.
His latest fight officially breaks a 10-month hiatus after he allegedly went into hiding due to the public backlash.
Aside from being a Wing Chun master with a legendary bloodline, not much is known about his 20-year-old opponent Ding. The fight between them was reportedly arranged after Ding taunted Xu last year.
In a short clip of their match, Ding can initially be seen attacking Xu. After defending, Xu retaliated immediately with a flurry of attacks that hit his opponent in the head, causing him to fall to the ground multiple times.
Ding was bleeding from the face, causing the referee to rule the fight as a tie. There was no question on everyone's minds, however, that Ding had been so easily beaten, causing many viewers to question his real identity and fighting credentials.
A Chinese sports columnist cited an insider that Ding could not credibly represent Wing Chun, as he is not even a member of the Chinese Wing Chun Association, reports MailOnline. 
Chinese netizens weighing on the issue also questioned Ding's fighting style.
"The way he throws his punches does not look like Wing Chun at all," a netizen was quoted as saying.
"Ding Hao's reaction is too slow for a Wing Chun master," another web user agreed.  
Feature Image via YouTube/Linus Ji