A Harvard graduate reportedly lost her job after saying she would "stab" anyone who told her "All Lives Matter" in a TikTok video. 
Harvard senior Claira Janover threatens to stab anyone who says "all lives matter."

Will liberal colleges and universities ever teach students that speech ≠ violence?

— Paul A. Szypula (@Bubblebathgirl) June 30, 2020
Perceived threats: Claira Janover, a recent graduate from Harvard with a degree in government and psychology, went viral over a video in which she condemned people with "the nerve, the sheer entitled Caucasity to say 'All Lives Matter.'"
"I'ma stab you," Janover said. "I'ma stab you, and while you're struggling and bleeding out, I'ma show you my paper cut and say, 'My cut matters, too.'"

Multiple news outlets covered Janover's video, making her an overnight sensation.

Conservative pundit Ann Coulter has called Janover an "Asian Karen," while social media users went as far as calling for her arrest.

"Does this not count as violent speech? I guess it only counts when it fits the narrative," a Twitter user wrote.

"This woman is threatening people, who knows what she is capable of," another user wrote.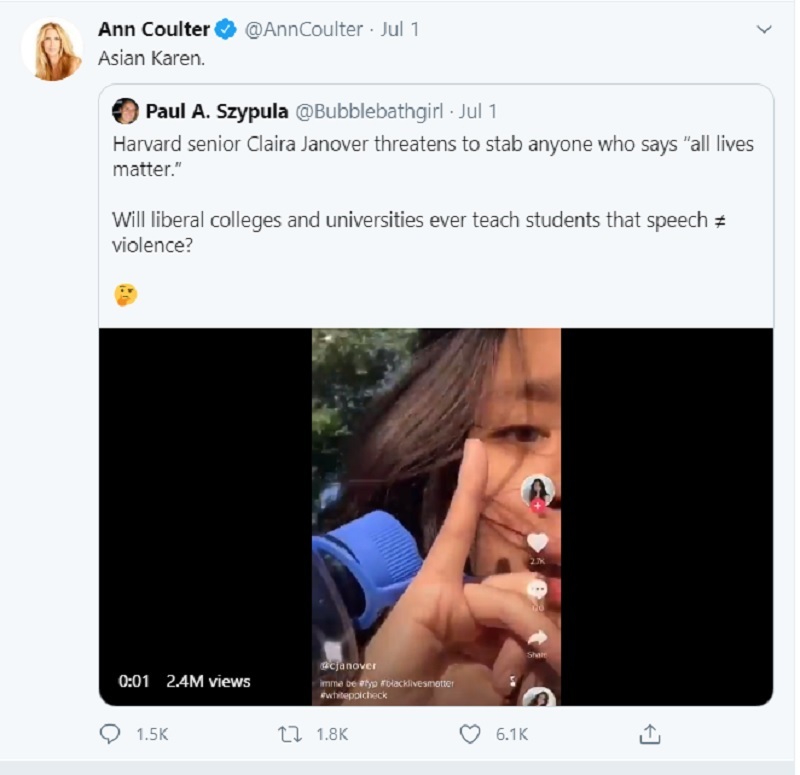 The consequences: In a follow-up video, Janover lamented that her viral video may have cost her job as an "incoming government and public business service analyst" at UK-based accounting firm Deloitte.
On Wednesday, she posted a video in tears, "Standing up for Black Lives Matter put me in a place online to be seen by millions of people. The job that I'd worked really hard to get and meant a lot to me has called me and fired me because of everything."

According to Janover, she was fired "even though they claim to stand against systematic bias, racism and unequal treatment."

Responding to criticisms, Janover explained that her message was not a serious threat but more of an analogy.

She revealed that she has since received a barrage of threats against her life and safety online.
It's funny how she thinks Trump supporters did this to her as if they called up Deloitte and told them to fire her. You did this to yourself, sweetheart. You want be a strong woman and all that, take responsibility for your words. pic.twitter.com/5TvsGGOgKF

— Jon Miller (@MillerStream) July 2, 2020
In other videos, she blamed supporters of Donald Trump for getting her fired from her job.

"Trump supporters took my job away from me," she said. "I have gotten death threats, rape threats, violent threats. It was OK, but now my future's entirely compromised because Trump supporters have decided to come for my life."

Despite the criticisms and alleged threats, Janover remained defiant with her views.

"I'm too strong for you. I'm too strong for any of you 'All Lives Matter,' racist Trump supporters. It sucks. But it doesn't suck as much as systemic racism. And I'm not going to stop using my platform to advocate for it."

She also then criticized Deloitte for failing to see her point.

"I'm sorry, Deloitte, that you can't see that," she said. "That you were cowardice [sic] enough to fight somebody who's going to make an indelible change in the world and is going to have an impact."
Iowa Law School professor Andy Grewal opined that while he was not a "fan" of Janover's initial video, he said getting fired over it is "too much."
Responding to Grewal, Case Western Reserve University School of Law professor Jonathan Adler wrote: "Seems a bit much, but her reaction suggests Deloitte probably made the right call."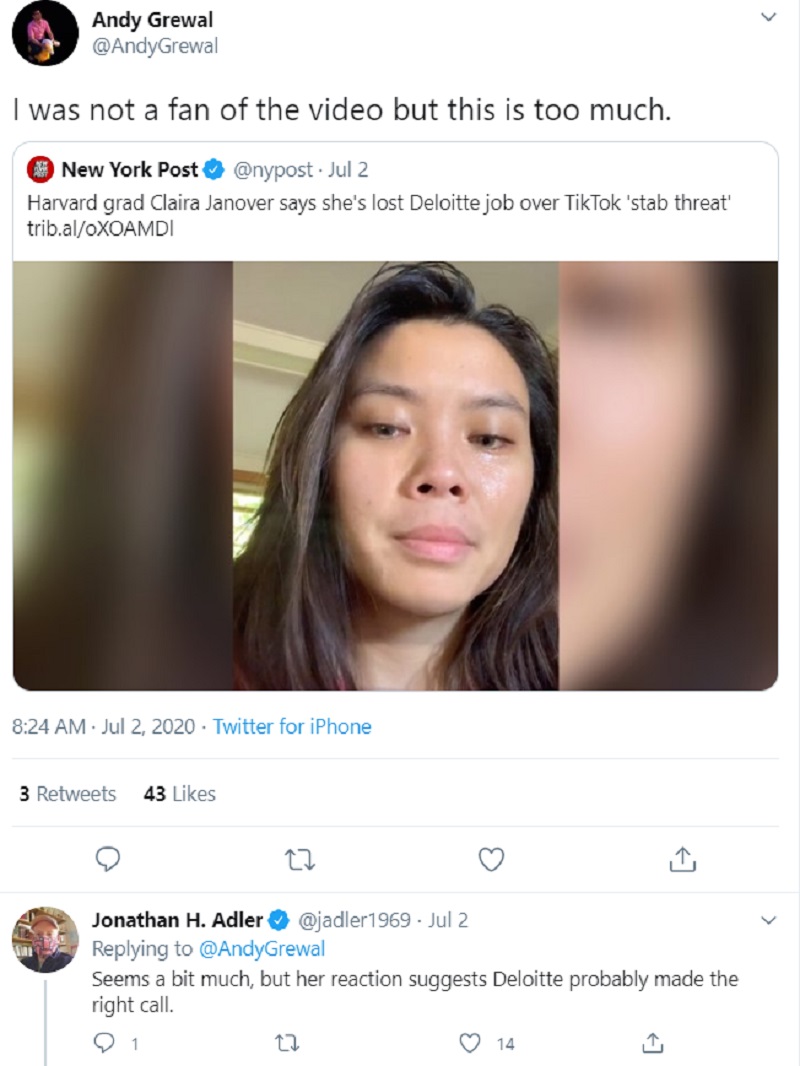 Feature Image via Claira Janover