Chuu has given her first public statement following her removal from LOONA last week by label BlockBerry Creative.
On Monday evening, Chuu posted her response to her removal in a story on her personal Instagram account. 
"Hello, this is Chuu. Thank you for your worries and words of comfort," she wrote.
"Although I am attempting to figure out the situation while being uninformed of the current events, I can assure fans that I have never done anything I would be ashamed of.
"I am clarifying this statement in order to move forward. Thank you so much for your worries and trust in me," the statement concluded.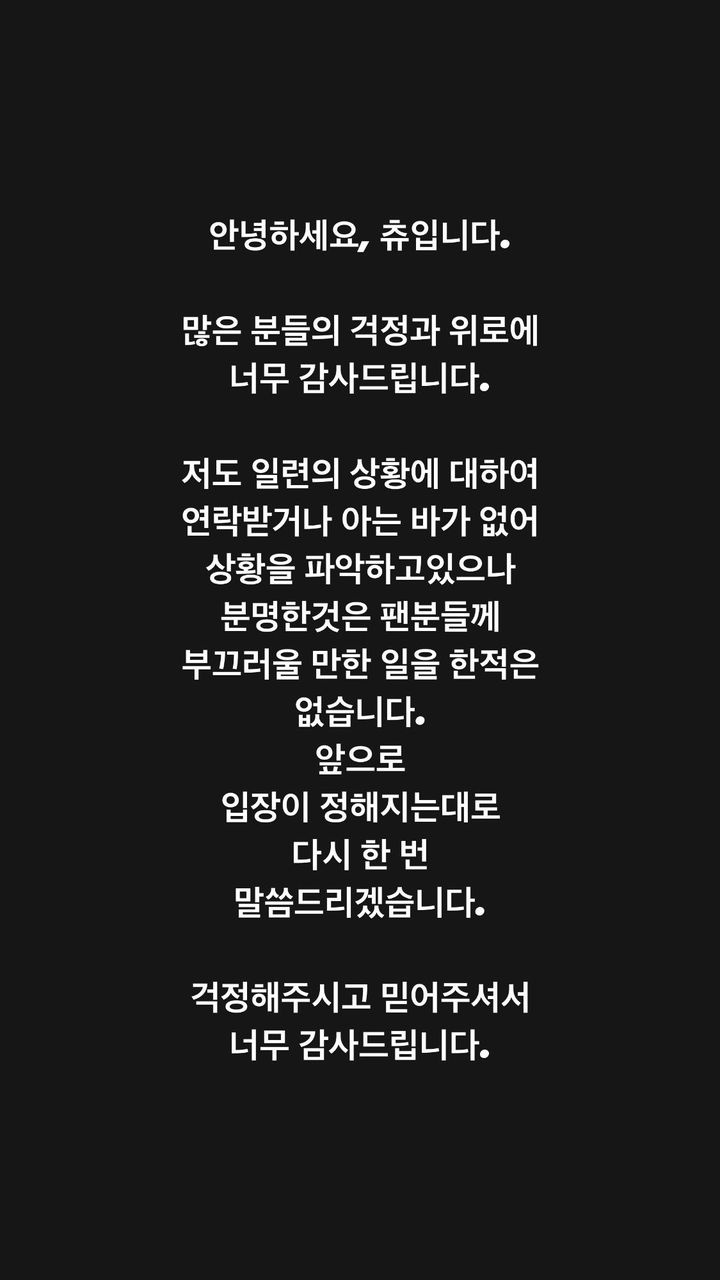 BlockBerry Creative fired Chuu last week, alleging her "violent language and misuse of power toward our staff" as the main reasons for her termination. The label's decision was met with outrage and skepticism from LOONA fans, who demanded Blockberry Creative provide evidence of their claims. Since then, the label has responded: "It is the rights of Chuu herself and the staff who was harmed to provide the truth or evidence of this."

In the aftermath of Chuu's expulsion, several LOONA members, including Hyunjin, Heejin and Gowon, have all shown support for their former groupmate. Many industry professionals and other idols have jumped to Chuu's defense, praising her character and questioning BlockBerry Creative's allegations.

A report on Monday also claimed that nine of the remaining 11 LOONA members — HeeJin, HaSeul, YeoJin, Kim Lip, JinSoul, Choerry, Yves, Go Won and Olivia Hye — have all filed injunctions to terminate their contracts with the label. BlockBerry Creative has denied the report.

Back in December 2021, Chuu was embroiled in a lawsuit against Blockberry Creative to terminate her contract in March. The idol was absent from LOONA's world tour, which itself was the subject of accusations that BlockBerry was not prioritizing members' health. Chuu is reportedly now signed with BY4M Studio.

Chuu debuted as a founding member in LOONA in 2017. As with all the other members, she had her own pre-debut: a self-titled single album released in December 2017 with the tracks "Heart Attack" and "Girl's Talk." She then debuted with the group in 2018 with their album "[+ +]."


Feature Image via: loonatheworld