A note with
a disturbing plea for help from a labor prison in China was reportedly found by a woman from Arizona inside a purse she purchased from Walmart.
According to the Arizona Daily Star (via Huffington Post), Christel Wallace found the mysterious note inside a pouch of her new Walmart handbag back in March. 
Since the message on the piece of paper was written in Chinese, she asked her daughter-in-law to find a translator.
Only after the note was translated did she finally learn that the note purportedly came from a Chinese slave worker who was begging for help. Describing horrible conditions inside a labor prison in Guangxi, China, the individual in the unnamed letter said prisoners like him work for 14 hours per day without breaks.
The workers, the letter claimed, received very low wages and were beaten for unfinished work. Should the beating require them to have medical treatment, the expenses would be deducted from their already small pay.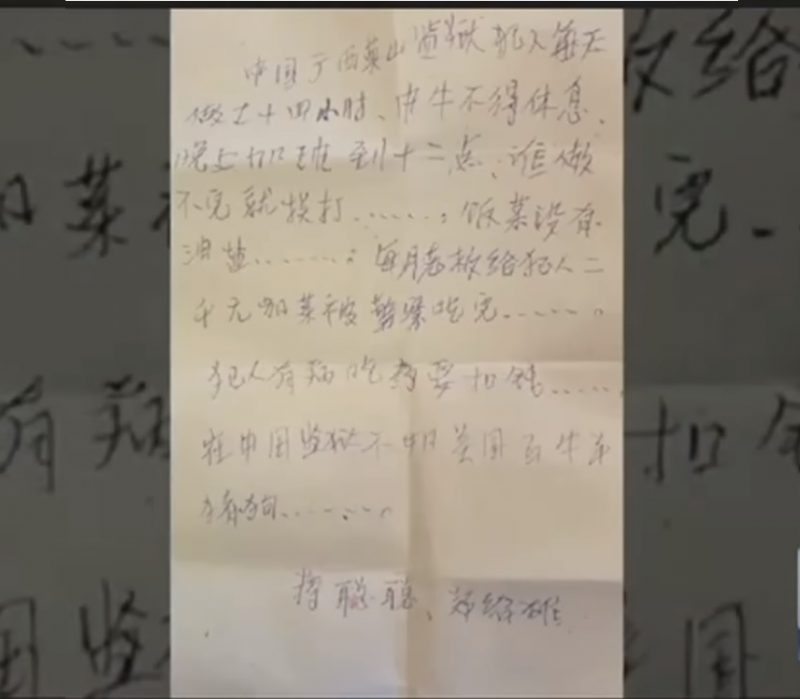 Here's the full contents of the note as translated by Huffpost:
Subscribe to
NextShark's Newsletter
A daily dose of Asian America's essential stories, in under 5 minutes.
Get our collection of Asian America's most essential stories to your inbox daily for free.
Unsure? Check out our Newsletter Archive.
"Inmates in the Yingshan Prison in Guangxi, China are working 14 hours daily with no break/rest at noon, continue working overtime until 12 midnight, and whoever doesn't finish his work will be beaten. Their meals are without oil and salt. Every month, the boss pays the inmate 2000 yuan [about $290], any additional dishes will be finished by the police. If the inmates are sick and need medicine, the cost will be deducted from the salary. Being a prisoner in China is even worse than being a horse, cow, sheep, pig or dog in the U.S."
"My heart went into my stomach,"
Wallace was quoted by the Daily Star as saying.
Also moved by the message was Laura Wallace, Christel's daughter-in-law, who decided to share the note's contents to the press so she can help.
"I don't have the means or the access to help in any way. So I think this was my way of putting in my two cents,"
she told KVOA.
"I don't want this to be an attack on any store … That's not the answer. This is happening at all kinds of places and people just probably don't know."
Walmart told Huffpost via email that Wallace should share the note so they can help
"verify the letter's authenticity."
"We care that our products are sourced responsibly and transparently, and we take allegations like this seriously,"
a representative wrote.
"With the limited information we now have, it is difficult to verify the letter's authenticity."
Authentic or not, the note describes something that has existed in China for decades. The "laogai" labor prison camps were used to supply cheap goods for export. Although formally abolished in 2013, Amnesty International reports that such labor camps have continued to operate in different forms.
Back in 2013, CNN reported on a man who claimed to have written 20 similar notes hidden in products he made when he was in a labor prison camp. A member of the Falun Gong religious group, he said he and other prison workers were beaten and tortured. He also said he waited for the other inmates to fall asleep so he can write the notes.
Here's the report from 2013: