In recent years,
it's no secret that the Chinese have firmly established their place as an international sporting powerhouse.
Since 2000, China hasn't finished worse than third in gold medal tally at the Olympic Games, including a brilliant first place showing at home in 2008.
But while the East Asian country has been raking in the hardware in traditionally "Chinese" sports, the pickings have been less than bountiful in other disciplines. Most glaringly is China's dearth of success in perhaps the Olympic's most famous sport, track and field, and in particular, its preeminent short sprint events. A Chinese athlete has never qualified for an Olympic 100-meter final, let alone medalled in it.
The First Glimpses
Prior to 2015, the elusive 10-second barrier in the 100 meters — long regarded as the hallmark of elite sprinting — had been broken by exactly
one man
of non-West African descent, Frenchman Christophe Lemaitre.
The young European had to wait four years until he was joined in the history books by China's
Su Bingtian
, who clocked 9.99 at a race in Eugene, Oregon on May 30, 2015.
"9.99 is like a landmark for China,"
Su was reported as saying by the
IAAF
.
"As a Chinese person, I feel so proud to make history like this. But I am not going to be complacent with this result, I still have a long way to go and need to keep working hard in the future."
The Chinese speedster
repeated the feat
with another 9.99 clocking in his 100-meter semi-final heat at the 2015 World Championships, which was held in the same Beijing stadium that hosted the 2008 Olympiad.
With that run seeing him through to the final, Su became the first Chinese athlete to qualify for the 100-meter final at a world championship event.
Racing alongside Usain Bolt and the world's best, Su put his best foot forward — quite literally. But the roar of the home crowd could not help overcome a lousy start, and Su came last in a time of 10.06.
After a quiet non-championship year in 2016, 2017 saw a repeat of Su's breakthrough year: he qualified for the 100-meter final at the World Championships in London, but an even lousier start saw him placing last again with a time of 10.27.
Despite the consistency of being among the world's nine fastest men for two consecutive championships, the lackluster results seemed to point to a disheartening conclusion: perhaps this was the limit of Chinese sprinting.
Perhaps the Chinese could, at the very best, tangle with the elite, but never actually challenge the hegemony of the powerful American and Jamaican sprinters. Perhaps Chinese fans should just be content with seeing red and gold in the finals at all.
Then came 2018.
Astonishing Breakthroughs
The 2018 season of Chinese sprinting in one word? Unprecedented.
It started with the Indoor World Championships in March, an event that contests the 60 meters instead of the 100 meters as its flagship short sprint race. In what proved to be the
fastest championship final of all time
, Su grabbed the silver medal with a blistering time of 6.42, tying him for
fifth-fastest of all time
. What's more, compatriot
Xie Zhenye
just missed the podium with a fourth-place finish.
Perhaps motivated by being a whisker away from an international medal, Xie then became the second Chinese man to eclipse 10 seconds in the 100 meters with a run of 9.97 on June 19, breaking Su's previous National Record of 9.99.
But it gets better. A mere three days later, Su snatched the record back with an unbelievable 9.91 clocking in Madrid, a time he then equaled on June 30 in Paris.
To any sensible track and field fan, the idea that a Chinese sprinter would be mixing it up with the world's best would have been resolutely absurd a year ago.
But with two 9.91s and an 
Asian Games-winning 9.92
 under his belt all in one extraordinary season, it's quite clear that Su's elite status is not just a flash in the pan. A Chinese man being one of the fastest men on the planet might still feel like a gimmick right now, but we promise you it won't once Tokyo rolls around.
Out of Nowhere
As with anything as unexpected and remarkable as this sudden surge in sprinting success, one can't help but wonder how it all came to be.
One easy explanation lies in China's rapid development as a whole. According to Xie, who is also a sports psychology student, the reasons for China's rise "are multi-faceted: the rapid development of China's society and construction of the sports system, a better training environment, and also the athletes are helping move each other forward." 
With a population of almost 1.4 billion, the diamonds in the rough are there, and an exploding middle class combined with better sports infrastructure have helped uncover them.
In tandem with more refined sports infrastructure is also the commitment to the more refined training itself. Due to a lack of expertise within the country, China recently
looked to American coaches
to get their athletes up to speed. This, alongside the friendly but competitive rivalry between Su and Xie, undoubtedly helped the Chinese reach new limits in recent years.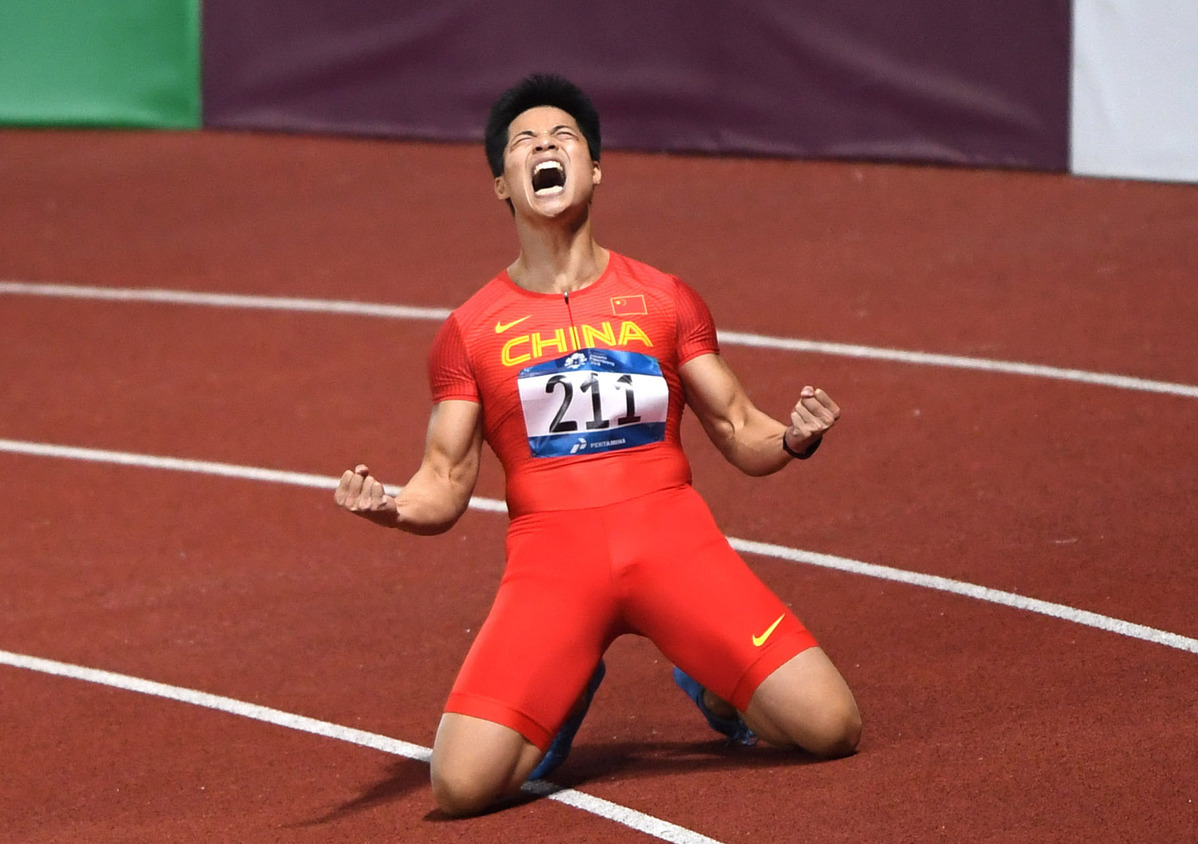 Looking to the Future
So exactly how far can Su and Xie as well as the younger generation of Chinese sprinters push the boundaries? Is an Olympic medal a possibility?
While we can only wait and see to answer the last question, one thing we do know for sure is that 9.91 is not the limit.
"I believe that I'm faster than 9.91 and I believe Asian athletes can reach 9.85,"
Su was quoted as saying by
China Daily
.
"I'm not saying that I will definitely be the first Asian man to break the 9.90 barrier - but I'm the one with the best chance to do it."
Randy Huntington, Su's coach, thinks he's selling himself short there. A decorated coach with over 40 years of experience and whose overseen the careers of eight Olympians, Huntington knows a little bit about track and field success.
"He is ready to run faster,"
 he said, speaking to the
South China Morning Post
. "
He still doesn't have his custom shoes from Nike, which they are currently making. I told him, 'you are taking a knife to a gunfight.'"
"There is a lot of upside to his ability. His potential is around 9.78. That would put him close to top five of all time."
He's not lying. With a 9.78, Su would stand firmly on the shoulders of giants; only Justin Gatlin, Asafa Powell, Yohan Blake, Tyson Gay and the man himself, Usain Bolt, have ever run faster than that. It is a truly phenomenal time. And with practically every single one of those names either retired or on the last legs of their illustrious careers, the field is wide open (for the record, nobody ran faster than 9.78 in 2018).
Paradigm shift
Whether or not Su will actually reach that type of speed, however, is irrelevant to the greater impact his legacy will have on inspiring China's next generation of sprinters.
Perhaps above and beyond almost any other sport, the looming presence of subconscious racial stereotyping lingers on in the world of track and field. It speaks to the exhaustive dominance of West African sprinters that the title of this article made you do a double take or maybe even scoff.
But more than simply shaping public perceptions, sporting stereotypes affect the athletes, too. If you've ever taken an intro psych course, you know about stereotype threat — the finding that those who are cognizant of their group's negative stereotypes perform worse. It turns out that the same
can be applied to sports
. Non-Black athletes' anxiety and lack of self-assurance further contribute to their lack of representation at the highest levels.
Su has the power to change that. His success has the ability to instill in an entire generation of young people the mindset that it's possible for them to succeed.
Huntington believes China is in the midst of a drastic "cultural change" in regards to track and field, a transition from a nation-wide inferiority complex to nation-wide confidence and ambition. Soon, he believes winning traditions in diving and table tennis will grow to encapsulate track and field, maybe even
as early as 2024
.
"Our progress lets more people know that we Chinese can do it in sprinting, and lets many athletes in China feel confident and get strength," says Su.