A hotel being used as a quarantine facility for suspected cases of COVID-19 in Fujian, southeastern China collapsed over the weekend, killing at least 12 people.
Located in the city of Quanzhou, the Xinjia Express Hotel fell apart around 7 p.m. on Saturday (local time), initially trapping around 70 people, according to state-media People's Daily.
Security cam recorded the moment of hotel collapsing in SE China's Fujian on Sat night, trapping around 70 people under the debris. So far 40 people have been rescued. pic.twitter.com/QHbmPdRkOJ

— People's Daily, China (@PDChina) March 7, 2020
As of Monday afternoon, 50 people — including children — have been freed by the rescue team, which included firefighters, rescue dogs and other emergency responders.
"We are using life-detection instruments to monitor signs of life and professional breaking-in tools to make forcible entries," said Guo Yutuan, squadron leader of the Quanzhou armed police detachment's mobile unit, according to CNN.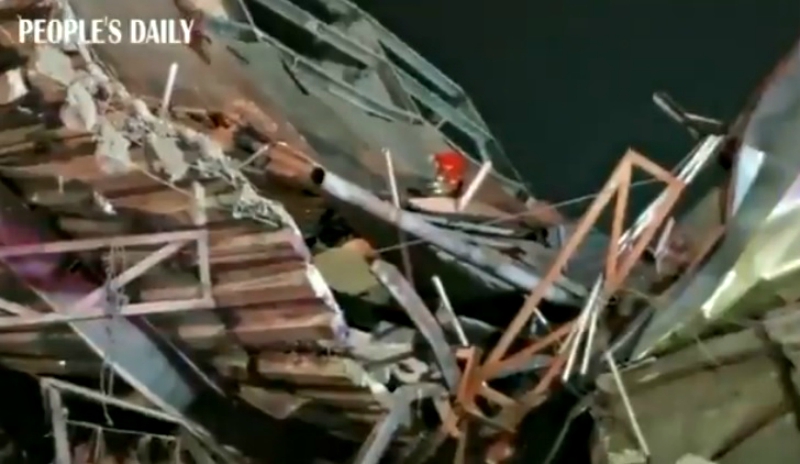 Unfortunately, at least 12 people died in the tragic event — 11 on the scene and one later in the hospital.
Meanwhile, nine reportedly managed to free themselves from the rubble.
The collapsed hotel in Quanzhou, SW China's Fujian trapping around 70 people under was a designated quarantine place for people who are suspected of having #coronavirus or have close contact with #COVID19 patients. So far 28 people have been rescued. pic.twitter.com/zP1u2FRFF3

— People's Daily, China (@PDChina) March 7, 2020
The building, which has seven floors, was reportedly reopened as a hotel in 2018 after "extensive construction work."
Featuring 80 guest rooms from the fourth to the seventh floor, the building was most recently used as an isolation center for people who had been in close contact with COVID-19 patients.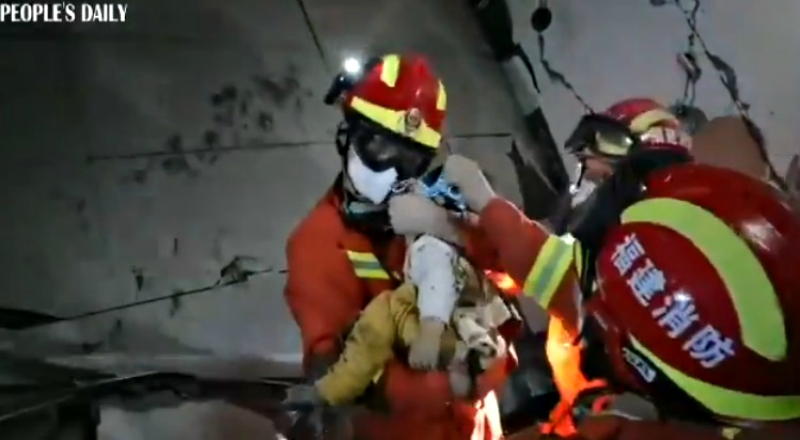 No official reason has been provided for the collapse, but the building's interior was illegally renovated, according to Caixin Global.
Speaking to the outlet, a structural engineer claimed that the owner had built mezzanines which happened to be too heavy for the structure to bear.
Forty-nine people have been rescued as of 8:20 am on Sunday after a hotel building collapsed in E China's Fujian Saturday evening, local authorities said. The National Health Commission dispatched 18 medical experts to Quanzhou to support local emergency relief work. pic.twitter.com/szdkPYDsLX

— People's Daily, China (@PDChina) March 8, 2020
It turns out that the structure was built around a four-story steel frame structure, but the owner added three more for the mezzanines — and they were all made of bricks.
"When it collapsed, I heard big sounds and felt some tremor," a nearby resident said, according to Xinhua.
The hotel's owner, Yang Jinqiang, is now in police custody.
Feature Image Screenshots via People's Daily