Education is important to many parents — so much so that some would even go the extra mile to inspire their kids to aim for prestigious schools, like this father from northern China who took his daughter to an open school day despite her being attached to an IV drip.
The father and his 10-year-old daughter, whose names were not revealed, were spotted attending the annual event at the prestigious Hengshui Middle School in Hebei province on Saturday, according to Pear Video.
The girl has apparently been sick for the past four days prior to their visit to the school and was running such a high fever that she had to be attached to an IV drip, according to South China Morning Post. However, determined to give his daughter a better education, the father decided she should not miss the open day and still took her to the event.
"We don't have culture, but we hope that our children can have culture," he said, as translated by SCMP. "We wanted her to come and take a look at the scope of education offered at schools like Hengshui Middle School … she really wanted to feel the atmosphere [here]. We have had this dream from when she was young."
He can also be heard in the video repeatedly telling her daughter that she "must get in," adding, "You must not fail to live up to your daddy's expectations of you."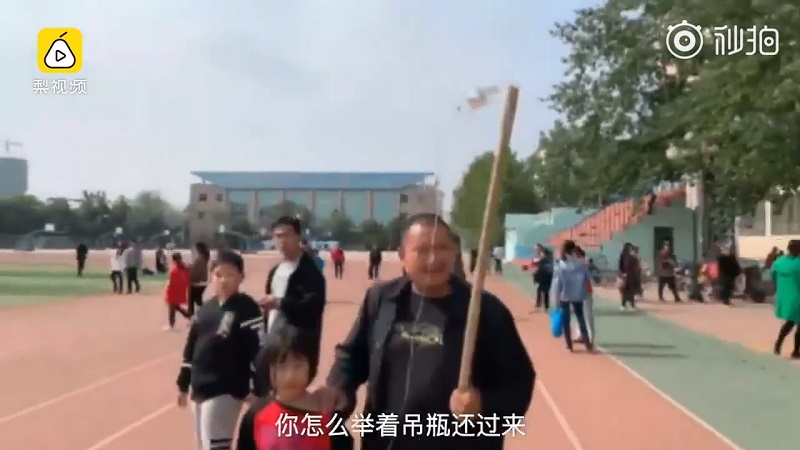 Hengshui Middle School is one of the country's most prestigious middle schools as it is known for sending some of its pupils to top high schools in Shenzhen on study exchange programs. This will give students better chances of getting admitted into top universities in China.
Despite this, very few netizens actually agreed with the father's actions. However, there were some who admired his efforts and good intentions.
"The children of ordinary people can only see a bit of hope while taking this path. I really understand the father's good intentions," one commenter on Chinese social media said.
"The real lesson in frustration for parents is not creating difficulties for your child to overcome, but giving your child enough love and understanding, and making them believe that even the most awful circumstances can be overcome," another user wrote.
Images screenshot via Pear Video