A Chinese patient who was suffering from a massive neck tumor was recently saved by doctors after she was given a 3D printed spine.
Doctors at the Shanghai Changzheng Hospital had to replace 28-year-old patient Xiao Wen's six out of her seven cervical vertebrae which had been affected by chondrosarcoma, a rare type of cancer that forms in the bones.
Considered as the most delicate bones in the body, the cervical vertebrae make up the spinal column in the neck. According to People's Daily Online (via Daily Mail), it was the first time that many consecutive cervical vertebrae were replaced by doctors using 3D printing technology.Diagnosed in May, the patient's tumor was discovered to be lodged in her spine's second to the seventh cervical vertebra.  The patient, who weighed 120 kg, had sought medical advice from other hospitals before but failed to find effective treatment.
After multiple consultations with renowned Chinese orthopedic surgeon Professor Xiao Jianru and his team of doctors, the patient was advised that the whole tumor must be removed. The suggestion meant that Xiao Wen's damaged bones must also be removed and replaced.
As there is currently no available artificial replacements for the patient's vertebrae in the Chinese market that could fit her needs, the team simply opted to build them for her.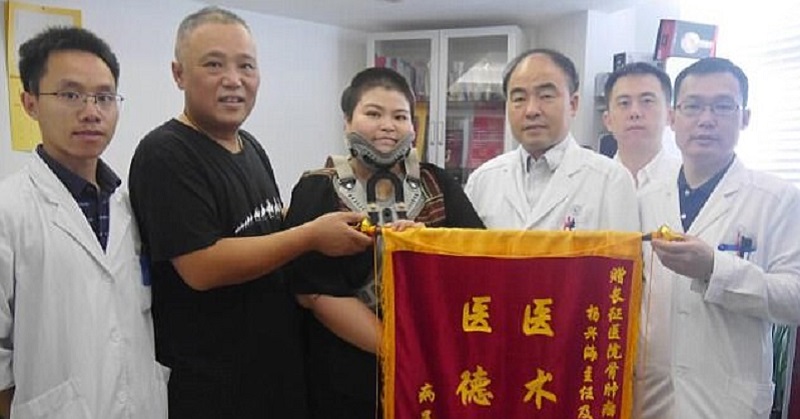 With Xiao Wen's approval, the team of doctors went on to build the artificial bones using 3D printing technology. Professor Xiao and his team spent three weeks to create the new bones made with titanium alloy, which measured around 14 centimeters (5.5 inches) long.
In July, the doctors began the delicate procedure which involved the removal of the six compromised cervical vertebrae and the placement of the 3D printed bones inside Xiao Wen's body.
Xiao Wen, who is currently recovering from the 13-hour surgery, is already able to walk now but is still having difficulties turning her head.