In a bid to show how clean they keep their toilets, a Chinese company made a peculiar demonstration involving employees eating food off a urinal.  
Workers at Tenfu Group, a firm in Zhangpu county, Fujian province which specializes in tea products, were shown in a video eating mochi, or glutinous rice balls, placed in a urinal by a manager, MailOnline reports.
The widely shared footage also shows the company's deputy general manager adding some sweet toppings and tossing the desserts around with her hands.
"Look, I've tossed it around for about 20 times, now, let me be the first one to eat it," the manager said before eating one rice ball.
Other employees are then seen picking up the dessert and eating them confidently. The staff also set up a dining table inside the toilet and shared a meal together.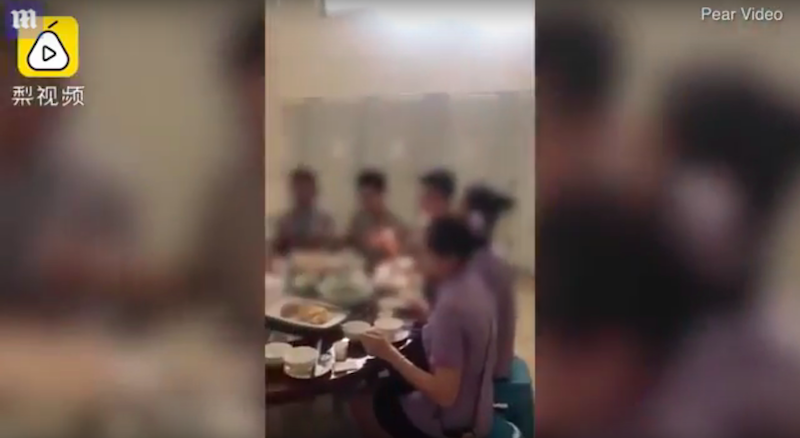 The manager explained that the unique presentation is a part of a training program for supervisors.
"We ask our supervisor staff to clean the toilets as part of a training programme," the manager said, noting that they have been doing the practice for 25 years.
One of the company's janitors, who has been with the firm for 25 years, vouched for the cleanliness of the urinals, saying, "the urinal is so clean you can eat from it."
"I often wash the toilets until they don't smell anymore," she was quoted as saying. "If you accidentally dropped your food in the urinal, you can still pick it up and eat it."
However, many netizens were left unconvinced that urinal food is safe for consumption.  
"This is absolutely disgusting," one commenter wrote. "What were these people thinking?"
"There's a difference between clean and germ-free," another pointed out. "The urinal is still full of bacteria and other germs."
Featured Image via Pear Video