Eric Zhi Ying Xue, a nine-year-old boy from the town of Bray, County Wicklow in Ireland, is facing deportation to China, according to the South China Morning Post.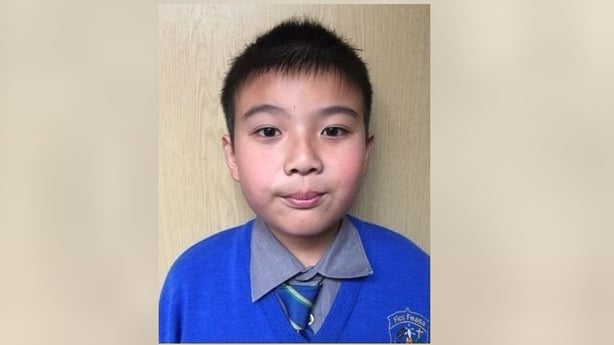 Despite being born and raised in the Emerald Isle and considered by his principal "as Irish as every other boy in this school," the fourth grade student does not hold Irish citizenship due to the fact that his mother, Leena Mei Mei Xue, entered the country illegally from China's Fujian province 12 years ago.
After numerous failed attempts to regularize her residency, a deportation order was served to Xue and her son in 2015, which was appealed several times and ultimately rejected in June of this year.
Eric's case is the consequence of a 2004 referendum which removed the automatic entitlement of children born in Ireland to citizenship unless at least one of the parents is an Irish citizen.
This leaves the schoolboy legally stateless (he possesses neither Irish or Chinese citizenship), leading staff at St Cronan's National School, which Eric attends, to voice concerns regarding Eric's potential eligibility with regards to "access to China's health or education systems," according to the BBC.
nbsp;
In response to what has been labelled a "humanitarian" issue, Maeve Tierney, principal of St Cronan's, has led a campaign to keep the boy in the country.
"Eric is a great boy. He is a very gentle, quiet and natural child. He is also very able and well adjusted. He is part of a year of 24 pupils, eight of whom are Chinese. To take him out of the only environment he has ever known and into a situation where he knows no one and has never been just wouldn't be right in my opinion," Tierney told the South China Morning Post.
"Whatever the circumstances under which his mother arrived in Ireland, I can see no reason for the perceived 'sins' of his mother being visited on this child. At the school we strongly believe that on humanitarian grounds the decision to deport him to China should be revoked."
School staff were reported as being "overwhelmed" by the support, with over 50,000 people signing a petition backing Eric's right to stay in Ireland.
Simon Harris, Ireland's Minister of Health, publicly announced his support for Eric's campaign via Twitter.
I stand with Eric Zhi Ying Xue in Bray. He is 9. He is Irish. He was born in Holles Street. He is part of our community. On humanitarian grounds alone, this should be resolved. Common sense must prevail. Have made representations to that effect.

— Simon Harris TD (@SimonHarrisTD) October 18, 2018
Of course, not all responses were positive. George Hook, a prominent Irish broadcaster and pundit, tweeted his distaste at Harris's issue of focus, drawing rebuke from netizens.
With trolly numbers at world record levels, Minister @SimonHarrisTD is worried — about a Chinese boy!!

— George Hook (@ghook) October 19, 2018
Jesus George, that's a disgraceful statement m…this boy is Irish, he was born here and has never lived anywhere else.

— LizaB (@LizaB652) October 19, 2018
He's Irish, George. I used to think you were better than that. And I think once upon a time you were. But you're not anymore.

— Anthony O'Connor (@Antcon7062) October 19, 2018
Meanwhile, commenters on an Irish far-right YouTube channel expressed their markedly opposing views.
As of Oct. 26, Eric is currently under "no imminent threat of deportation," according to Harris via The Irish Times, suggesting that, at least for now, the campaign was effective.