Hollywood celebrities are now doing a "Constance Wu" on social media by sharing feigned dissatisfaction over their own show's season renewal.
Wu recently sparked criticisms after her expressing apparent frustration online over the news that her sitcom "Fresh Off the Boat" will be getting its sixth season.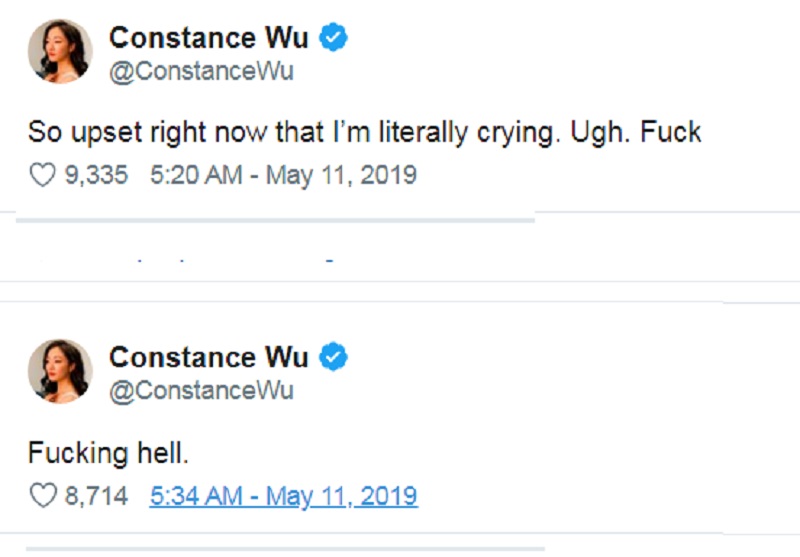 Many found her words "fucking hell" to be insensitive to other actors and crew members who are not afforded similar opportunities in the entertainment industry.
Now some actors are poking fun at the controversy by using Wu's words in announcing that their shows were getting picked up or renewed for a new season.  
Joel Kim Booster took to Twitter to share his "disgust" that NBC picked his show "Sunnyside" for the 2019-20 season.
Fucking hell. We have a trailer! I'm literally crying! We also have a time slot! Thursday nights at 9:30PM. Ugh. Fuck. I'm so lucky. Happy Mother's Day. pic.twitter.com/sYJWe63uwh

— Joel Kim Booster (@ihatejoelkim) May 12, 2019
Allison Tolman posted something similar for getting her series "Emergence" picked up.
Fucking hell! (In a good way!) https://t.co/skNiqPaayh 11, 2019 at 06:52PM pic.twitter.com/1z3TlvLDZA

— Allison Tolman (@Allison_Tolman) May 12, 2019
Sam Lerner did the same for his show "The Golbergs."
Ugh god dammit fucking hell. So upset right now. https://t.co/Xp5jQZJEbr

— Sam Lerner (@SammyLerner) May 11, 2019
Seth MacFarlane also lampooned Wu for "The Orville's" renewal.
Oh fucking goddamn hell fuckfuckdickshit! https://t.co/9sB3UgUze0

— Seth MacFarlane (@SethMacFarlane) May 12, 2019
Rahul Kohli, star in The CW's "iZombie," also used Wu's words to announce a new season.
Fucking hell. https://t.co/JXODaZPlEf

— Rahul Kohli (@RahulKohli13) May 11, 2019
Meanwhile, Wu has since released a statement to apologize for the comments. In the post, she explained that she was upset not because she hated the show, but because its renewal will force her to give up a project she had been passionate about.
These words are my truth. I hope you hear them pic.twitter.com/l6SvbFcUlj

— Constance Wu (@ConstanceWu) May 11, 2019
"My words and ill-timing were insensitive to those who are struggling, especially insensitive considering the fact that I used to be in that struggle too," she wrote.
"I do regret that and it wasn't nice and I am sorry for that. I know it's a huge privilege that I even HAVE options—options that FOTB has afforded me."
Featured image via Instagram/constancewu