An adorable video of a stealthy cat that was sneaked into a Chinese classroom by his owner is making the rounds on social media.
Viral kitty: Ba Dun, a one-year-old Munchkin cat, became internet famous for staying undetected by the school teacher throughout the duration of the class, reports MailOnline. 
Pet owner Wen, a university student from the northwestern city of Xi'an, uploaded the short clip on the video-sharing app Douyin.

Since Munchkins are known for their short legs, tucking Ba Dun inside the desk was not a problem. 

In the video, Ba Dun is seen well behaved, lying silently in the desk as if the feline is consciously trying to stay undetected. 

The lecturer reportedly found out about the sneaky cat after the video went viral, generating over 300 million views over the weekend.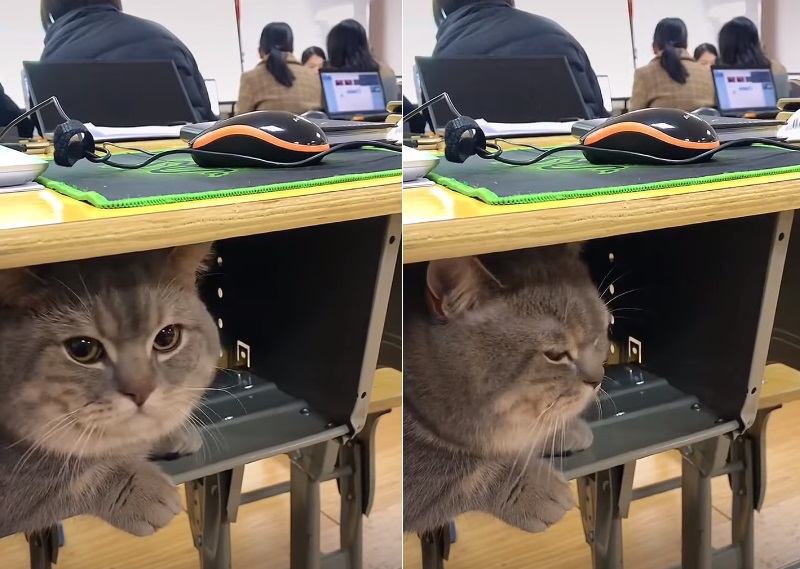 Clingy kitty: Ba Dun, whose name translates to "eight meals" because of his big appetite, would not let Wen leave without him as she was getting ready for class on Friday morning.
"Ba Dun kept cuddling up to my leg and looking really sad because he wanted me to stay with him," Wen was quoted as saying.

According to the owner, she was already running late, deciding to just take him to the classroom with her.

The clingy feline earned overwhelming adoration online, with many complimenting his cuteness and admiring his love for Wen.
Feature Image via 八顿成长记