Mount Knowledge is a "school" established by Canadian Erwin Sniedzins in China that uses a so-called "Knowledge Generator" to train learners and local ELT/ESL teachers.

Through his school, he was able to market the learning technique as something he supposedly learned through years of research from Tibetan monks, according to the company's website. 

The company sells a software that claims to "enable people to learn 32% better and up to 300% faster with over 80% retention in real time."

In his Twitter account, he claims to be a professor at Hebei University where he teaches T21 – "Teaching in the 21st century using technology in the classroom, constructivism, and Syntality".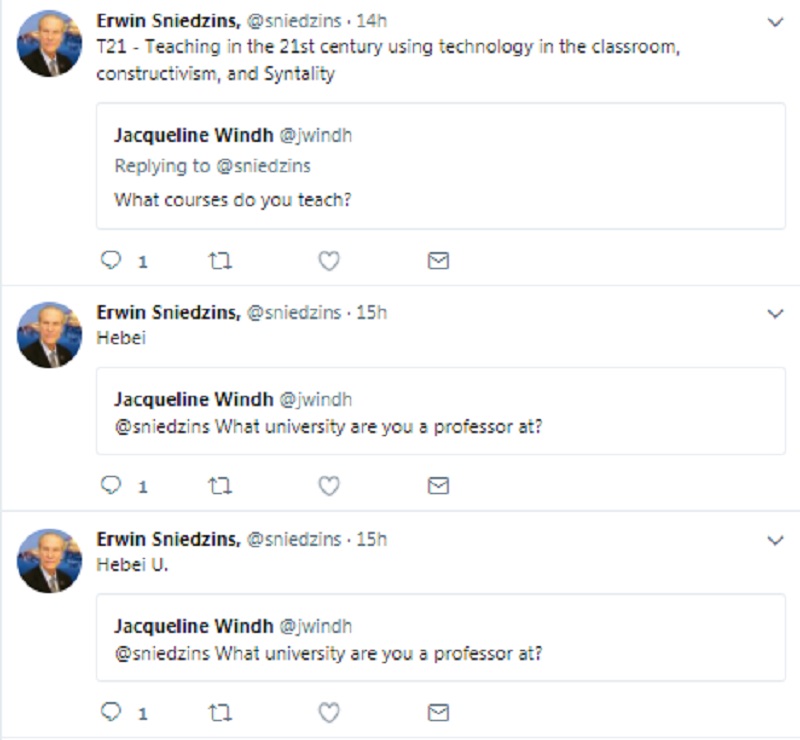 Sniedzins' LinkedIn profile describes himself as an "Artificial Intelligence Gamification Patent Inventor, Keynote Speaker, Professor, Bestselling Author and Award-winning Poet." It was, however, later edited to remove the part where he's an Award-winning Poet and a Bestselling Author.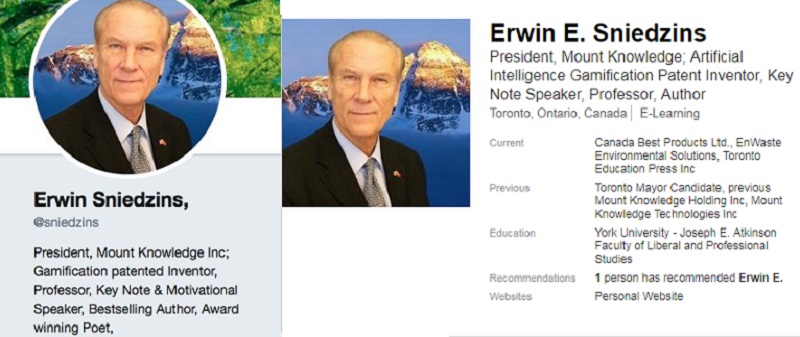 His credentials all sound really impressive until it was recently exposed that the company's celebrated founder bought a fake degree from a diploma mill.
According to CBC, Sniedzins was issued a degree by Kings Lake University "based on his previous life experience and professional accomplishments" for just $8,100.
CBC Marketplace investigation had earlier revealed that Kings Lake University, along with other fake online schools, were selling fake degrees.
"I don't necessarily like to pay $30,000 to get a master's when I feel I already have the knowledge," Sniedzins was quoted as saying.
Sniedzins said he found the diploma mill in 2014 after searching the internet for a master's degree that would "validate" his professional and life experience.
After contacting Kings Lake University over the phone, he was asked to send some proof of his professional and life experience, which immediately qualified him for a degree.
"To me, that's the direction that things are going. So I figured these guys were the vanguard of that type of stuff."
As it turned out, Kings Lake University is just one of the online schools run by the Pakistan-based fake degree mill Axact. None of the schools reportedly have a physical address, and they all use fake accreditation bodies for citations and stock images for faculty photos.
Yet, despite many telling signs, including the fact that an affidavit certifying his degree was signed by former U.S. secretary of state John Kerry, Sniedzins claimed that he thought the university was authentic.
"It felt like they were more legit than the other ones. Their website's pretty good. And when you phone, you get someone there," he said.
Upon learning that his master's degree work was actually fake, the "professor" claimed that it made him "angry".
"I really feel stupid if that's the case, and I'm angry about it," Sniedzins said. "It's like counterfeit money."