***Literally everything is spoilers. You've been warned***
Oh my God, I feel like I'm a horny 15-year-old rabid fangirl again.
Earlier this month, the highly anticipated dating sim title, Dream Daddy, was released. Created by Game Grumps, the cheesy romance game centers around a single dad with his nearly off-to-college daughter who finds himself in a neighborhood full of date-able dads*.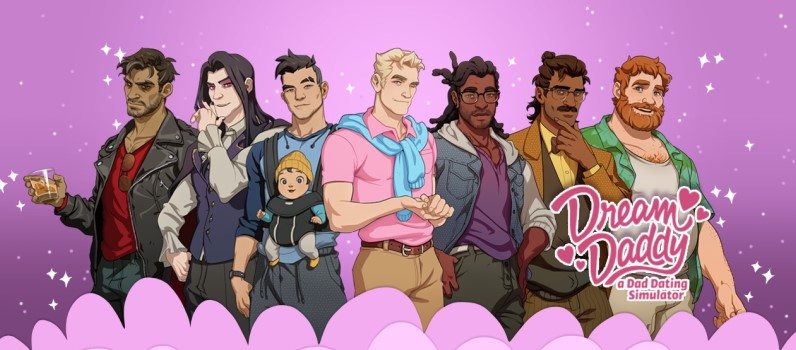 And while there are a lot of dad hearts to steal, the worthiest dad is none other than Craig Cahn, aka fitness dad, aka DAMN DADDY.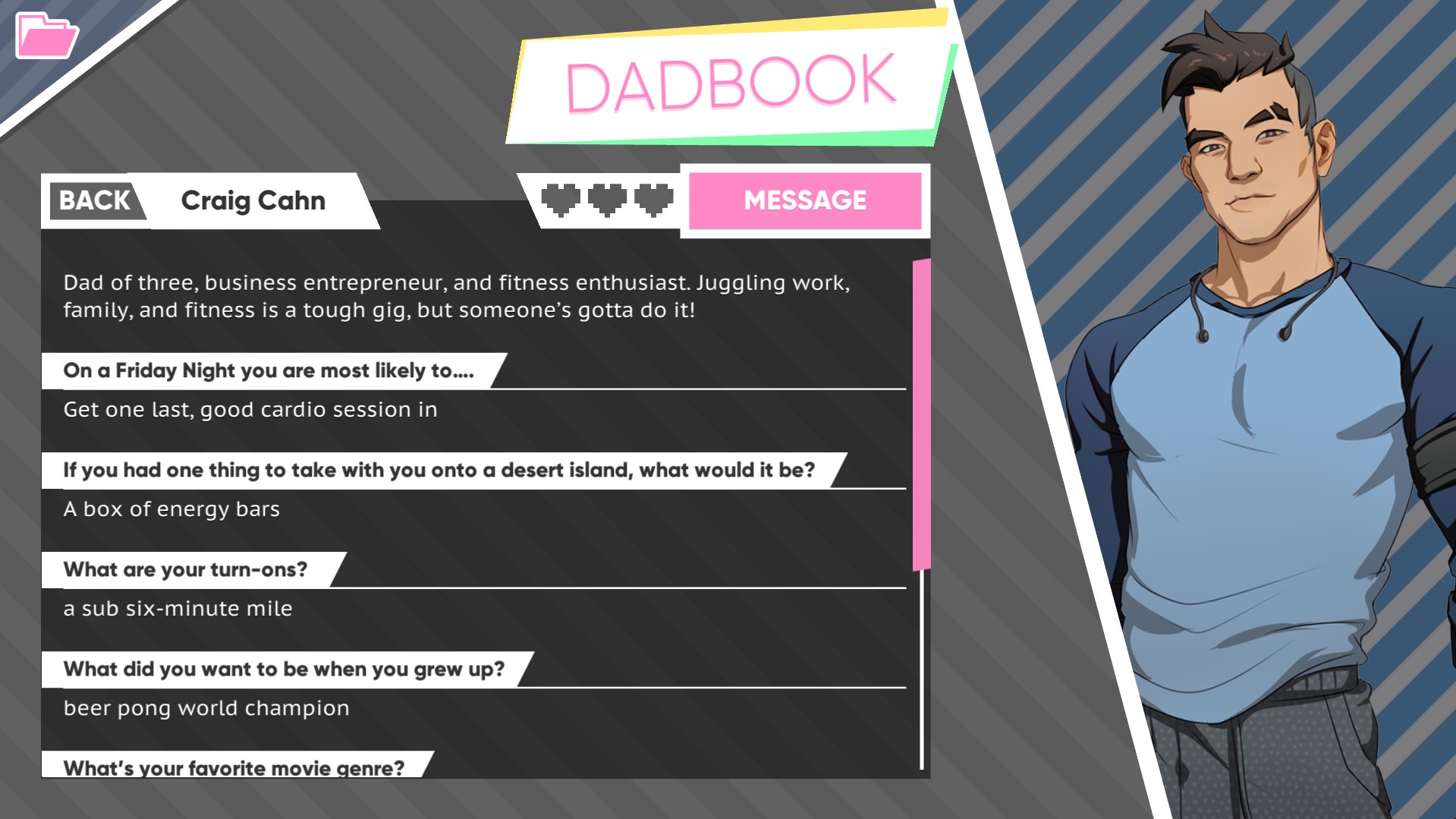 Let's start from the beginning: you are <Dadsona>, a mild-mannered single dad who just moved into the neighborhood with your eighteen-year-old daughter, Amanda. You're making the rounds when you run into Craig Cahn (voiced by NateWantsToBattle), your old college roommate. You're legitimately impressed, because the guy you once knew — Keg-Stand Craig, who once downed an entire bottle of marinara sauce because he called it a "smoothie" — is a SWOLE AF dad of three, complete with a super cute baby strapped to his chest (you know, for resistance training).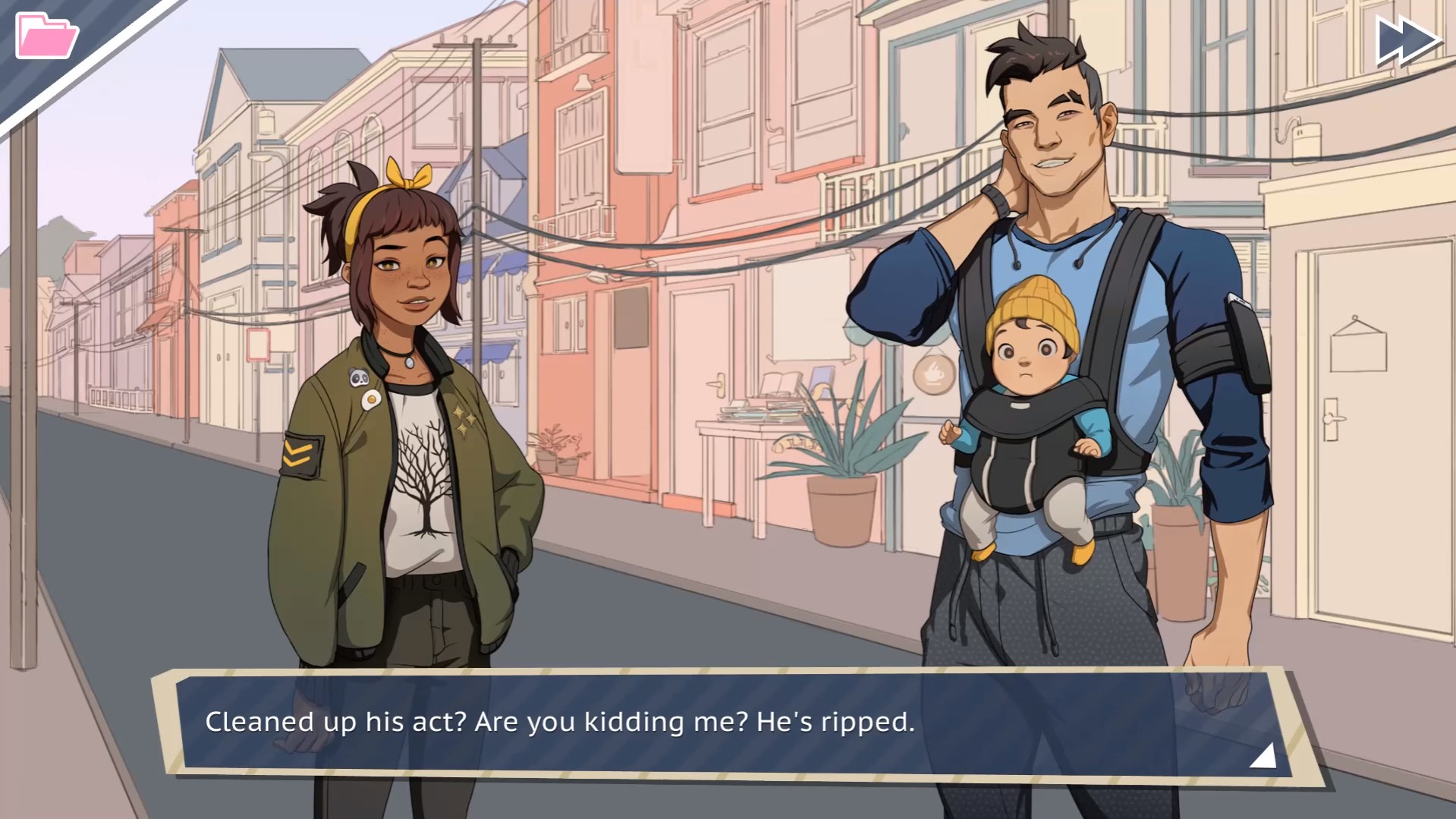 Nice. So he's clearly an Asian Adonis and far too pure for this planet. But it gets better: his ol' college girlfriend-turned-wife, "Smashley", is no longer in the picture, as they got divorced last year. So uhh… daddy's single, and we're ready to mingle. So when he asks us to go with him to watch him coach his daughters' softball game, we jump at the chance to see Craig Cahn in action. Hot, hot, softball coach action.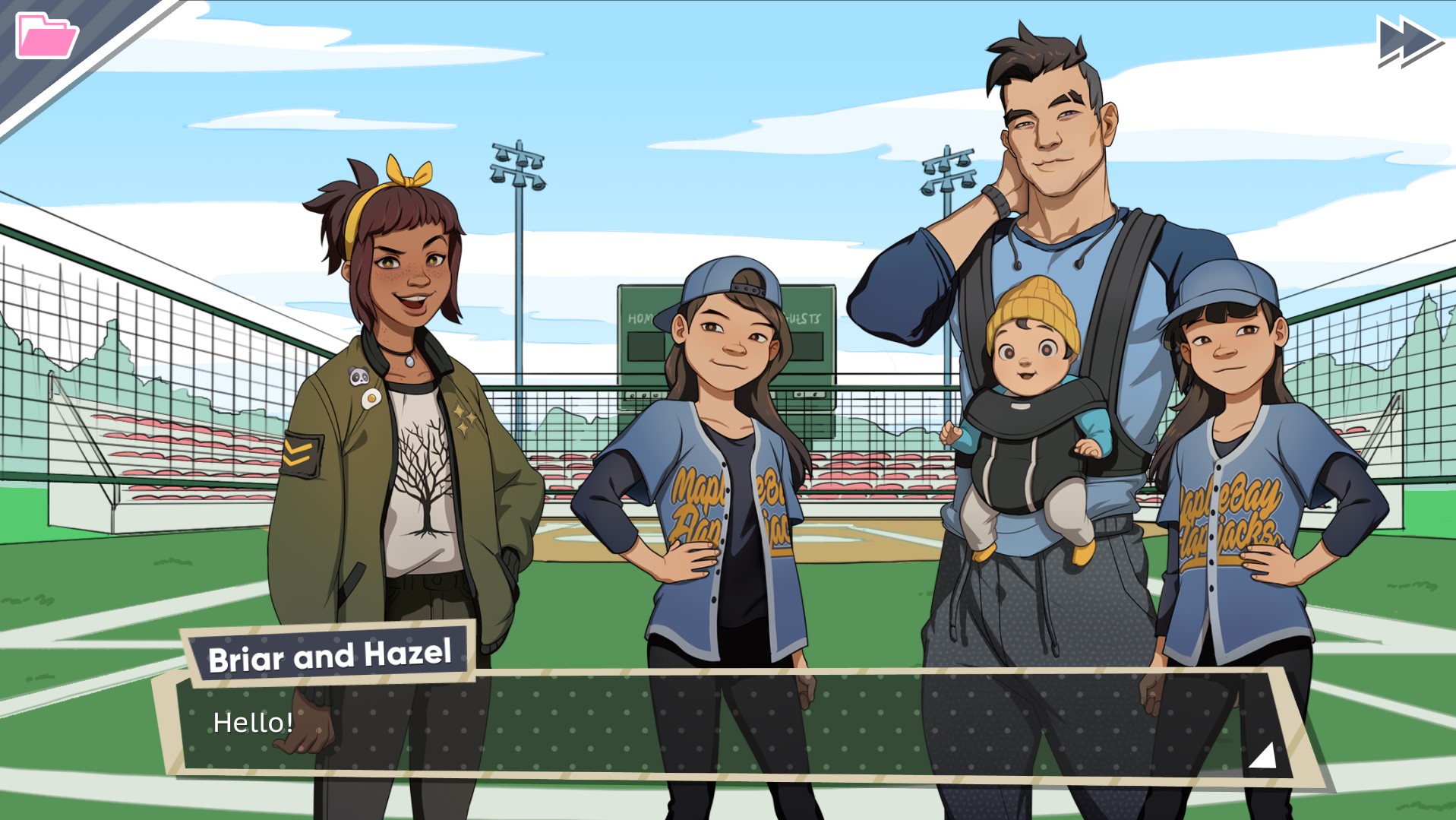 Umm, okay, so he's a hot ass softball coach single dad who makes incredibly cute kids. Where has he been all our lives??? Unfortunately, he's constantly being hit on by all the softball moms. Janet, Martha, and the rest want his legitimately bangin' dad bod, and although we really can't blame them, that dad bod is gonna be ours… if we play our cards right. But the moms persist, and convince us to all pile up into the car and go to Thirsty's Pizza to spend a little more time with him.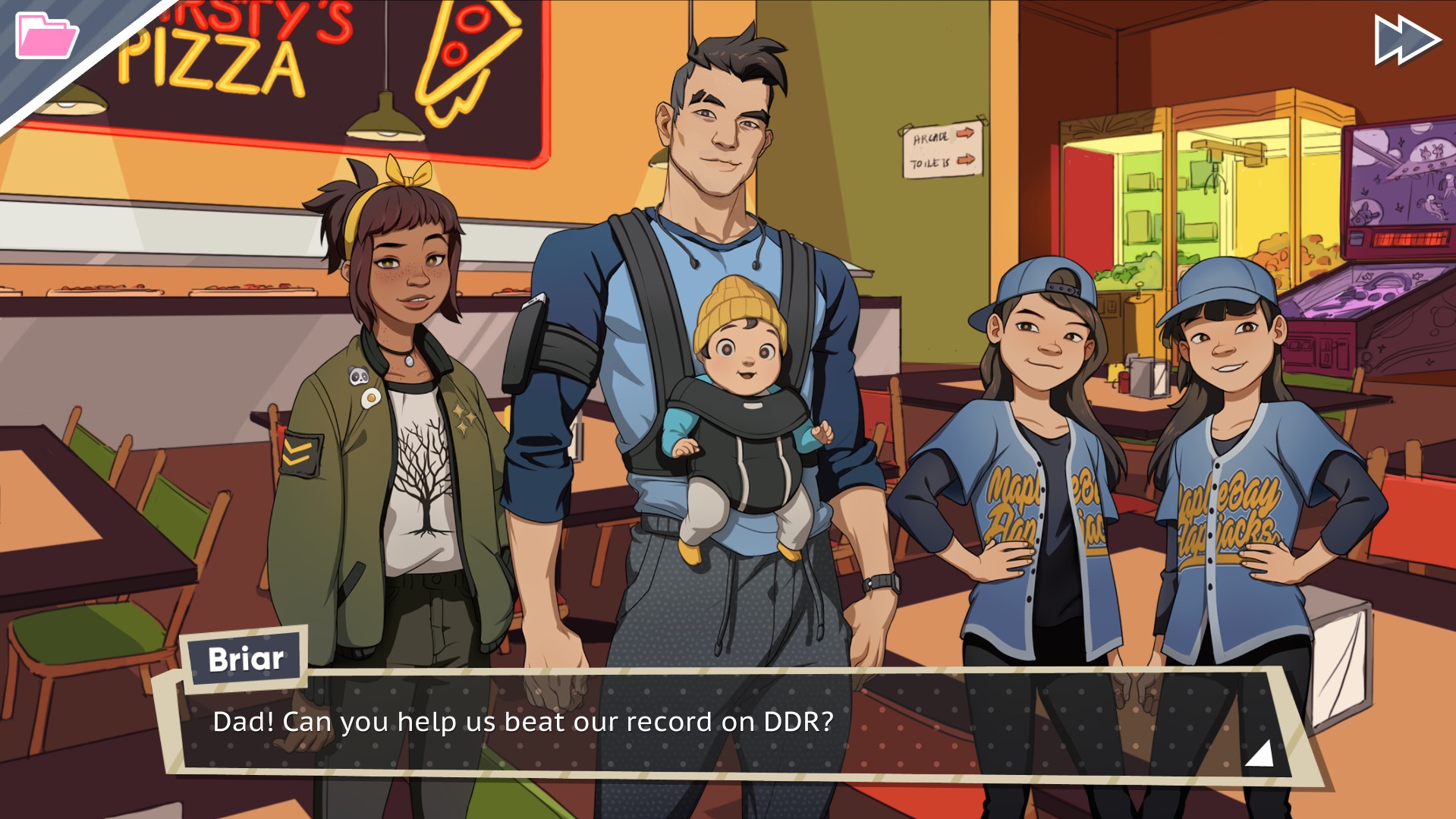 After ducking and dodging the THOT moms being thrown his way, Craig Cahn gets roped into playing DDR (huge turn-on) by his kids and we go play pinball with ours. Eventually, we sneak away, leaving Briar and Hazel, Craig's twins, with friends for a sleepover, and my daughter drives herself home. Finally — we have Craig Cahn's undivided attention. He takes us back to the softball field where we toss a ball around. We catch up, talking about our kids, his coaching days, and his work (he runs an athleisure wear company), when — OH NO — we're hit by the ball right in the face! Craig rushes over to see if we're okay, and, if you choose correctly, he'll KISS IT BETTER SJKDIJHWW OWFJSN KJ#*)ROIHWS!!!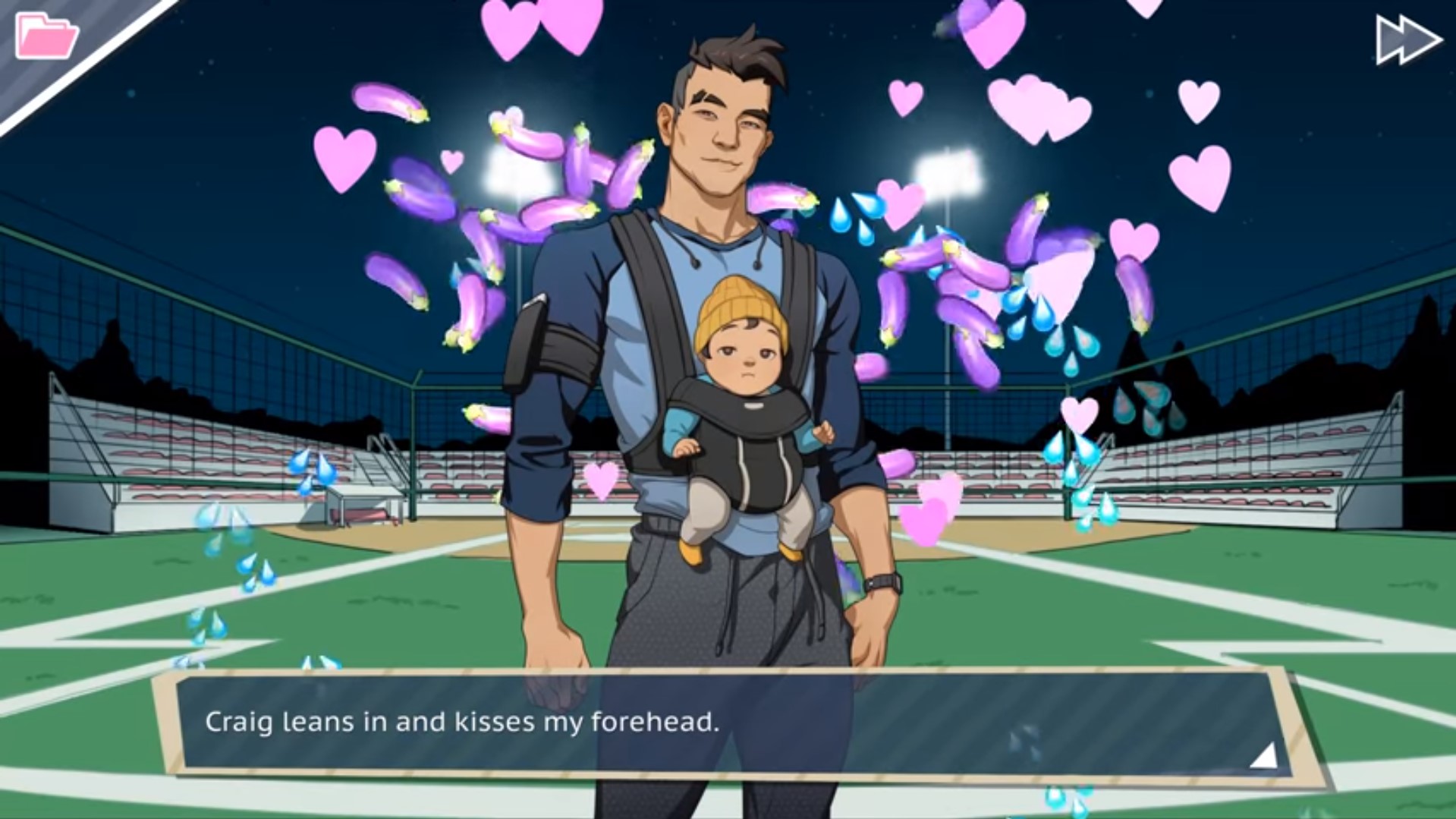 HOLY SHIT GUYS DADDY KISSED US!!! BE STILL MY HEART!!!!!!!!!
A few weeks pass and a few more dates happen — mostly workouts, but we do go to BRUNch (running, then brunch). Eventually, we make plans to go camping alone together, as Craig is just so burned out from taking care of everyone and needs to de-stress. We set up camp and decide to go for a hike, and after making several dad jokes about a tree that looks like a butt, we come to a waterfall — a waterfall that looks hella fun to jump from into the pool below. So Craig does the most logical thing possible and STRIPS DOWN TO HIS BOXERS!!!!!!!!!!!!!!!!! So we are asked if we want to look at his butt — LIKE THAT'S EVEN A QUESTION??? HELL YES WE WANT TO SEE THAT BOOTY!!!!11111!!!11!1!!!!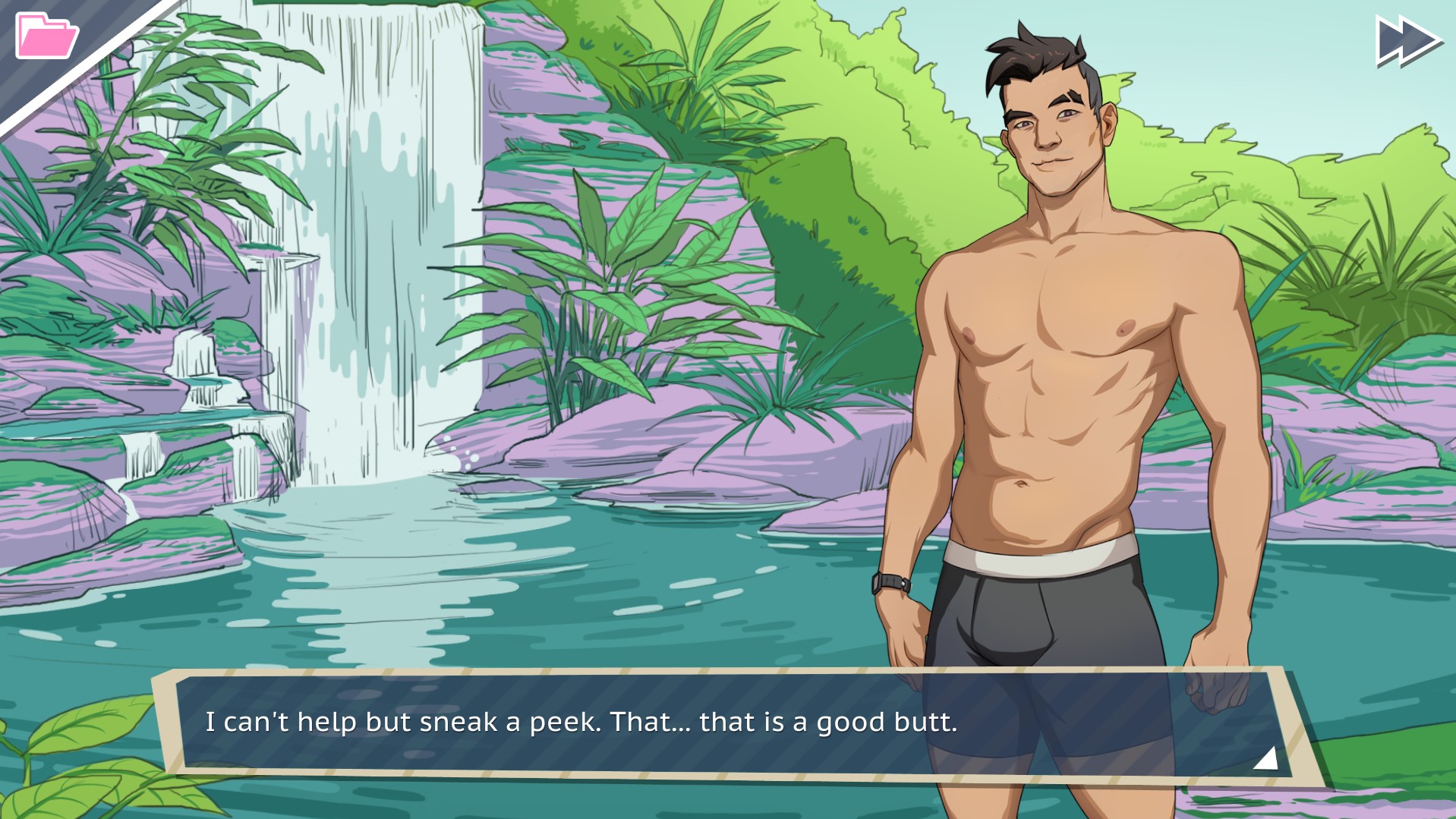 *nosebleeds*
So after jumping off waterfalls and heading back to camp, we learn some really key things about Craig — for one, even though he's got a killer bod, great kids, and a fantastic job, he's just… tired. Like, exhausted. Taking care of everyone else at his expense has really been wearing him down, and he's starting to feel overwhelmed. We feel for him, obviously — we're trying to be a good bro — but we feel… something else. Something… more.
That "something more" becomes apparent, as we head back into the tent and conveniently find that there's only one sleeping bag. Craig's quick thinking solves the problem — he unzips the sleeping bag to make a large blanket for them to sleep on — but the night is cold, and without cover, they'll likely freeze. Slowly, but surely, Craig Cahn and <Dadsona> get closer to each other, professing their strong feelings for one another. They kiss, smoosh, and screen fades to black.
The scene opens up again at a going-away party we've planned for our daughter heading off to college. Of course, Craig is there, and after all the other guests leave, we steal away to a secluded spot in the yard to have more tender moments. Craig promises us he'll take more time for himself, asking for our help in finding balance as he lays his head in our lap.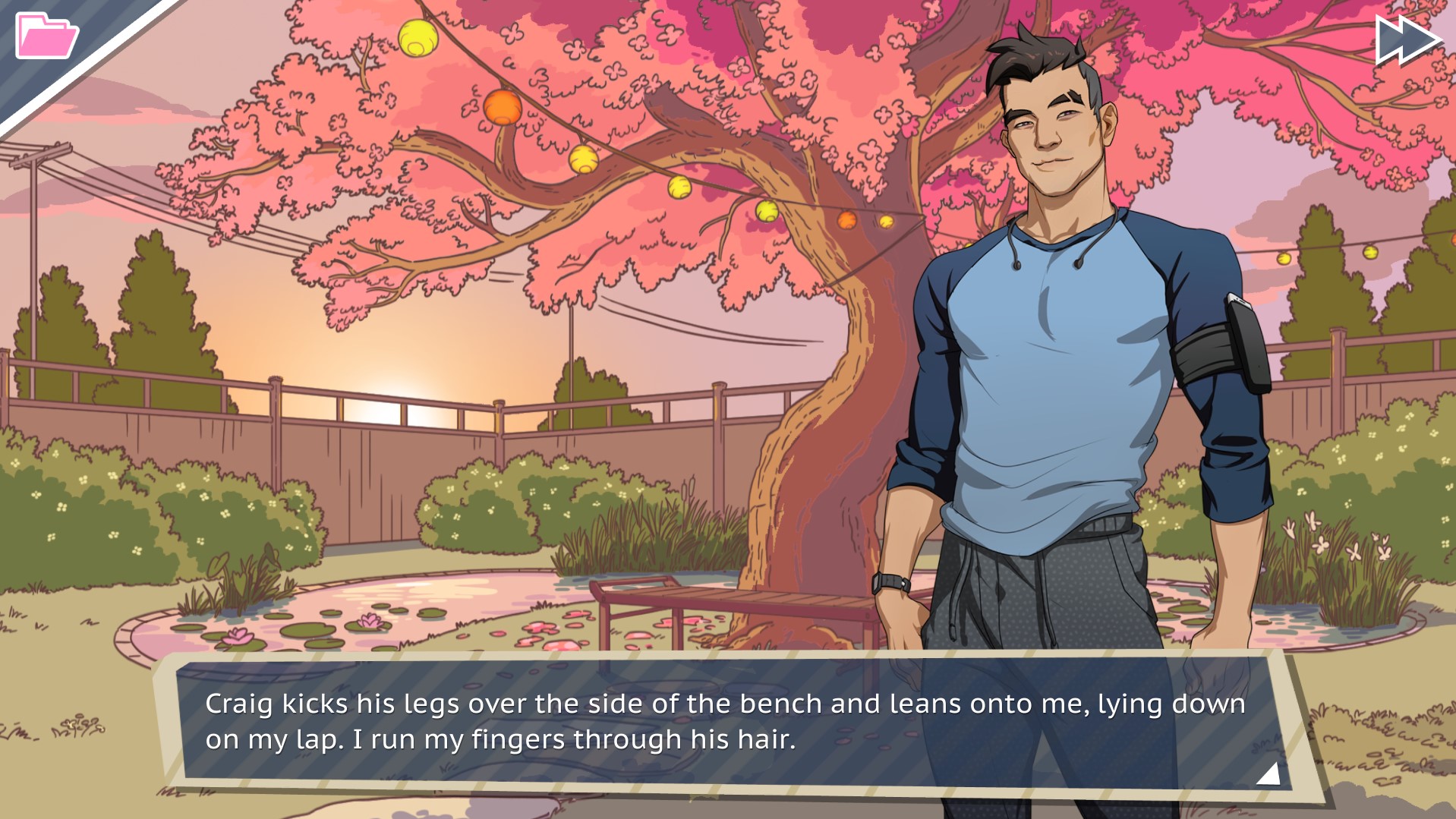 We pledge to be his bro for the rest of our lives. Craig laughs and PULLS US IN FOR A KISS, REMINDING US THAT WE DON'T DESERVE THIS PURE SOUL.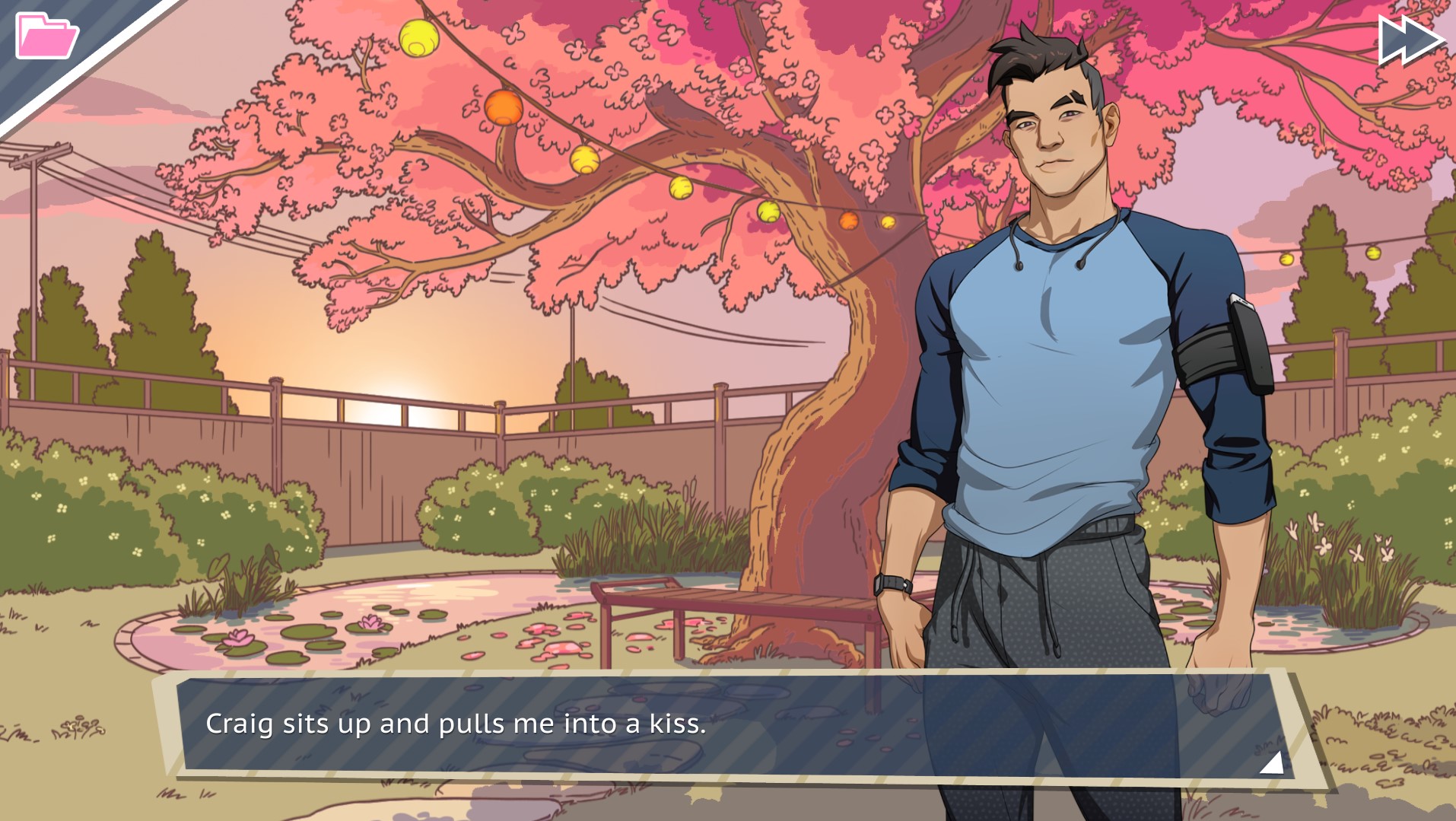 So…what does this all mean?
Well, for one, Dream Daddy is… silly to begin with. A dad dating simulator? Really? But at the same time, if you're gonna put dads in there, you want some interesting characters, right? And instead of making them all White or whatever, the creators did an excellent job of being really inclusive.
When it comes to the Asian character, Dream Daddy could have been stereotypical. They could have made Craig some nerdy, scrawny guy who is dorky as hell and can't speak English very well. And while there are plenty of guys that exist out there that fit this description and also happen to be Asian, that's not a true representation of all Asian men. Some of them are bad at math, some of them speak English perfectly, and some of them are hot AF with three kids and rippling abs.
Just like Craig Cahn.
Additionally, his storyline was just so sweet and pure that his arc became one of the better ones. He's one of the top favorite dads because he's the total package — hot, sweet, and satisfying storyline. What's not to like?
Fans everywhere can't get enough of him — as of this writing, he's currently the second-most played dad (but we still think he's #1 Dream Daddy).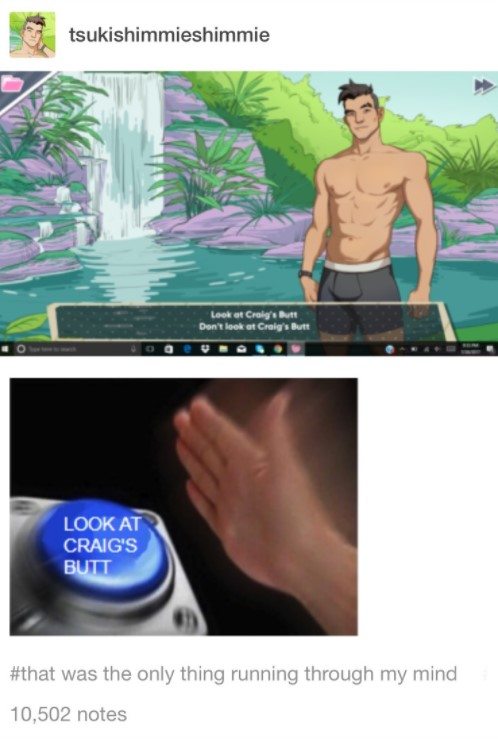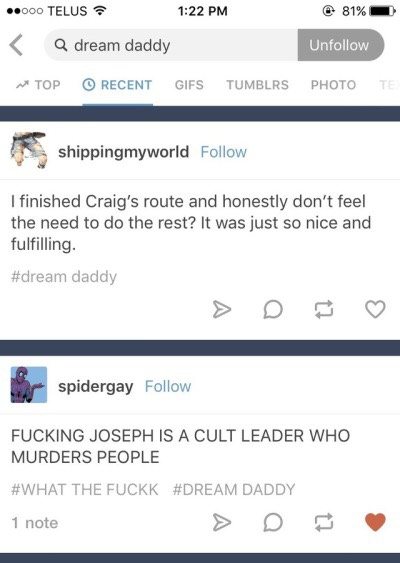 And when you have an amazingly attractive Asian man doing adorable, genuine, heart-warming things, you get fan girls (and boys) excited over Asian men. Plenty of them will then, in turn, see Asian men as a viable dating option — which hasn't historically been the case. And if you think the leap isn't likely, go interview any girl that likes Korean pop, Japanese rock, or the like — you'll see they're looking for their own Asian Adonis most of the time.
Even though it's just a drawing of a sexy Asian guy with a storyline given to him and we're all aware it isn't real, it's still a win for Asian guys. So we'll happily call Craig Cahn our "Dream Daddy" and scream from the rooftops that he is, indeed, the best dad.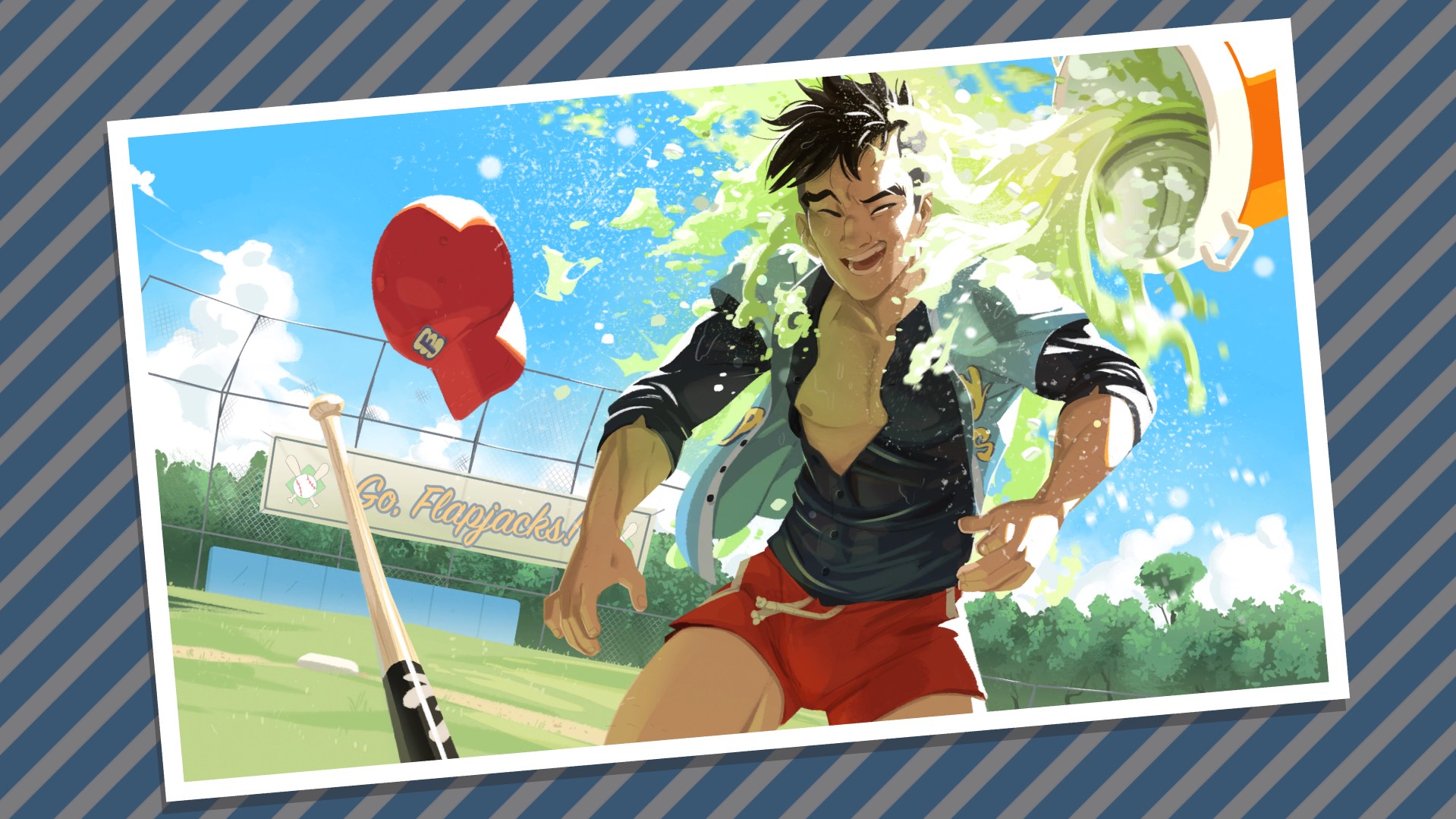 *except one. F*ck Joseph.