A restaurant employee in New York has come under fire after allegedly calling Asian people "cockroaches" in a local Facebook group earlier this month.
Mariesa Stewart, who works at Brian Dempsey's American Ale House in Bayside, Queens allegedly discouraged others from buying from Chinese and Korean people, claiming that "they ruin every area they invade."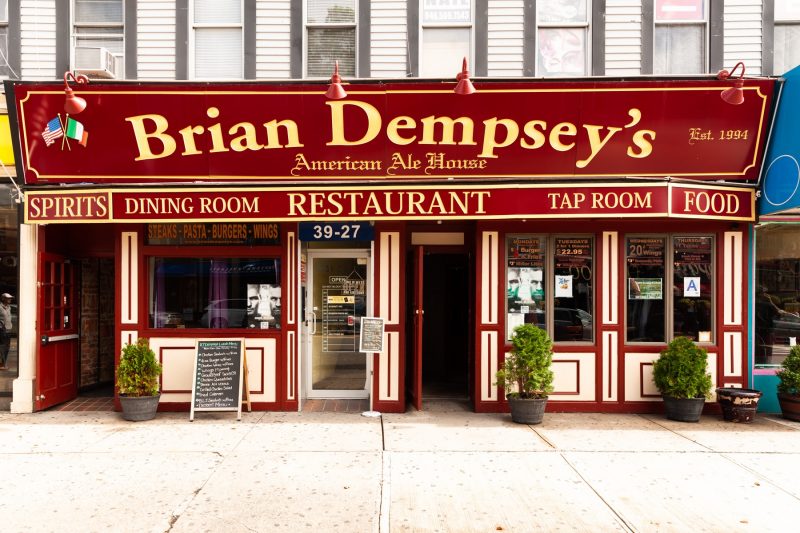 "Enough with buying from the Koreans or Chinese they don't support this economy, they ruin every area they invade," a user named Mariesa Mc Cluskey Stewart allegedly wrote. "God dame cockroaches. Come at me b***h."
In a screenshot captured by the China Press, Stewart's alleged comment was posted in response to a user complaining about the service of a local Chinese restaurant.

Users have since flooded Brian Dempsey's Yelp, Instagram and Facebook pages with one-star reviews and scathing comments, demanding that Stewart be fired from her job.
"But seeing how [I'm] just a [cockroach] in the eyes of their staff, me and the other roaches will take our business elsewhere. It's been a fun 9+ years going to this establishment. Sad knowing this is how they really felt of me going there," one Yelp user commented, according to QNS.









Following the backlash, Stewart denied making such "racist comments" with an explanation that her Facebook account had either been "hacked or cloned."
"Just want to let everyone know that apparently my account was either hacked or cloned, a post was made on a Bayside site with some racist comments under my name," Stewart wrote. "I'm very hurt to think this is even possible, I've done all the possible things to fix this, passwords, privacy settings and reported it."
According to Stewart, she has been on the Bell Boulevard area — where Brian Dempsey's is located — for 17 years. She also claimed to be an immigrant herself.
"I've been on Bell Boulevard for 17 years and I've never had anything like this happen, I'm an immigrant and would be disgusted if such things were said about me or my friends."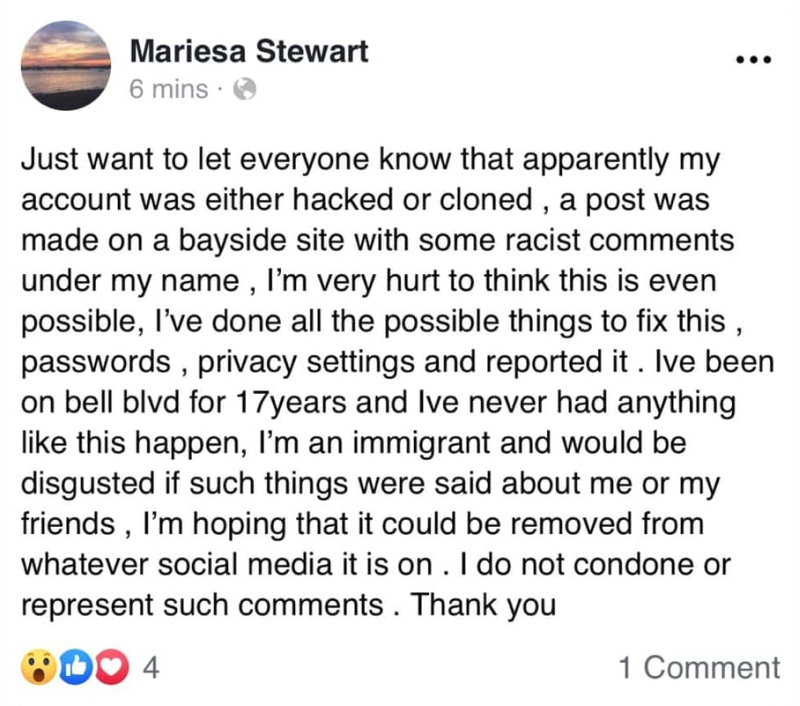 Brian Dempsey's also issued its own statement, saying that it "does not condone nor accept" such "hateful comments."
"We are aware of the racist comments being circulated around the social media space. Brian Dempsey's does not condone nor accept these hateful comments. We are located in one of the most diverse areas in the world, which is rich in culture."
The restaurant attributed its success to the local community and offered support to those offended by Stewart's alleged comments.
"We have been in operation for 25 years and we owe much of our success to the Queens community. We consider diversity to be a fundamental value to be fully upheld, respected and we are working on a solution so that we can better serve this community. We are deeply saddened to see this and offer our support to those who have been effected [sic] and offended by this unfortunate circumstance."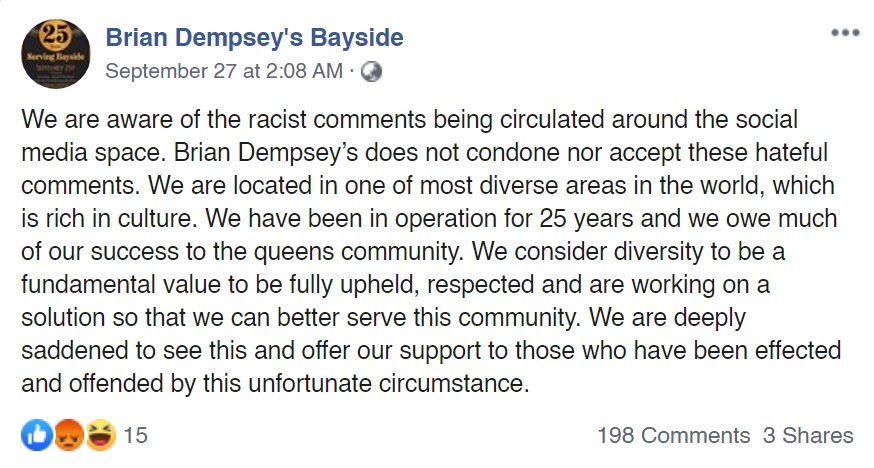 Featured Image via Brian Dempsey's Bayside