The Boston Globe has come under fire for using an image that features Asian victims of violence — with the late Michelle Go at the center — in an opinion piece that questions whether Asians are victims of racism or beneficiaries of white privilege.
The newspaper originally published a cover image of anti-affirmative action protesters to go with the story. However, the author of the article, Natasha Warikoo, asked to have it replaced because it was "precisely the kind of simplistic thinking I was arguing against."
"Yes, there's anti-Asian discrimination, but no, college admissions is generally not the place you'll see it," Warikoo, who is currently a professor of sociology at Tufts University, wrote in a Twitter thread.
"To their credit, the paper quickly changed the image when I wrote [to] the editor, but the image still appears, annoyingly, when you tweet the article. Thankfully not in print edition!"
I have been thinking a lot about this problematic debate about whether Asian Americans benefit from "whiteness" or are victims of racial discrimination. So I wrote a piece about it. But a problem emerged. 1/n https://t.co/JJFV7Bm1Te

— Natasha Warikoo (@nkwarikoo) September 19, 2022
It's unclear who exactly chose the replacement image, which is now a photo taken during a candlelight vigil held in honor of Michelle Go. The 40-year-old, who advocated for the homeless, died after being pushed by a homeless man into the path of an approaching subway train in New York City in January.
The new cover image shows a Times Square billboard that featured illustrated portraits of Go and other Asian victims of violence. Among them was Vicha Ratanapakdee, who also died after being shoved to the ground in San Francisco last year.
The replacement did not sit well with several members of the Asian American community — including designer Jonathan D. Chang, who illustrated the portraits.
"Could have chosen any other image for this op-ed but chose my Times Square portraits of Asians who were murdered to talk about Asians being 'beneficiaries of whiteness,'" Chang wrote in an Instagram Story. "What the f*ck?"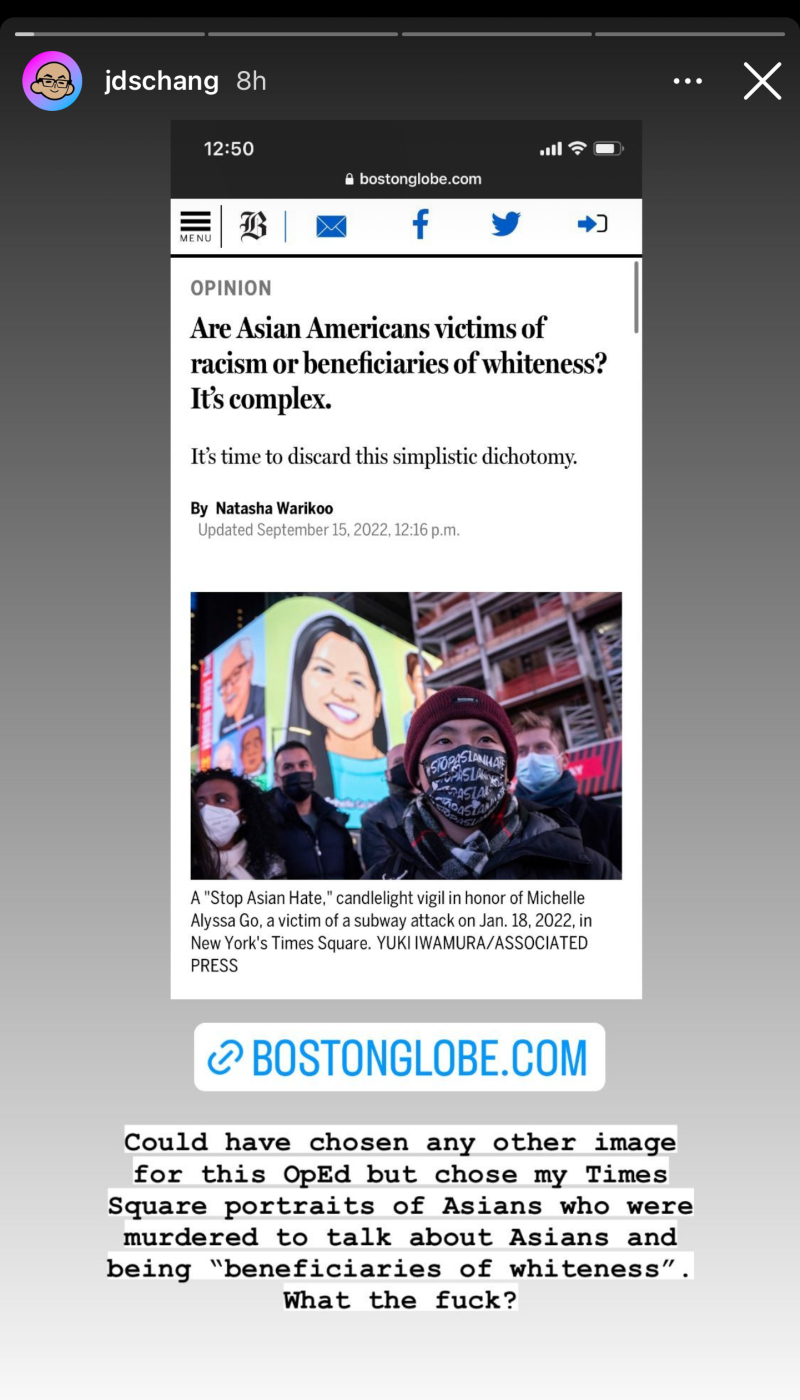 Image via @jdschang
"You in particular need to keep working class yellow folk out of your upper class academic, white-adjacent mouth," Twitter user @dotorii_muk wrote. "It's really an academic bubble moment when you're using a cover photo of Asians protesting literal murders — lives lost to violent racism, mostly in low-income and first-generation communities, to talk about (checks notes) Harvard admissions."
"When you answer the question with your own cover photo but you can't resist having others hear what you think even though the topic significantly deviates from the cover photo," Twitter user @DragonCombatCl1 wrote.
"Are AsAms victims of racism?"

*switches title picture to Times Sq with @jdschang portraits of some of the Asian people who got KILLED during the pandemic since somehow the last pic was less appropriate"

"Let's have discourse about something that has nothing to do w this" https://t.co/qGg4y48FcF pic.twitter.com/fKTvkgg1LP

— Dragon Combat Club (@DragonCombatCl1) September 19, 2022
Instagram user @mcasianlife called Warikoo's op-ed "trash" and created a meme in frustration:
View this post on Instagram
Meanwhile, others took offense directly to what they perceived as the "erasure of working class Asians" in Warikoo's writing:
JFC we have the shortest duckin memories ever. Just do a timeline of all the Asian related laws made in America and categorize them as favorable or unfavorable to Asians. Stop diminishing the hardships our parents and grandparents went through to give us the life we have today.

— AUGUST APE (@greetings_ape) September 19, 2022
Find another grift. Erasure of working class Asian Americans is not it.

— Anton Hur (@AntonHur) September 19, 2022
Ms. Warikoo, the working class Asian Americans are saying that you're completely out of touch with reality.

— 📢凉粉 📢 凉面 (@mocao1949) September 19, 2022
I try to be nicer on here but this article sucks. Aside from the erasure of working class asians (and outrageous lies like teachers favoring asian students fed to readers w/ a hilarious # of qualifiers) it's oriented toward inert observations ("it's complicated"). No. https://t.co/TwSkkR696w

— Justin Aoba (@Justin_Aoba) September 19, 2022
To even ask the question is a starting point of discrimination against Asians; bcz before Asians can assert their rights, they must first defend themselves against the accusation.
When whites can apportion Asians into a small wedge, they do. https://t.co/E26SQZ40ab

— Scott Shepard (@Shepardofmaine) September 19, 2022
One user even accused Warikoo of being racist herself:
literally shut your rac!st ass up https://t.co/qTJ2FDEiB5

— Bishop 🖇 (@BISHOPONMARS) September 19, 2022
The cover image remains live as of this writing.
Featured Image (Representation Only) via CBS New York