Rolling Stone Korea has issued an apology and correction for passages written in their July 5 Blackpink column which were seen by K-pop netizens and Blackpink's fans, Blinks, as disrespectful to members Jisoo and Lisa. 
The apology reads: "We have listened, have read, and have taken in all the considerations and remarks regarding the recent BLACKPINK column. We admittedly noted that we used inappropriate choice of words and context that led to this misunderstanding. A revised and modified column will be published in the second edition of the print next week. The revised column will be on our official website. We apologize to the artists for causing concerns. We ask for patience with us. Thank you."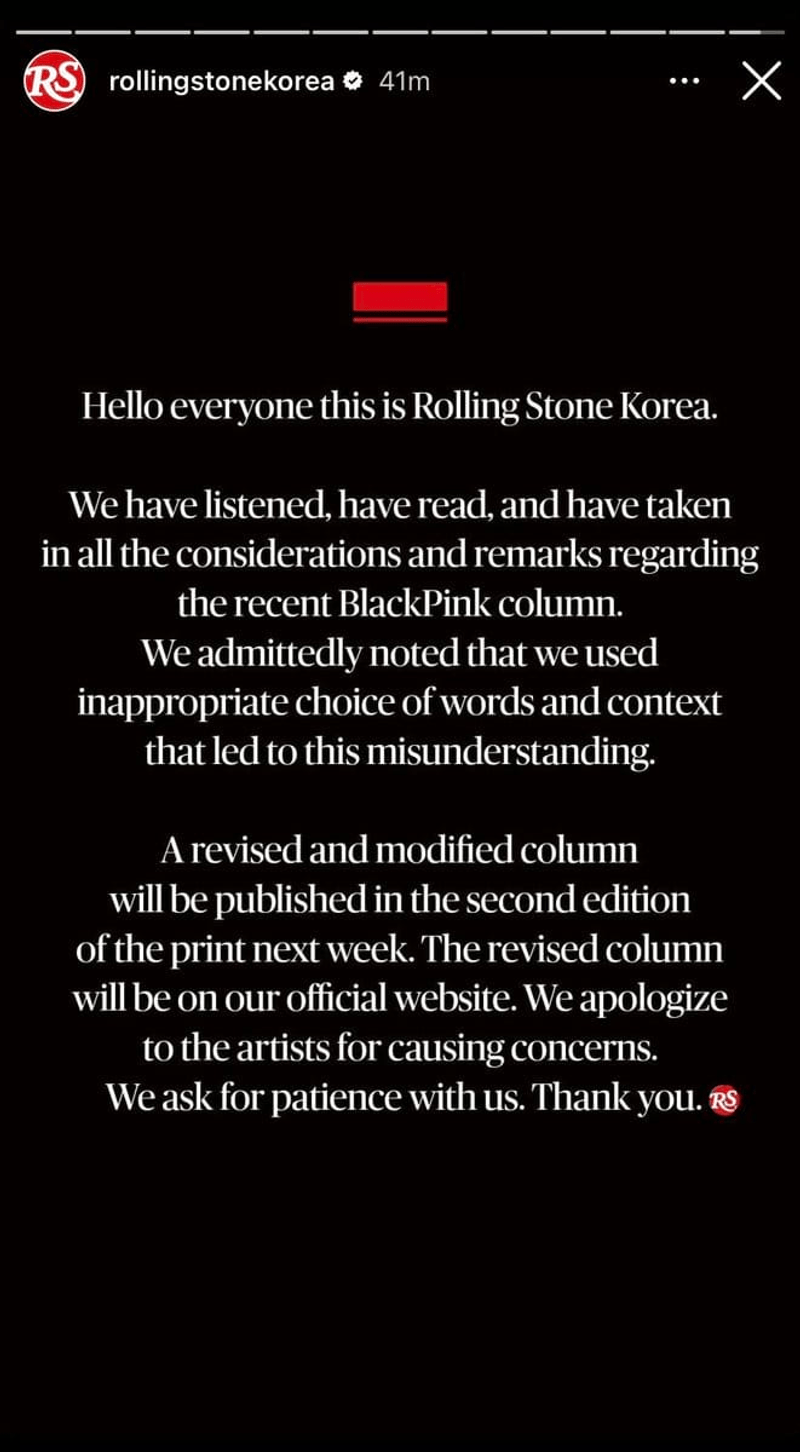 While the article provided a complimentary overview of the group and garnered generally positive reception and praise for the members' quotes and thoughts, two passages in question caused an uproar, with one claiming that the group's eldest member, Jisoo "does not possess the most outstanding talent in the group as a vocalist or dancer" and another which described Thai member Lisa as having "an exotic appearance." 

Netizens quickly took to Twitter to conjure the trending hashtags "Apologize to Jisoo," "Respect Jisoo," "Apologize to Lisa" and "Respect Lisa." 
some journalists are obsessed with tearing down successful women

RESPECT JISOO
APOLOGIZE TO JISOO

RESPECT LISA
APOLOGIZE TO LISA pic.twitter.com/8Hgoz4Smaq

— emma (@lustforjisoo) July 11, 2022
what @rollingstonekor said about jisoo is so unprofessional. before writing an article about her, make sure to check the facts first, since she's one of the most talented and hardworking idols out there.

RESPECT JISOO
APOLOGIZE TO JISOO pic.twitter.com/9886YuSHEn

— ☕️ (@jichusworld) July 11, 2022
This is so unprofessional @RollingStone
Jisoo is one of the most talented and hardworking idols out there.
Calling Lisa exotic because of her being a foregneir is unaccetable.

RESPECT JISOO
APOLOGIZE TO JISOO
RESPECT LISA
APOLOGIZE TO LISA @rollingstonekor pic.twitter.com/PWo8GSf3mf

— PINKS||August🥳 (@lovepinksot4) July 11, 2022
what's with people always targeting successful women with backhanded and bland comments? if u can't say shit just stfu, this is plain disgusting

APOLOGIZE TO LISA
RESPECT LISA
APOLOGIZE TO JISOO
RESPECT JISOO pic.twitter.com/stfpqv9S5t

— eun. (@Icveryu) July 11, 2022
using 'EXOTIC' just because she's a foreigner? what is this? the racism? as if the h*te she receives daily on social media wasn't enough, this is embarrassing and so unprofessional.

RESPECT LISA
APOLOGIZE TO LISA pic.twitter.com/vmaF28e7Od

— ً (@GIRL0VESICK) July 11, 2022
Blackpink's interview with Rolling Stone Korea was part of a historic achievement for the group as they became the first Asian group to be featured on the magazine's cover.
In other Blackpink news, the group announced on Tuesday their first-ever virtual concert in partnership with "PlayerUnknown's Battlegrounds Mobile." It is the group's first major project since the announcement of their new album in August to be followed by a world tour sometime in 2022.
Feature image via BLACKPINK