A group of researchers published a study that recently went viral last week for judging young doctors' professionalism based on their social media posts.
Sexist study: On December 24, 2019, the study was published behind a paywall in the Journal of Vascular Surgery and looked at the social media accounts of 480 recent vascular-surgery graduates from 2016 to 2018.
To be able to view these personal photos, the doctors and researchers created fake social media profiles.

Based on their findings, 61 of the 235 medical residents they reviewed had "unprofessional or potentially unprofessional content."

These types of content were defined in their paper as: "drinking alcohol, using profane language, and wearing Halloween costumes, and sharing bikini photos."

The study posits: "One-half of recent and soon to be graduating vascular surgery trainees had an identifiable social media account with more than one-quarter of these containing unprofessional content."

"Account holders who self-identified as vascular surgeons were more likely to be associated with unprofessional social media behavior," the paper continued. "Young surgeons should be aware of the permanent public exposure of unprofessional content that can be accessed by peers, patients, and current/future employers."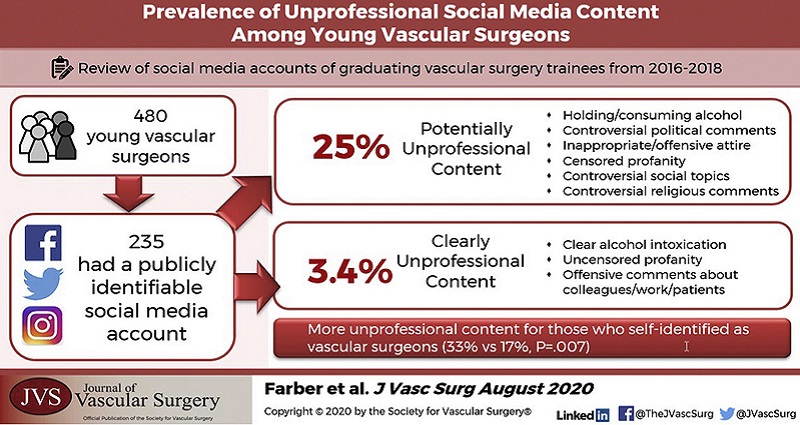 Public reaction:  When the study became free to view last week and was recently promoted on social media, it caught the attention and disapproval of many. The hashtag #MedBikini started trending on both Twitter and Instagram with medical professionals posting photos in their swimwear and showing their support for fellow "unprofessional" medical professionals.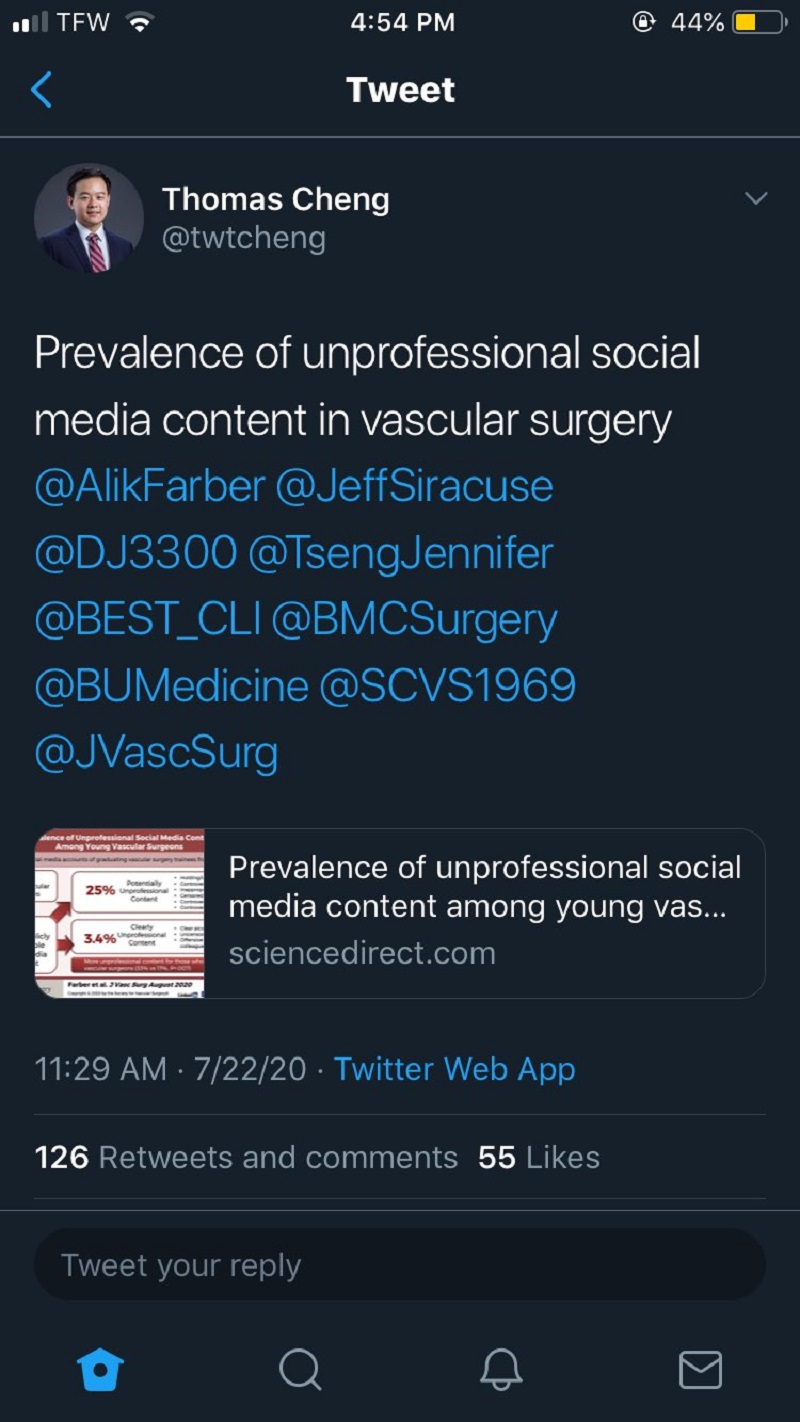 Thomas Cheng, one of the study's researchers, shared a link to the paper via a tweet. His Twitter account has since been deleted or deactivated as of this writing.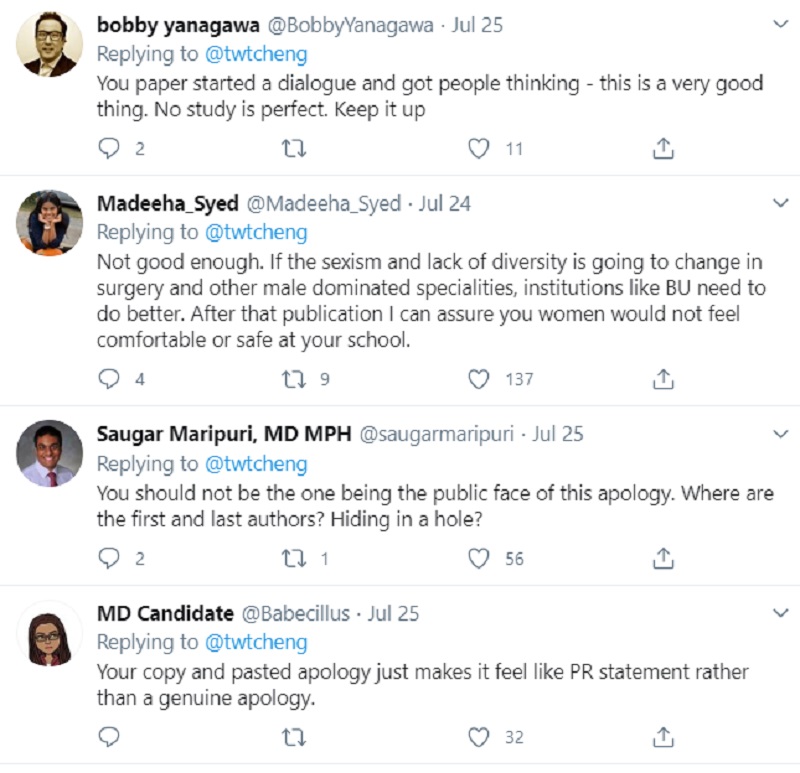 Social media users found the study deplorable for "shaming" female doctors and nurses. 

On Twitter and Instagram, many female medical practitioners posted bikini selfies using the hashtag #MedBikini to combat the stigma perpetuated by the study.

Along with the bikini photos, the medics also shared details of their credentials and accomplishments.

In her Twitter post, gynecologist Dr. Ariela Rozenek pointed out the double-standards in professionalism between male and female doctors and linked a separate report titled, "

How Women Experience Gender-Based Discrimination During Postgraduate Surgical Training."
Instead of tagging the flaming garbage paper that's inspiring the hashtag – here's some actual examples of unprofessional behaviour https://t.co/VQoblqfuWQ @allison_rants

— Ariela Rozenek (@Gyneonbeat) July 24, 2020
Meanwhile, Rush University radiation oncology chief resident Dr. Mudit Chowdhary called the study "disturbing."

If you are a true #heforshe then you must speak up against this disturbing study

3 men created fake social media accounts to purposefully spy on applicants

Worse they are shaming our women physician colleagues for wearing bikinis 🤦🏽‍♂️ #MedTwitter #MedBikini #retraction pic.twitter.com/MvNZoBnok2

— Mudit Chowdhary (@DrChowdharyMD) July 24, 2020


Apparently it's unprofessional for doctors to post social media pics wearing bikinis & drinking alcohol, so here's me doing both. #MedBikini

Also deemed unprofessional, profanity & political talk but these dudes can fuck off b/c health care should be free at the point of care. https://t.co/Lk99jCRdrD

— Dr. Victoria Dooley (@DrDooleyMD) July 24, 2020
Just found out you can't be medical student AND wear take pictures in a swim suit. Maybe someday women will be able to be doctors AND go to the beach 🤔 #medbikini pic.twitter.com/LTePAYCMiU

— mo (@schmuserkadser_) July 23, 2020
A med student noted one account of a doctor who was in her bikini when she saved a patient who was hit by a boat at the beach. The photos are suspected to be a recreation of the incident when she was in Indonesia and can be viewed in the "Discovery Life: Untold Stories of the ER" series here.
This is the most badass #MedBikini post I've read and I'm sorry if Dr. Candice Myhre is on twitter and shared this. But I think we all need to see and read it. Wearing a bikini did not take away from her duties as a doctor. It didn't hurt her pt. It actually saved their life. pic.twitter.com/rze0afLksT

— Madeeha_Syed (@Madeeha_Syed) July 26, 2020
Researchers apologize: Dr. Jeff Siracuse, one of the authors of the study, apologized for the "paper's framing" and noted that their intention was to "empower surgeons." His Twitter account appears to have been deleted or deactivated as of this writing. Senior author and vascular surgeon, Alik Farber, apologized in a tweet on Sunday.

Siracuse wrote: "Our intent was to empower surgeons to be aware and then personally decide what may be easily available for our patients and colleagues to see about us on social media."

He added: "However, this was clearly not the result. We realize that the definition of professionalism is rapidly changing in medicine and that we need to support our trainees and surgeons as our society changes without the appearance of judgement."

Based on the objectives listed on the paper itself, the authors' goal was "to evaluate the extent of unprofessional social media content among recent vascular surgery fellows and residents."
As the senior author of the manuscript entitled "Prevalence of unprofessional social media content among young vascular surgeons" I want to personally apologize to everyone for the pain and negative impact that this paper has caused to so many people.

— Alik Farber (@AlikFarber) July 26, 2020
The study was retracted on Friday by the journal's editorial board after being published in the August 2020 issue, according to Forbes.
Feature Image via @mikirai