Suspects involved in the fire attack on the 89-year-old grandma in Bensonhurst, Brooklyn in late July were found and charged on Tuesday.
The two involved were not men but minors, both aged 13 and charged with third-degree assault, according to ABC 7 News.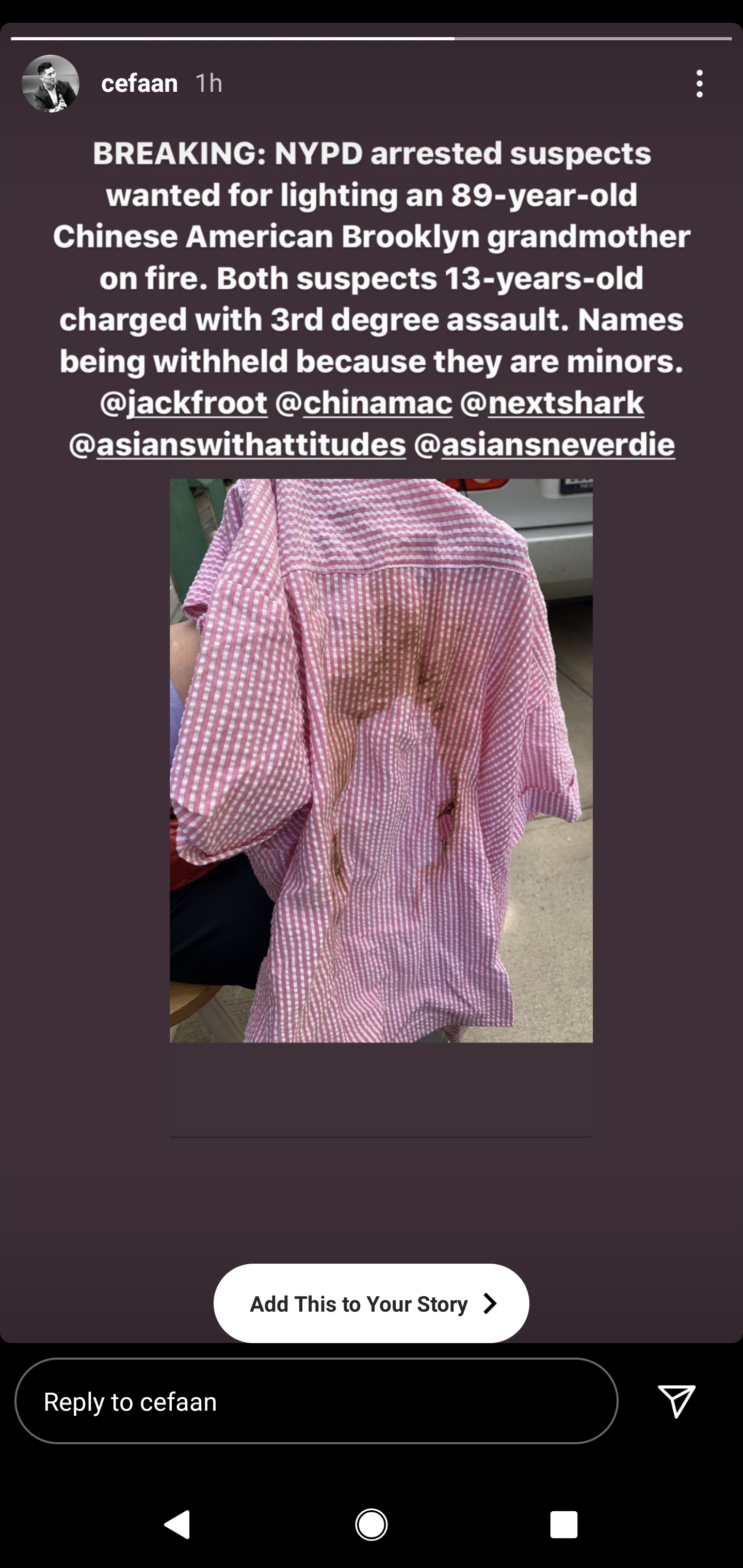 The incident occurred near 16th Ave. and 77th St. in Bensonhurst, Brooklyn around 6:45 p.m. on July 14, where surveillance footage showed the two attackers walking around the area with face coverings on.
The grandma, now 90, had no prior relation to the teens and had just stepped out of her house when they slapped her, unprovoked, and lit the back of her shirt on fire.
ABC's CeFaan Kim interviewed her and Don Lee, a Chinatown activist and Chairman of Homecrest Community Services (HCS) at the time, where she detailed how after she felt a "sharp pain," she rubbed her back against a wall to put out the flames.
Once news broke of the elderly woman and images of her scorched shirt spread throughout communities, mass outrage surged on the attack with many deeming it racially-motivated and a hate crime. It sparked several rallies led by China Mac, MC Jin, and William Lex Ham in New York ("Asian Unity Rally" on Aug. 1 and "They Can't Burn Us All" on Aug. 15) and Los Angeles ("#TheyCan'tBurnUsAll" on Sept. 5).
The incident later caught the attention of actor Daniel Wu who matched HCS and MC Jin's $15,000 reward for the arrest and conviction of the two suspects, which was believed to total $30,000.
From the current information available, the identities and ethnicities of the teen attackers have not been released because they are underaged, as stated by Kim's tweet.
BREAKING: NYPD arrested suspects wanted for lighting an 89-year-old Chinese American Brooklyn grandmother on fire. Both suspects 13-years-old charged with 3rd degree assault. Names being withheld because they are minors. https://t.co/5tEulE0n4V

— CeFaan Kim (@CeFaanKim) September 8, 2020
Feature Image Screenshots via @chinamac (left), New York Police Department (right)