Editor's Note: This post has been updated to further clarify that the post originated from a Belgian high school where they speak Flemish, the dialect of Dutch predominately spoken in Belgium. The Dutch language is native to the Netherlands.
Over a dozen students at a Dutch Flemish high school in Belgium have sparked outrage after posting a photo on social media dressed in stereotypical Asian attire while holding a sign that reads "Corona Time".
The photo was first posted on Instagram and Facebook by Sin-Paulus Campus College Waregem, a secondary school in Belgium, according to The Independent.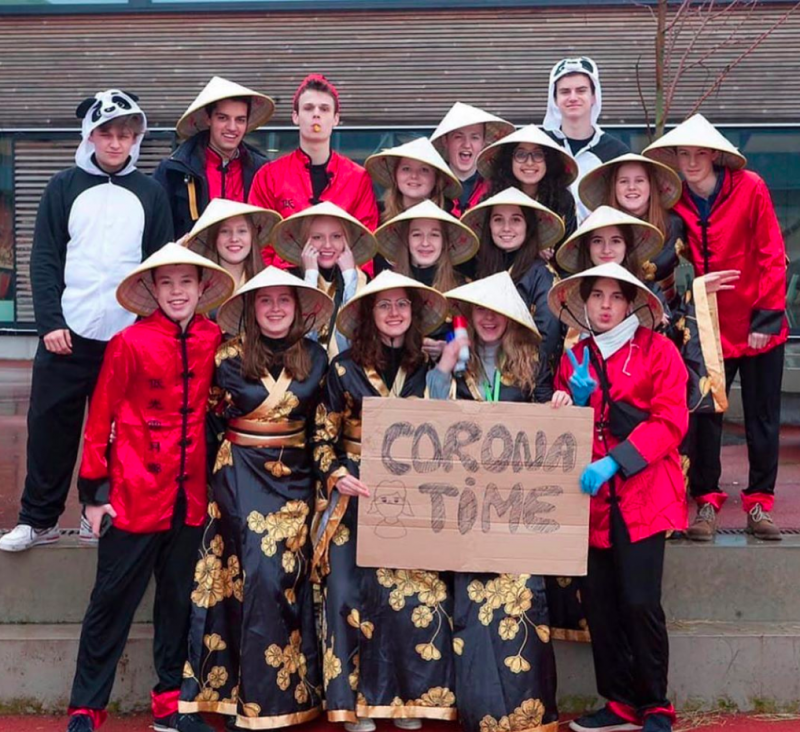 A total of 19 students can be seen in "traditional" costumes, at least one wearing blue latex gloves and a face mask, two of them dressed as pandas, and one girl can be seen doing the slant-eye gesture. The school has since removed the post from it's social media, deleting their Facebook and Instagram accounts as a result.
According to Belgium-based newspaper Krant van West-Vlaanderen, campus director Philip Demuynck issued a statement on behalf of the students:
"Neither the school team, nor the students in question, have intended to hurt this photo. We want to apologize explicitly, because we had not correctly estimated the consequences."
The post was reportedly planned last year by senior students who chose a Chinese theme to celebrate their last 100 days of school, a yearly tradition. Coincidentally, that was the same month that COVID-2019 first began to reveal itself in Wuhan, China. The "Corona Time" sign and face mask were added in response to the outbreak that has since spread around the world and killed thousands.
The post saw backlash from a racism against Asians awareness group in the Netherlands called "Broodje Kaas Met Sambal", which translates to "Cheese Sandwich with Sambal" after the Indonesian chili sauce.
The group revealed the school responsible, adding that the photos were silently removed.
"In the meantime, the school has silently removed the photos, but this certainly does not solve the problem and shows once again how much it is necessary to deal with racism and discrimination in education.
"As an educational institution, you have a very large influence on the future generation. The fact that you approve of this kind of behaviour and promote it yourself on your channels is far from responsible and shows that something is wrong with you.
"Maybe it's high time to take responsibility?"
Rotterdam-based photographer Rui Jun Luong also posted about the photo on Facebook, writing, "Unbelievable. How can people get it into their head [that it is ok] to put this on, make the board, pose for the photo including gloves and pulling eyes?"
The post has since been widely condemned on social media:
This photo was posted on a high school website in Belgium – College Waregem. Wearing a leaf hat and Asian clothes, the girl in the middle of the picture also raised her hands to rediscover the eyes of Asian people, and raised the banner with the words "Corona Time".#stopracism pic.twitter.com/AF54iovCjv

— #Stopracism (@AliceMariaEvans) March 11, 2020
Sint-Paulus School , Campus College Waregem – thought it was a good idea to host a 'Corona Time' theme party and then post it all over their social media.

Their school motto is: "help young people grow into wise people: respectful, responsible, committed and social"

WTF. pic.twitter.com/NfycdLDFTn

— Johnny Luk (@Johnny__Luk) March 11, 2020
Racism and xenophobia in response to the panic and fear caused by the virus has led to a marked increase in harassment, discrimination and violence against all Asians around the world. In addition to safety measures to take to stop the spread of the virus and what to do if you think you have it, members of Asian communities everywhere are urged to be aware of their surroundings at all times and stay safe.