The spirit of "bayanihan" lives on in the modern-day Philippines, as seen in a viral TikTok video that shows community members helping an old man carry his house to bring him closer to his family.
The video, shared by Rhe Zelle Aranjuez (@labmobaako0) on TikTok, shows two dozen people working together to carry a 7-foot-tall bahay kubo (nipa hut) and move it to another location.
In a comment, Aranjuez said the heartwarming moment occurred in San Roque in the Philippines' Zamboanga del Norte province.
"The grandfather didn't have anyone to take care of him because his wife was already dead so his children wanted him to live nearby," Aranjuez explained, as quoted by the Instagram page Good News Movement. "However, his house was too heavy for his relatives so some of our neighbors volunteered to help."
The gesture reportedly took two hours to finish. To help motivate the volunteers, community members continuously cheered them on.
"They were all tired after that but the old man's daughters cooked a meal for them. It was like a fiesta," Aranjuez was quoted as saying.
View this post on Instagram
Aranjuez's TikTok video has amassed over 1.1 million views and 163,000 likes since it was first shared on Nov. 6.
Several comments under the Good News Movement Instagram post explained that what the volunteers were doing in the video is called "bayanihan."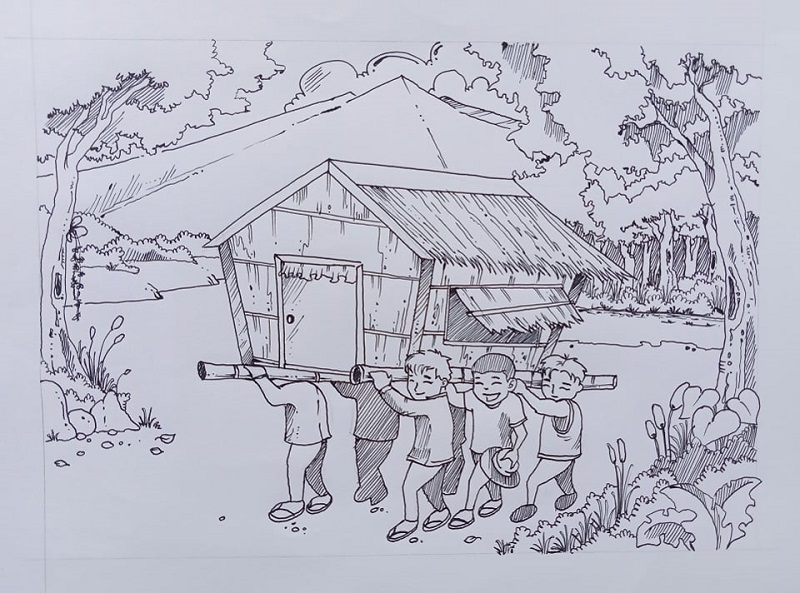 Image via Christian Delmo (CC BY-SA 4.0)
"Bayanihan" is an old Filipino custom that involves people helping their fellow community members without expecting anything in return. Pictures of people carrying a nipa hut to move it elsewhere are typically used to portray the custom in books and other media.
The "bayanihan" spirit can also be seen during other scenarios, such as when help is given following natural disasters.
Featured Image via @rhezellearanjuez