When
Despite what its name suggests, banana ketchup isn't solely a mixture of banana pulp and crushed tomatoes. Its smooth texture, similar to that of tomato ketchup, can be deceiving. Yet the history of this beloved condiment — which typically consists of mashed banana, vinegar, sugar and spices — shines a light on the Philippines during a time of struggle.
Origins and Orosa
Before becoming a household favorite to countless Filipino families, banana ketchup was known as a wartime innovation. Although
mass-produced versions
of it were eventually distributed by brands such as UFC, its first variant can be traced back to World War II.
Magdalo V. Francisco Sr. pioneered the
mass production of banana ketchup
in 1942, but Filipino food technologist and war hero Maria Orosa was the genius behind this pantry staple. As American soldiers fought alongside Filipinos during World War II, the Philippines experienced a shortage of tomatoes. Orosa experimented with different ingredients to make another version of tomato ketchup, a condiment that Americans had introduced to Filipinos in the
late 1800s
.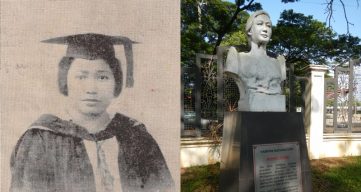 Subscribe to
NextShark's Newsletter
A daily dose of Asian America's essential stories, in under 5 minutes.
Get our collection of Asian America's most essential stories to your inbox daily for free.
Unsure? Check out our Newsletter Archive.
Orosa, who was born in 1893 in the province of Batangas,
moved to the U.S.
to study pharmaceutical chemistry and food chemistry. She was offered an assistant chemist position for the State of Washington, but she returned to the Philippines in 1922 to combat malnutrition across the nation.
Before creating the first banana ketchup recipe, Orosa had already made waves in her home country through her various innovations, from freezing mangoes to inventing the
palayok oven
. She also created
provisions that Filipino soldiers consumed during World War II, such as a nutrient-rich soya bean drink called Soyalac.
The
National Historical Institute recognized Orosa as a humanitarian and war hero in 1983 by installing a marker at the Bureau of Plant Industry in Manila. On Nov. 29, 2019, Google celebrated Orosa's 126th birthday with a Google Doodle. 
One Condiment, Countless Versions
To make banana ketchup, Orosa used
saba bananas
for the base. These bananas, which are stubbier and firmer than the typical supermarket variety, are used to make various Filipino snacks, from chips and fried rolls to fritters. Orosa also included ingredients such as vinegar, sugar and spices in her recipe. For the yellow-brown mixture to resemble traditional tomato ketchup, banana ketchup manufacturers eventually added red food coloring.
Nowadays, while walking down the aisle of a Filipino supermarket, you'll likely find more than one kind of mass-produced banana ketchup. Given the Filipino diaspora, this much-loved condiment has found its way to stores around the world. Countless families have their preferred brand — some are partial to the sugary versions, while others opt for the ones with more spice.
UFC, one of the most popular banana ketchup brands, provides a mix of salty and sweet with a peppery kick, while Papa, another renowned brand, offers a tangier taste with a hint of red bell pepper. Mafran, which is known for its sweetness, is a perfect dipping sauce for anything salted or fried.
Regardless of its flavor profile, banana ketchup can accompany a vast range of dishes and snacks, including hamburgers, tortang talong, lumpiang shanghai and
camote fries
. It can also substitute ingredients such as tomato sauce to create the classic
Filipino-style sweet spaghetti
.
Although banana ketchup might seem like an acquired taste, it is something that will always evoke a sense of nostalgia for thousands, if not millions, of Filipinos worldwide. From birthday parties to family reunions, there is always a place for this condiment at the table.