A woman is
being branded as a racist and a "Karen" after refusing to share an elevator with a Black man who seemingly racially insulted her last week.
The incident, which occurred in an apartment building in London, was recorded by local promoter @badguytoba, who says his job is to "film for public property."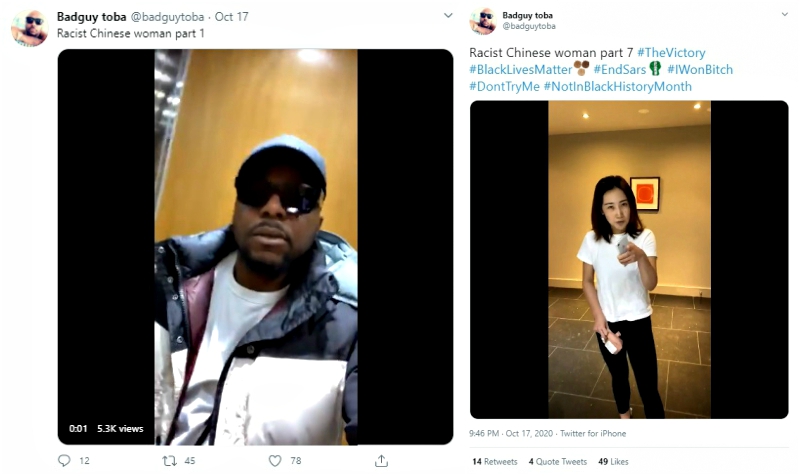 The seven-part video posted on
Twitter
begins with @badguytoba heading for the elevator and ending up with the
"racist Chinese woman"
inside.
A sign shows that the elevator allows a maximum of two people as a safety measure against
COVID-19
. It's unknown whether the area mandates face masks, however, as neither @badguytoba nor the Asian woman wears one.
The Asian woman presses the elevator hold button, leading to a heated exchange. "It's you people that brought corona," @badguytoba tells her.
@badguytoba goes on to "educate" the Asian woman about people who died from the virus. In return, she keeps the door open, refusing to ride the elevator with him.
"I hope you know this is kidnapping, holding somebody without [sic] their f***ing will," @badguytoba accuses the woman. "Why are you holding the lift? Explain yourself!"
To this, the woman replies, "Why [do] you come here and say something indecent?"
The altercation continues as @badguytoba continues to press for an explanation and the woman retaliates for an equal response.
"Are you my father? I can talk any-[unintelligible]! Lift the damn lift! I have a f***ing date," @badguytoba yells at the woman. "Explain why you're holding the lift."
Subscribe to
NextShark's Newsletter
A daily dose of Asian America's essential stories, in under 5 minutes.
Get our collection of Asian America's most essential stories to your inbox daily for free.
Unsure? Check out our Newsletter Archive.
The woman simply repeats her question: "Could you explain why you said something indecent?"
Shortly after, @badguytoba claims that the woman "doesn't want the lift to go because I'm in the lift." However, she cuts him off saying, "That's not true."
"How long have I been here? You told me you'll keep this lift as long as you can. Okay," @badguytoba says. "I'll send all of this to management. I should leave the lift because of you. I don't die."
At that point, the woman specifies her issue with @badguytoba. "And you said I have coronavirus. Oh my god, that's so funny," she says.
@badguytoba snaps back and accuses the woman of lying.
"Now you want to put lies? I said you have corona? You think [if] you have corona, I'll be in the lift with you? Continue lying."
The standoff drags on as the woman presses the alarm button. However, she is forced to exit as another woman steps inside.
In his final clip posted on Twitter, @badguytoba, in apparent declaration of his triumph, used the hashtags "#TheVictory," "#BlackLivesMatter," "#EndSARS," "#IWonB**ch," "#DontTryMe" and "NotInBlackHistoryMonth."
It's unclear what @badguytoba meant with "It's you people that brought corona" and whether he actually claimed that the woman had coronavirus. It's also unknown whether the woman is of Chinese descent.
Over 2,500 cases of anti-Asian incidents have been recorded in the U.S. since the country was hit by COVID-19. Actions of perpetrators vary from shunning to verbal abuse to physical assault.
As of this writing, all seven clips posted by @badguytoba have received nearly 20,000 views. Some accounts also
compiled
them into a single video with over 3.3 million views.
People cheered for @badguytoba, slammed the Asian woman as racist and called her names.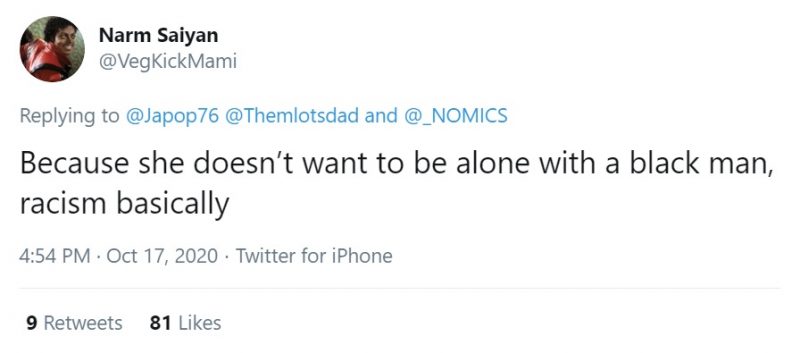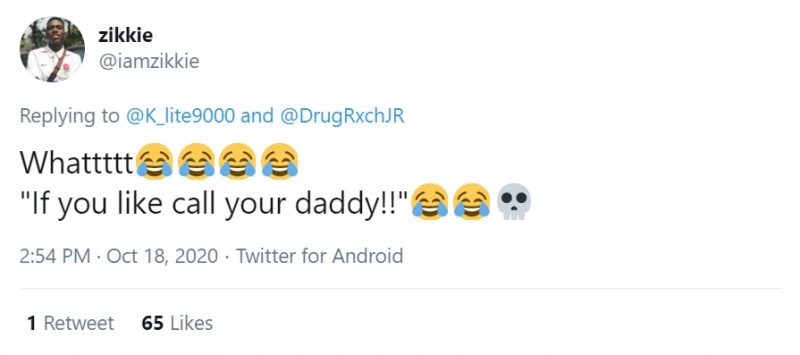 One also claimed that Asians have been mistreating Black people since COVID-19 started.