A London-based contestant
in BBC One's "Masterchef: The Professionals" faces backlash after reportedly referring to Asian cuisine as "dirty" in her Instagram bio.
Philli Armitage-Mattin, a 28-year-old London-based chef, was called out online for her description of "Dirty food refined." The line in question has since been removed from her Instagram, according to
TODAY
.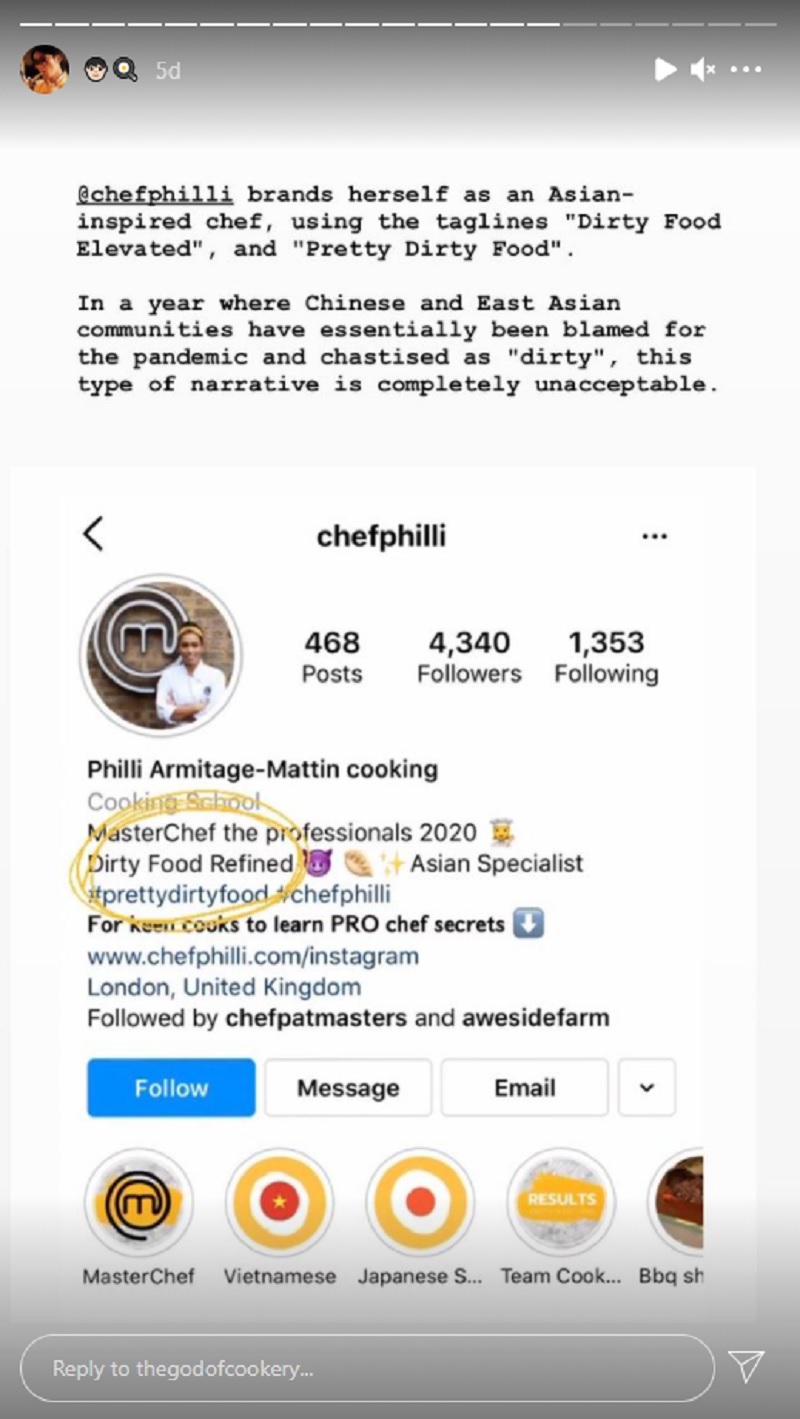 Clarence Kwan, creator of the anti-racism and Chinese food magazine "Chinese Protest Recipes," highlighted the problematic message in his
Instagram Stories
.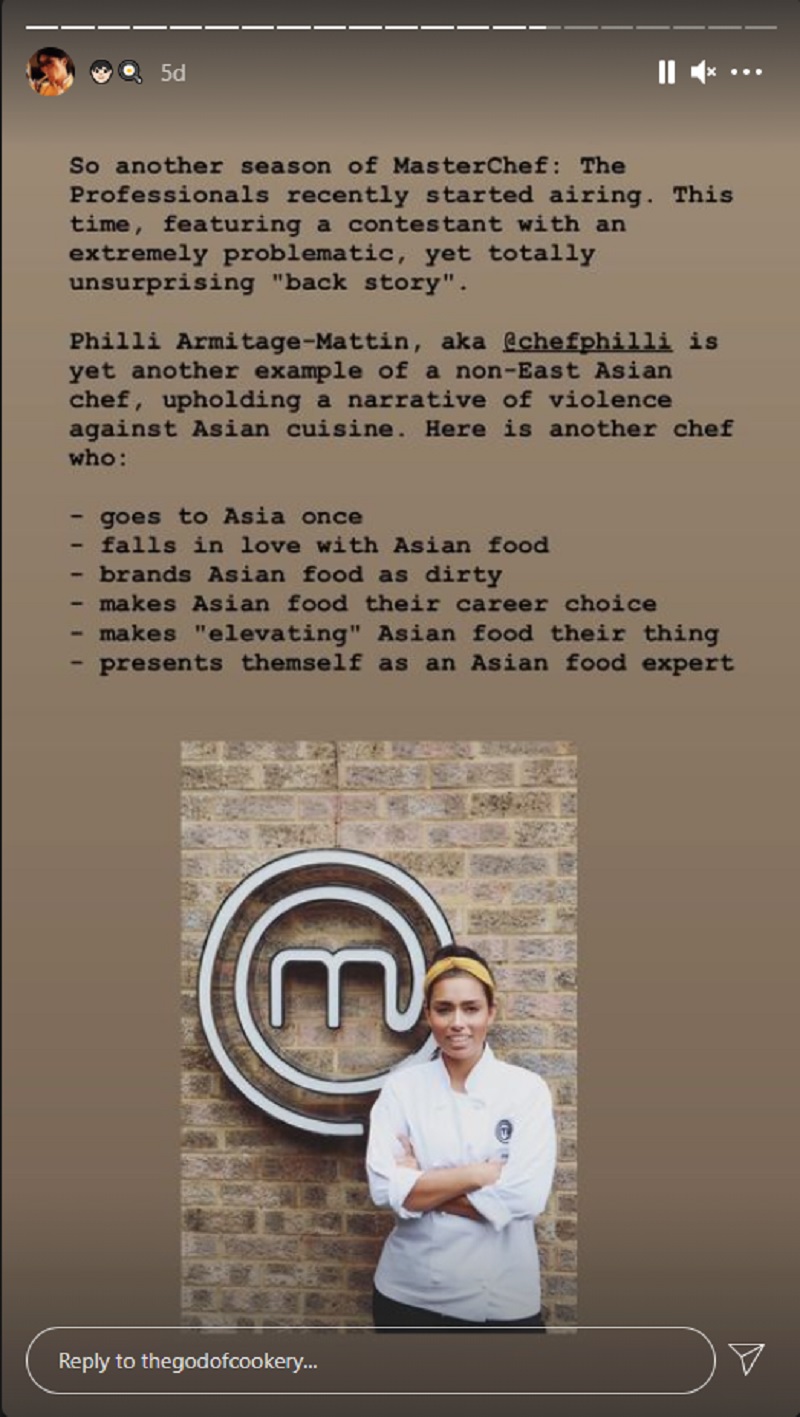 "In a year where Chinese and East Asian communities have essentially been blamed for the pandemic and chastised as 'dirty', this type of narrative is completely unacceptable," Kwan wrote.
"Here is a person profiting off of 'dirty' Asian food, while countless Asian restaurants have suffered vandalism, violence and fallen victim under the same baseless labeling," Kwan said in another post.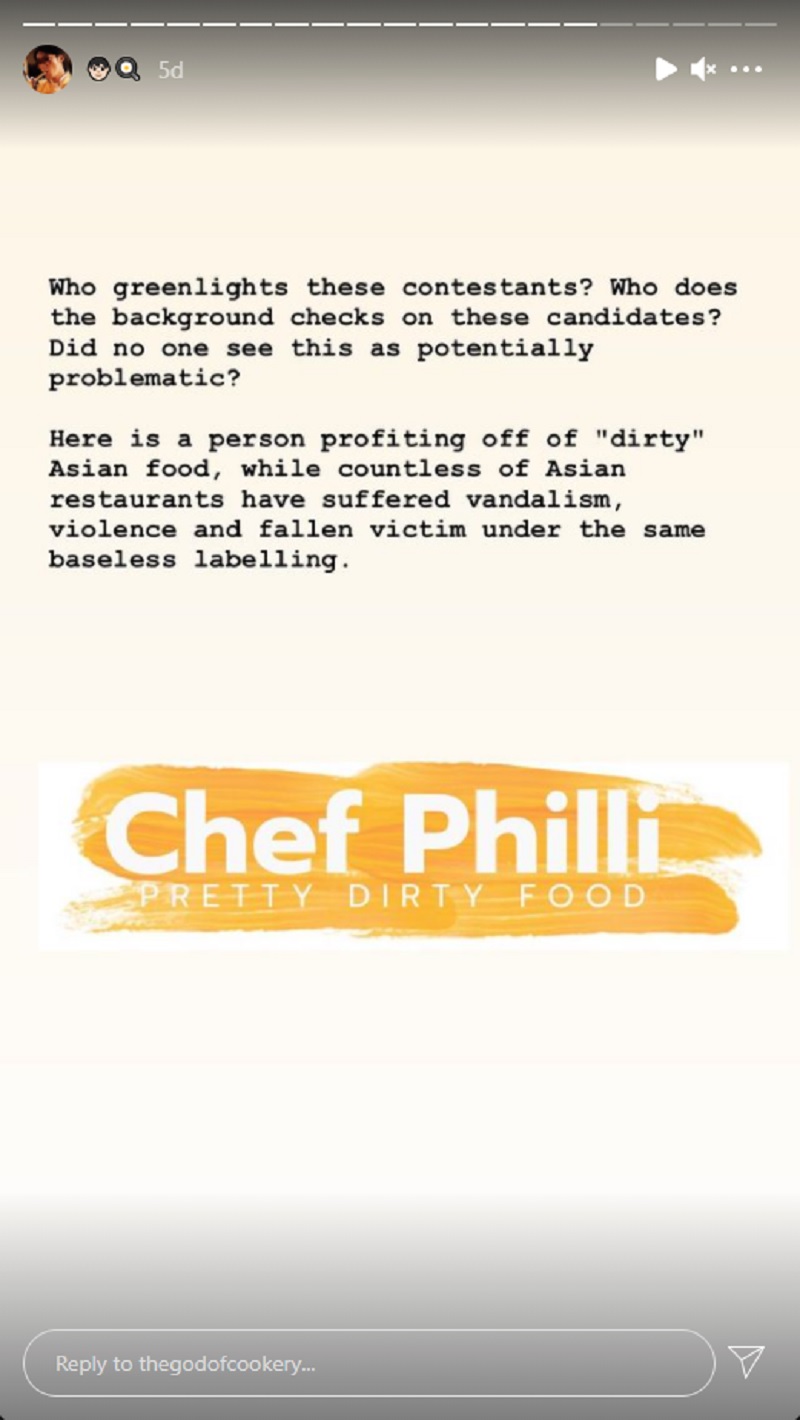 In her now-deleted Instagram bio, Armitage-Mattin describes herself as an "Asian specialist."
Subscribe to
NextShark's Newsletter
A daily dose of Asian America's essential stories, in under 5 minutes.
Get our collection of Asian America's most essential stories to your inbox daily for free.
Unsure? Check out our Newsletter Archive.
Words matter, Kwan said. The use of the word "dirty" villainizes the community and other Asian communities, he added.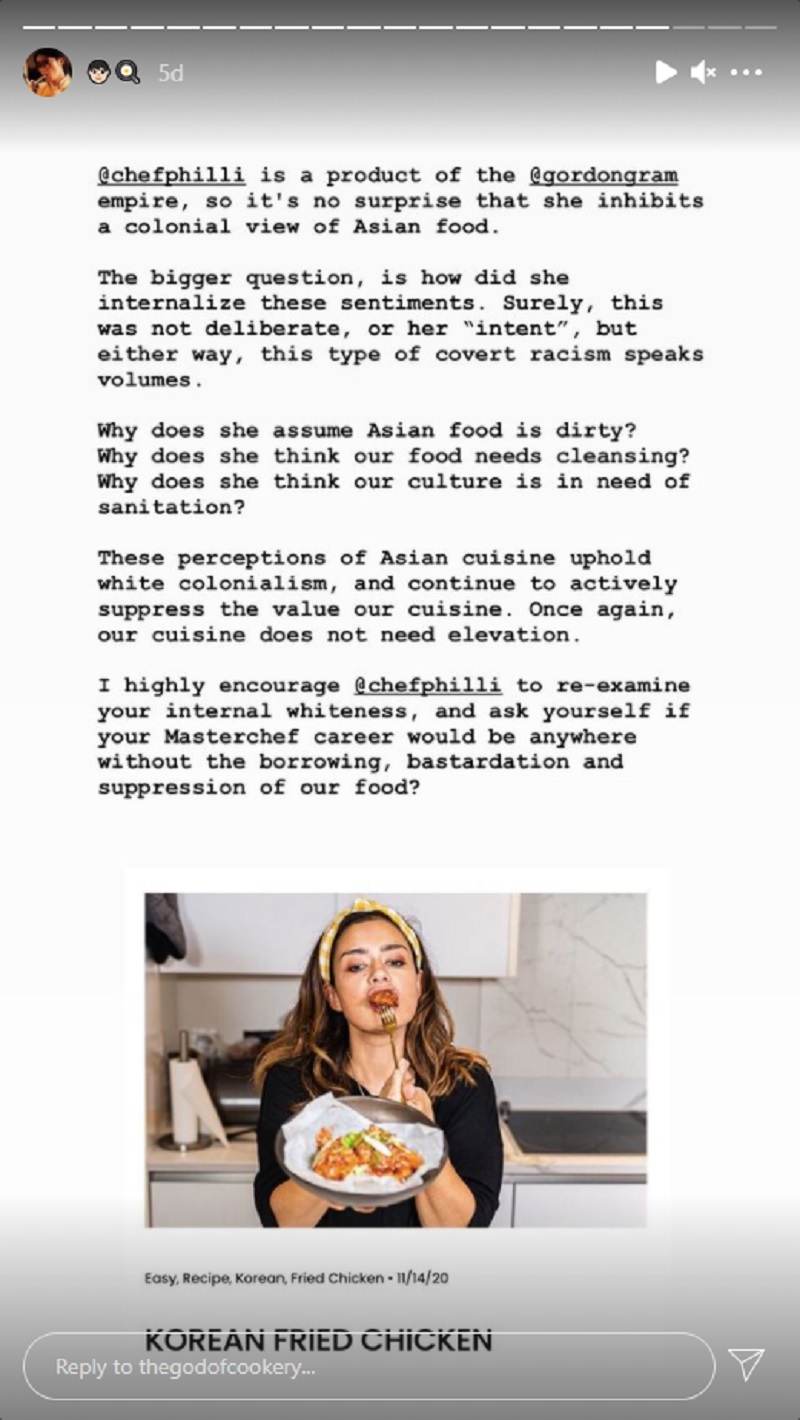 Armitage-Mattin
"fell in love with Asian cuisine"
when she joined the Gordon Ramsay Restaurants at 22,
Savour Magazine
reported. However, she later quit and traveled to Japan. She felt a pull at her "heart strings" to learn about Asian cuisine.
"I wanted to immerse myself in the culture, visit the restaurants, learn about the way of living, study the food, ingredients and meet the chefs and producers," she said.
Following the backlash, Armitage-Mattin offered an apology on her Instagram, explaining she had never meant to use the word "dirty" as derogatory.
"The way I mean food to be 'dirty' is indulgent street food; food that comforts you as in 'going out for a dirty burger,'" she said.
The chef explained she wanted to celebrate street food culture and, more generally, foods that she finds "interesting".
"It has never occurred to me to connect the words 'dirty' and 'Asian' in the manner that I am accused of, that has never been my intention. I'm truly sorry if this has caused any offense," she said.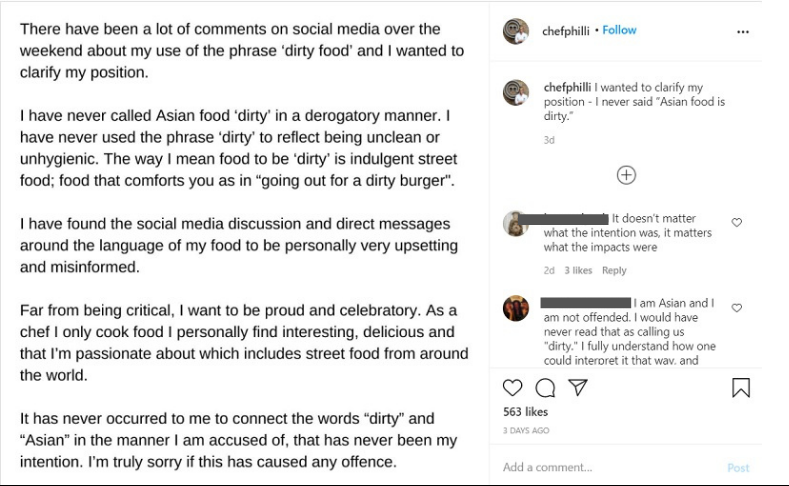 Many social media users called out Armitage-Mattin for her Instagram bio and apology.
"If you're not part of the group that would get offended by this, then you can't tell someone not to be offended. It's not a White British person's job to tell an Asian person whether they should be offended or not," one user wrote.
"'Asian' food doesn't need to be 'refined' by you I'm sorry. Especially if your definition of refinement is putting some sriracha on top of a langoustine," another user wrote.
Others, however, came to her defense.
"I am Asian and I am not offended. I would have never read that as calling us "dirty." I full understand how one could interpret it that way, and apologize for any misunderstanding and clarifying your intent is perfectly reasonable. I am in the habut of taking people at their word and intent HAS to matter. If we lived our lives wondering how what we say might be interpreted by others as opposed to how we meant it, we'd say almost nothing interesting. Woman to woman, I know it seems terrible right now but you'll get through this bullying and be stronger for it" one user wrote.
"@chefphilli I'm from Singapore so as asian as they come and I've been both impressed and gratified to see you incorporating asian flavours into your dishes on Masterchef with care and attention. You've raised an important fact: that Asian food isn't just Singapore fried noodles or prawn toast; it's a diverse cuisine with an immense flavor profile. I'm sad that people are taking offense with semantics here; 'calling you' on a misunderstood premise ('dirty' can also just mean guilty pleasure) and failing to see that you are in reality a great fan of asian flavour and a good ambassador of it," another user added.