Filipina models who were invited to walk a show for designers Elie Madi, Rocky Gathercole, and Resty Lagare at the biannual fashion event were reportedly blocked by event organizer and Art Hearts Fashion International president Erik Rosete.
According to insiders who wish to remain anonymous, Rosete was heard shouting, "All models below 5'5″ cannot walk." "No Filipinos." "This is not Manila Fashion week!"
Kiana Valenciano, one of the rejected models, shared in an interview with Pacific Rim Video that she was very shocked upon learning they were barred from joining the walk, stating
"I had never experienced racism ever, this is my first experience."
"But I felt at peace, knowing that the designers and the whole fashion house were there standing up for us," she added. "I did feel a little hurt and offended but it wasn't heavy. It was more of like 'Okay, this happened, how do we bounce from it, how do we move forward.'"
Following the backlash, Rosete aired his side claiming that he did not allow some of the models to walk because Jacob Meir, founder of the For the Stars Fashion House, has an unpaid debt amounting to
almost $100,000.
"This has nothing to do with race, color, or gender,"
Rosete wrote in an email (courtesy of Pacific Rim Video).
"This has to do with the fact that Jacob Meir owes us close to $100,000 for shows he has not paid for in the past two years."
Subscribe to
NextShark's Newsletter
A daily dose of Asian America's essential stories, in under 5 minutes.
Get our collection of Asian America's most essential stories to your inbox daily for free.
Unsure? Check out our Newsletter Archive.
"I canceled the show because he (Meir) did not respect us as a production and was pocketing money on the side,"
he added.
While
Meir had claimed earlier that the Filipina models were left humiliated, Rosete stated that none of them walked out and that they
"waited patiently
" as he tried to
"find a solution."
"I am sorry but as a professional Fashion Event, our minimum height requirements are 5'9 for girls and sometimes 5'8 for celebrities. NONE OF THE MODELS WALKED OUT! They waited patiently while I tried to find a solution."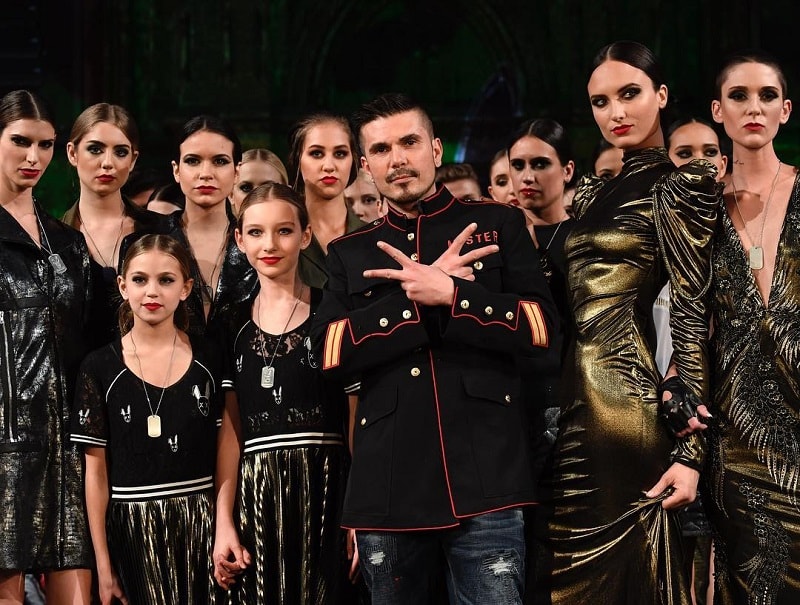 Rosete added that while he was willing to make an exception for a few of the girls, he decided to cut the show after he reportedly saw
40-year-old ladies with plastic surgery walking in and telling him that they were also booked for his show.
"I LOST IT AND CUT THE SHOW! No one walked out! I CUT THE SHOW and it had nothing to do with race. It had to do with his disrespect for our organization and the fact that he has stolen close to $100,000 from us and was trying to collect more money on the side."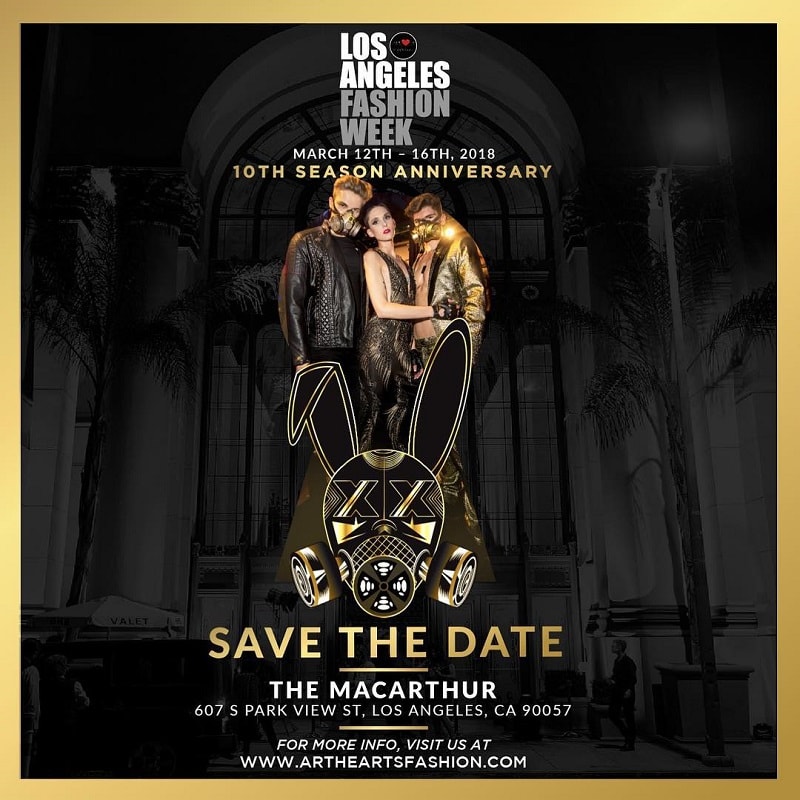 Rosete, who said half of his team and several of his designers are Filipinos, expressed that he had no reason to discriminate against the models.
"I feel horrible for the lovely young girls and you can ask any of them. I went back to them and spoke to them about finding a solution,"
he stressed.
In an earlier statement on Facebook, Rosete accused Weir of being a "scam artist," a "crook," and a "liar."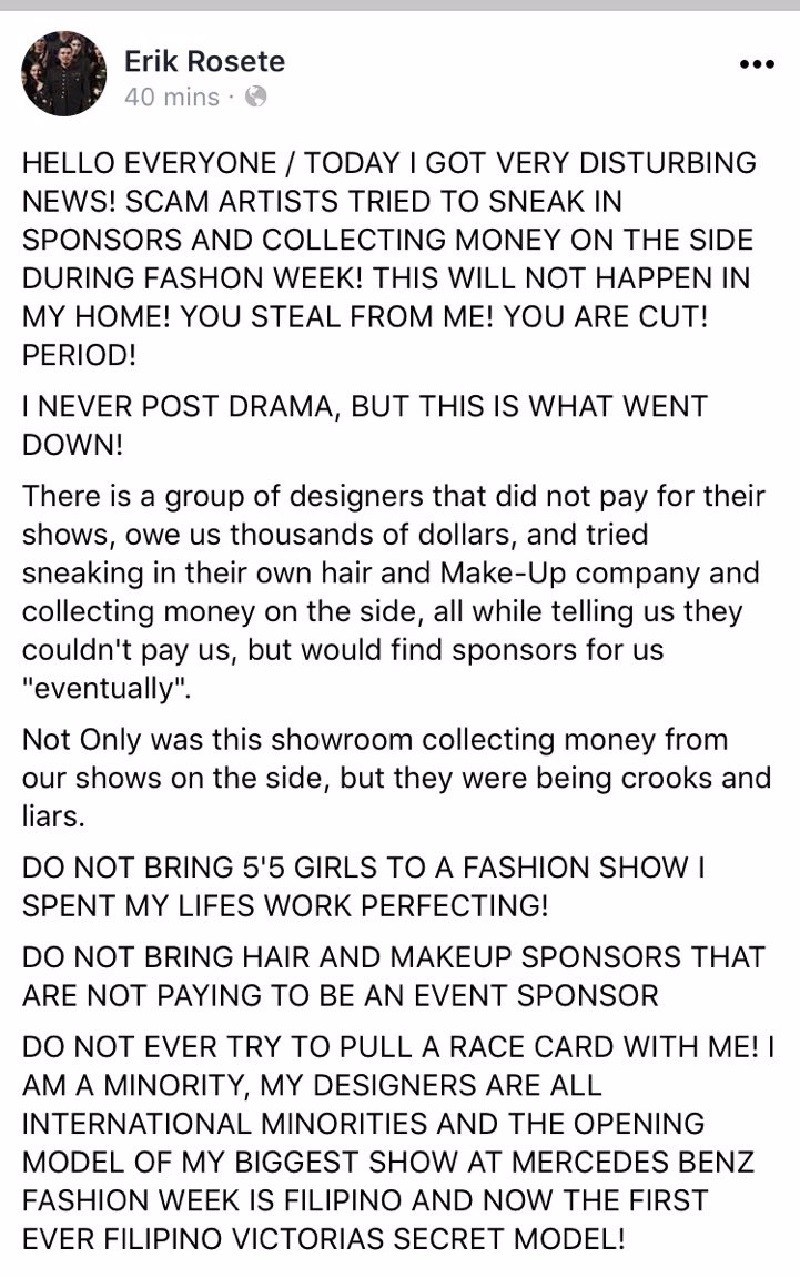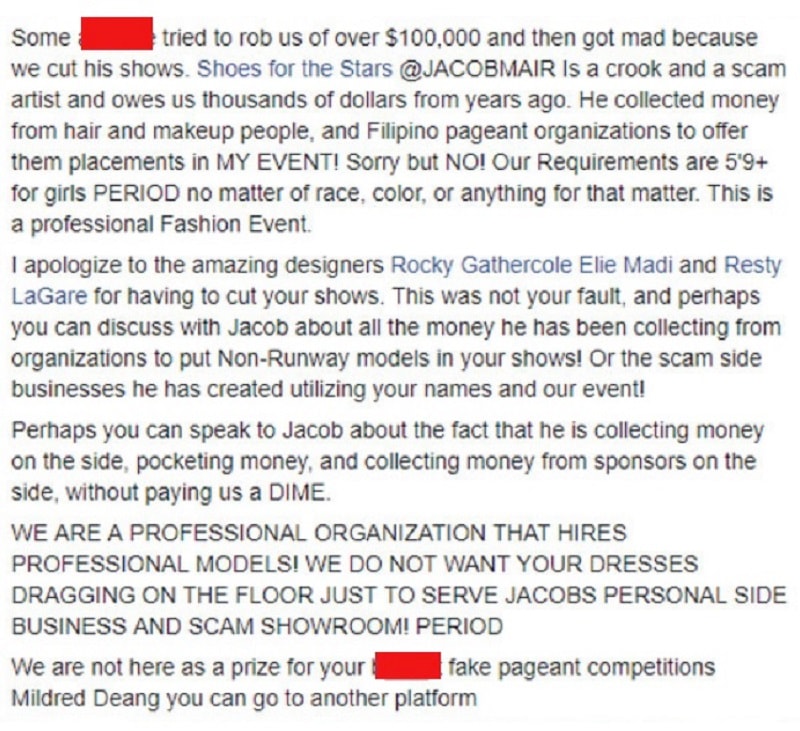 Meir told
ABS-CBN
in an interview that contrary to Rosete's claims, it was he who decided not to push through with the event because Rosete did not want to let these girls join.
He also denied owing Rosete the alleged debt, saying, "I wasn't obligated with any money to Erik Rosete. If anything, we were invited to do the shows to help him… If I owe him $100,000, would he invite me to another show, and another show, and another show? No."
Arthur Chipman, the executive producer of the official LA Fashion Week (LAFW) clarified to
Rappler
that the Art Hearts Fashion event organized by Rosete was actually not part of LA Fashion Week. The canceled event was supposed to take place from March 12 to 16, while LAFW will be held from March 16 to 19.
"Regardless, we are always super supportive [of] models of all shapes, sizes, and colors, and even our team is made up of amazingly talented people from the Philippines," Chipman was quoted as saying. "This season we are featuring many talented designers from Manila. The shocking and appalling statements made by Art Hearts Fashion Week organization does not reflect who we are, what we do, and how we represent our city of Los Angeles. We love the Filipino culture, its people, and talented creatives who always inspire us with their work."