Anh-Thu Nguyen, founder and president of non-profit Women in Aerospace and Aviation, has set her sights on becoming the first Vietnamese American pilot to fly solo around the world. 
Currently an Airline Transport Pilot and a Certified Flight Instructor (CFI/CFII/MEI) at AeroVentures Flying Club in Atlanta, Nguyen decided to attempt such a feat to inspire the next generation of female pilots.
So far, only eight women have successfully completed this global flight. 
By circumnavigating the globe, she intends to promote education in aerospace and aviation to all girls and young women around the world through her organization. 
As someone who grew up in poverty in a remote village in Tuy-Hoa, Vietnam, Nguyen understands the enormous obstacles for women with little means and opportunities to pursue a dream of becoming a pilot. 
Nguyen was at least fortunate enough that as a young girl, she received an education from a UNICEF-built school. She immigrated to the United States when she was 12, according to AOPA.
Through hard work and perseverance, Nguyen was able to overcome numerous struggles, including the language barrier and challenges within her education in a foreign country.
She graduated high school as valedictorian and landed at the top 10 graduates at Purdue University with honors. Some personal setbacks and challenges interrupted her training and it took her years before she finally obtained her private pilot license. 
In 2017, Nguyen became an AOPA Distinguished Flight Instructor, having taught hundreds of pilots and earning her Airline Transport Pilot certificate.
A. Nguyen, a CFI and Georgia Tech Ph.D Aerospace Engineering student in the Aerospace Lab! pic.twitter.com/vGo2o14Ipb

— pilot anh-thu (@womeninAA) June 22, 2019
Nguyen is currently advancing her education further by pursuing a Ph.D. degree in Aerospace Engineering from Georgia Tech.
Priya Thomas, the logistics officer at Women in Aerospace and Aviation, has lamented that despite Anh-Thu's success and many achievements, her presence still somehow raise eyebrows at many airports.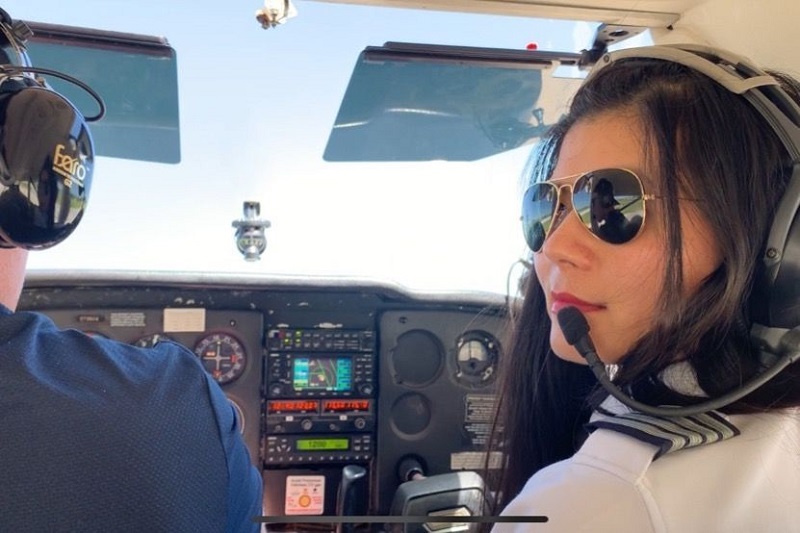 On many occasions, airport security personnel have denied her entry through the gate, with Nguyen constantly forced to explain herself and convince them that she's indeed a pilot. Facing such challenges inspired Nguyen to raise visibility and awareness to women in aviation, and to promote aerospace education for young girls. 
In her ambitious campaign, Nguyen is hoping to increase the number of women in the skies as female pilots make up only 6% of all pilots in the world. 
Please support Anh-Thu Nguyen, the 9th woman to circumnavigate the world solo in a single engine airplane! #womeninaerospace #womeninaviation #womenpilots #femalepilots #avgeeks #aviationphotography #aviation #aviationlovers #aviationdaily #WomenInSTEM #womenintech pic.twitter.com/OtywyTyWPx

— pilot anh-thu (@womeninAA) July 16, 2019
She plans to travel in a single-engine airplane to 25 countries from May 15, 2020, to July 1, 2020, covering approximately 26,800 nautical miles. Completing this global flight would place Nguyen among the world's firsts, and the first Vietnamese American, to do so. 
In support of her role model, Thomas has set up a fundraiser for Nguyen on GoFundMe with a $500,000 goal.
Featured Image via Twitter / pilot anh-thu