The "terrific conversation" Andrew Yang and Ben Shapiro had this weekend has some proclaiming that the Democratic presidential candidate could finally be a "unifier" of bipartisan America.
The two discussed a variety of topics on a "Sunday Special" episode of The Daily Wire's "The Ben Shapiro Show," which, according to the conservative political commentator, has sent invitations to other Democratic presidential candidates to no avail — until Yang accepted.
"First of all, I just have to thank you again for coming on the show because we've invited a lot of folks on the left, particularly members of the Democratic Party who are running for president. You're the only person who's accepted thus far and so we appreciate the conversation," Shapiro tells Yang. "It really does mean a lot to me that you would come on and I'm sure that you will get some slings and arrows for it."
"Well I hope I can set a trend," Yang responds. "I hope I'm the first but not the last."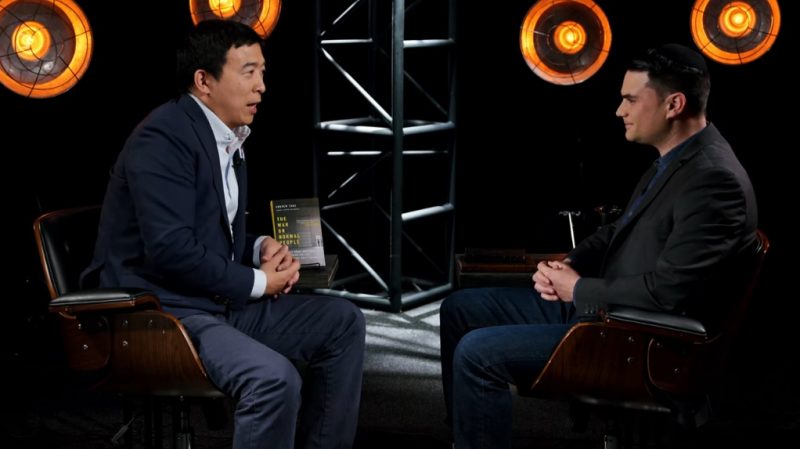 The conversation begins with Yang sharing his backstory and explaining the reason behind his candidacy.
"I'm running for president to wake up America to the fact that it is not immigrants that are causing economic problems. It is the fact that we're going through the greatest economic and technological transformation in the history of the country."
The 44-year-old entrepreneur refers to such transformation as the Fourth Industrial Revolution, which he says requires Americans to progress to the "next stage of capitalism" to sustain progress.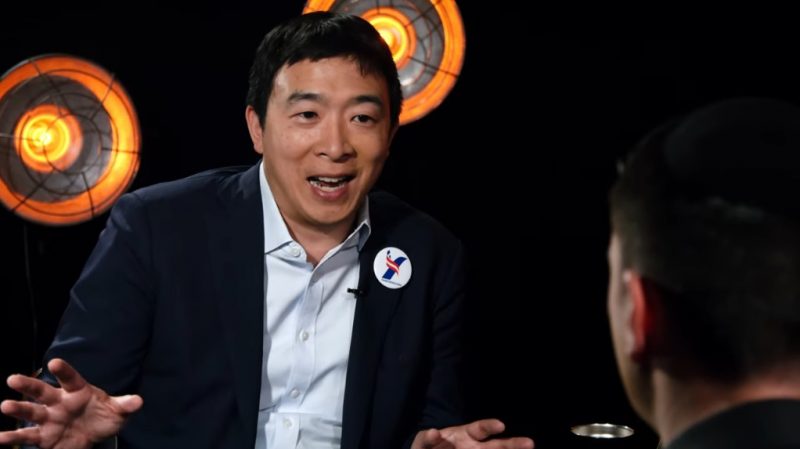 Shapiro then inquires about Yang's views on automation, citing people who are willing to restrict it — such as Tucker Carlson — in order to protect workers from displacement.
"Generally speaking, trying to stop automation is a loser over time because you might even be able to stick your finger in one part of the dam, but then something else is gonna break anyway," Yang explains.
"Like if we tried to say, 'Hey, you can't automate truck driving,' then there would be some other part of the economy where you'd look at it and say, 'Well I guess we're gonna automate away the warehouse workers,' 'We're gonna automate away the dock workers…' You can't stop at all."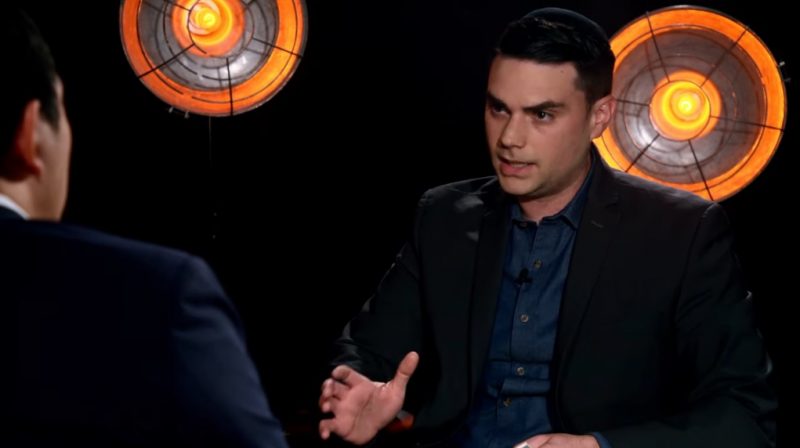 The discussion continues on topics such as the Universal Basic Income, Medicare-for-All and human-centered capitalism — Yang's major policies — as well as climate change and online misinformation.
While Yang and Shapiro disagreed on certain points, they also shared similar views on a few, including payment on college athletes.
"I totally agree with you that the NCAA should pay athletes," Shapiro tells Yang. "Frankly I think that we should stop college athletics altogether, which I will say right in the middle of March Madness. I don't even care man, because the fact is that if you're going to college and you're going to a top college not to actually get a degree, but we're going to basically bring you here for a year so that you can have a tryout for the NBA, and then they're going to make millions of dollars off you … totally on board with that one."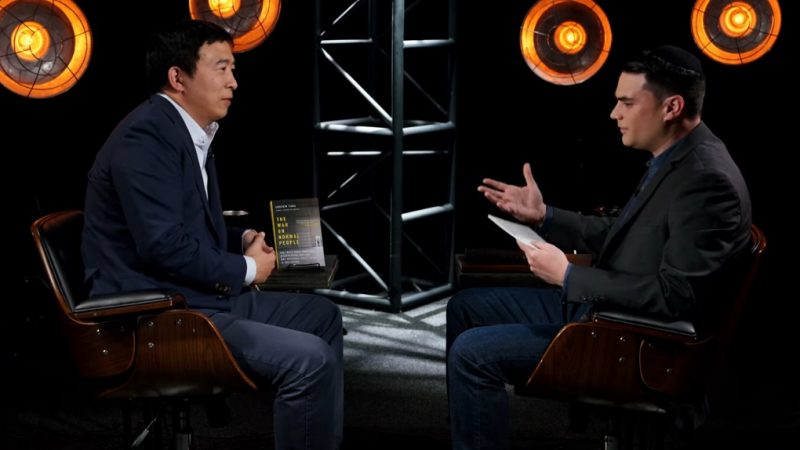 Yang, who qualified for the first Democratic primary debate, plans to give every American aged 18 years and above $1,000 a month (a.k.a. Universal Basic Income) that he would pay for with a VATS tax, implement Medicare-for-all, and devise new economic measures that maximize human welfare in business.
As of this writing, the episode has received 380,000 views, with people praising the respectful exchange.









Featured Images via YouTube / The Daily Wire