South Korean food delivery app Baemin announced on Friday that it will be launching a robot delivery service for Incheon International Airport's Terminal 1.
Starting June 18, flyers can have food and beverages from the airport's many cafes, including Baskin Robbins, Paris Baguette and Dunkin' Donuts, brought to them before boarding.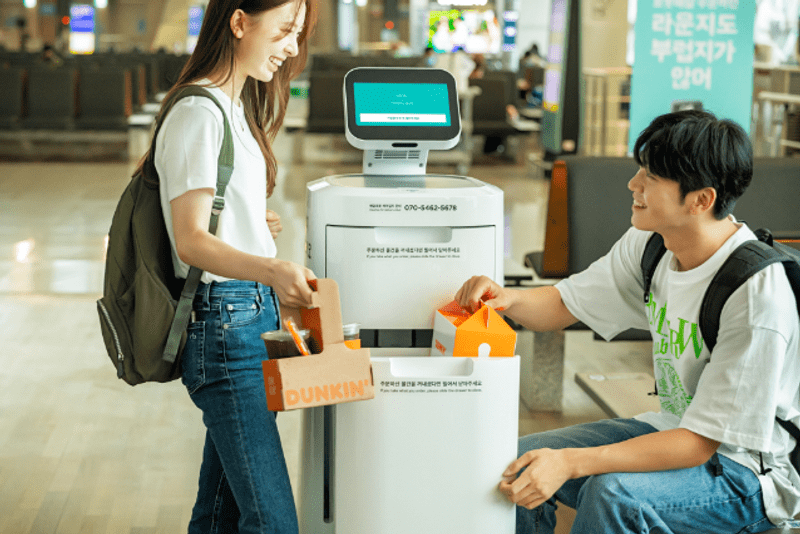 Customers will no longer have to wait in long lines and instead can scan a QR code located on every seat at each gate. 
To start off, there will be six LG Electronics' service robots, all named "Air-dilly," to speedily deliver the items. The plan is to gradually increase the number of stores and robots. Businesses will not be charged a fee for the delivery service.  
Air-dilly has two cabinets and can carry up to 17 kg (37.48 pounds) of goods to even the airport's farthest gate— 820 feet away from all of the cafes and bakeries. It is currently used in hospitals and offices throughout Korea.
Joseph Kim, head of Robot Delivery Service Group for Woowa Brothers, which is the operator of Baemin, stated that the company intends to "create an era where one can easily order through app and receive delivery at one's seat not only at Incheon Airport, but also various places and situations."
The robot delivery service will be available from 9 a.m. to 5 p.m.
Featured Image via Woowa Brothers (left) and Seoul Walker (right)