Asian Americans and
Pacific Islanders (AAPIs) saw the largest gains among first- and second-generation U.S. immigrants in state legislatures in 2022, a new report has found. 
Twenty-seven first- and second-generation AAPIs were newly elected to this year's legislative session, bringing the total of AAPI lawmakers to 103. The group now composes 34.7% of the new immigrant-held legislative seats across the U.S.
Trailing AAPIs were Latino (24), Black (10), Middle Eastern and North African (3) and multiracial (2) legislators. Of significant note were Black women and Latinas, who outnumbered their male counterparts by making up 58.15% and 54.03%, respectively, of the newly elected.
The insights are detailed in a
new report
by New American Leaders
, a nonpartisan nonprofit that empowers "New Americans" — first and second-generation U.S. immigrants — to run for public office.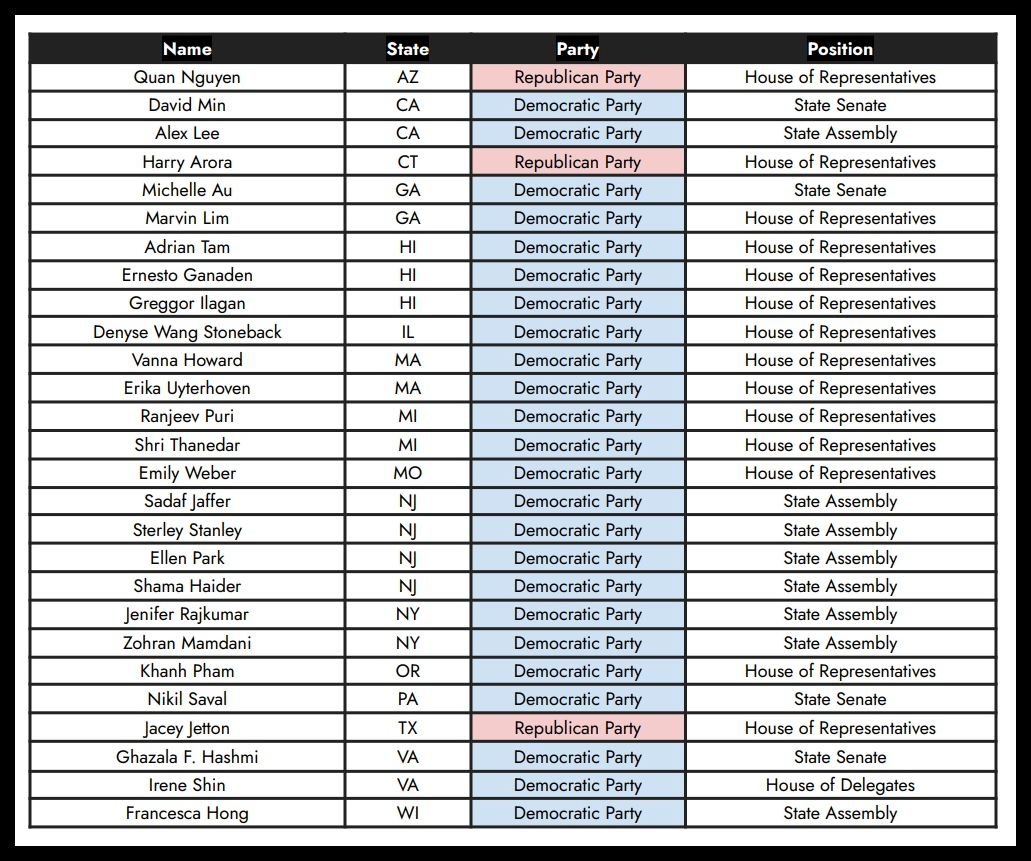 In an interview with NextShark, President Ghida Dagher said both generations share similar experiences.
"We define 'New American' as individuals who are immigrants or the children of immigrants. While this definition is not used universally, we choose to include second-generation Americans, given that they share many of the same challenges and opportunities as first-generation immigrants," Dagher said.
Subscribe to
NextShark's Newsletter
A daily dose of Asian America's essential stories, in under 5 minutes.
Get our collection of Asian America's most essential stories to your inbox daily for free.
Unsure? Check out our Newsletter Archive.
"From overcoming language barriers and establishing roots in a new community to fighting discrimination, these experiences are shared across both first- and second-generation Americans."
The new report includes data on the citizen voting age population (CVAP), which only includes naturalized citizens. This makes it challenging to reflect the exact numbers of first- and second-generation immigrants in the country, but Dagher said they tried to include "as many first- and second-generation elected officials in our data on elected officials as possible."
"Our data currently shows that first- and second-generation AAPI legislators are serving in nearly equal amounts," she said.
Meanwhile, the surge in AAPI representation appears consistent with national trends, as AAPIs
continue
to be the
fastest-growing racial group
in America. Dagher attributes this heightened political participation to the need to combat
anti-Asian hate
, which has become progressively worse amid the COVID-19 pandemic.
"We've seen an increase in participation from New Americans from all backgrounds over the last several years. But especially in the wake of rising anti-Asian hate, we have seen an increase in AAPI leaders stepping up to organize their communities, advocate for change and run for office," Dagher said.
"We also see that in places like Georgia and New Jersey, where the AAPI community is rapidly growing, more Asian and Pacific Islander candidates are running for office because they do not see themselves or their communities represented. They are running — and winning — community-centered campaigns that appeal not only to New Americans, but to all people. We know that when New Americans are in office, everyone benefits."
Heightened political participation by the AAPI community comes as massive underreporting continues to distort actual numbers of anti-Asian incidents. Since the attacks began with the onset of COVID-19, victims have reportedly been
too afraid to speak up
, let alone bring their experiences to court.
Vying for office to enact concrete, tangible measures is a direct solution. Dagher said New Americans get involved in politics for the same reason any other American does: because "they want to see change in the policies affecting their communities."
"Too often, New Americans see that their communities are being left out of key conversations and are hurt by policy decisions made by elected leaders who do not share their experiences or values," Dagher said. "Just like any other American, they get tired of having their needs and priorities ignored by the people they elected to represent them. While some turn to organizing their communities or working with local issue-based organizations, others decide to run for office themselves to create the change they want to see." 
Dagher added, "At New American Leaders, we empower all of our participants to recognize that while they may not have the same background or networks as 'typical candidates,' they have the skills, heart and experiences needed to run, win and lead."