New Year's Eve
in the Philippines is not complete without the practice of a few quirky superstitions and traditions.
The day before Jan. 1 sees one of the biggest festive celebrations in the Philippines. In addition to the typical fireworks, many Filipinos celebrate with traditions associated with past generations' superstitions and beliefs: 
1. Wearing polka dots
The polka dot pattern is believed to bring in wealth and prosperity. The round shapes symbolize money and fortune. Filipinos may wear dresses, shirts, pants, shoes or any accessories with the polka dot pattern to welcome the New Year's blessings.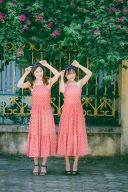 2. Crisp bills and pockets full of coins
In the Philippines, spending money is discouraged on New Year's. Many believe that starting the year without spending money can lead to wiser financial management and steady income for the rest of the new year. In fact, there are Filipinos who believe staying home during New Year's Day is best to avoid spending money altogether.
Instead, a common practice among adults is to keep or replace the bills in their wallets with fresh, crisp ones in the hopes their pockets will remain full in the new year. As for the children, they are advised to fill up their pockets with coins. Some Filipinos also scatter coins around their houses. Just like wearing polka dots, the round shapes are also said to attract wealth. 
Subscribe to
NextShark's Newsletter
A daily dose of Asian America's essential stories, in under 5 minutes.
Get our collection of Asian America's most essential stories to your inbox daily for free.
Unsure? Check out our Newsletter Archive.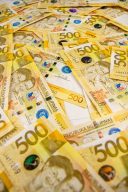 3. Leaving all doors and windows open and lights turned on
There are also Filipinos who believe that opening the doors and windows of their houses will invite blessings and positivity in when the clock strikes midnight. Meanwhile, turning on all the lights in the house is important to many, as it signals a brighter future ahead. With lights on and open doors, it's a very literal way for good luck to enter their homes.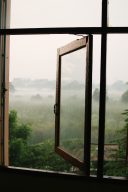 4. Media Noche celebration
New Year's Eve is not complete without a midnight feast. The most important tradition for most Filipinos is the Media Noche, which is a Spanish term that translates to "midnight" in English. To celebrate New Year's Eve, families, relatives and friends gather for a feast, wherein the food served may also be a symbol for ushering in prosperity in the year ahead.   
The table's centerpiece usually includes 12 different round fruits, which is again the shape associated with fortune. The number of fruits is said to represent the months of the year. For others, it may be 13 fruits, as the number is considered lucky. The round fruits may include grapes, apples, oranges or watermelons. But fruits with thorns like pineapples or jackfruits are normally avoided, as its spikes may symbolize problems.  
Another Filipino New Year's Eve staple is the dish pancit. Most Filipinos serve pancit (long noodles) as it symbolizes good health and long life. Some even believe that you shouldn't cut the noodles, as it may defeat the purpose. 
Many Filipinos are very family-oriented, which is why one of the oldest New Year's food traditions in the Philippines includes eating rice cakes or sticky rice. Many believe that eating sticky treats during New Year's will strengthen family ties as well as ensure good fortune will stick to them and their family. The most popular rice cakes include biko (sweet rice cake), bibingka (​​baked rice cake) and tikoy, which came from Chinese influence known as Nián gāo (Chinese New Year's cake).
5. Jumping and making loud noises once the clock strikes New Year
Finally, when the clock hits midnight and the New Year begins, children are encouraged to jump as high as they can in hopes of getting taller. There's no science behind it but many Filipinos and even adults have done it and continue to do so. 
To satisfy one last superstition before they may rest to watch the fireworks, many Filipino families create as much noise as they can to complement the loud firecrackers. This is believed to drive away bad luck and to scare away evil spirits. Children may blow their party horns — known as "Torotots" — fathers may make their car alarms go off and continuously honk, mothers may drum on their kitchen pans and the whole neighborhood is filled with greetings of "Happy New Year!"