Air Force Col. Bruce Hollywood was given up for adoption by his biological Japanese mother soon after his father, an American soldier once stationed in Japan, was reassigned back to the United States.   
Adopted in 1960 by an American couple who were stationed at a U.S. military base in Japan, Hollywood was provided a good life in America, according to the Washington Post. 
"I always knew I was adopted because I had Asian features and [my father] was an Irishman and [my mother] was a Norwegian lady,"
the 57-year-old airman was quoted as saying. 
"And they always told me, '…We picked you out special. So you're even more special than everyone else.' "
He was content with his life growing up and never really reflected on his adoption that much. Later on, his adoptive mother would encourage him to look for his birth mother. 
While he had no plans of taking such an endeavor, a heart attack in 2005 changed his mind. Hollywood was being rushed to an army hospital when he realized how much of a regret it would be to not meet and thank the woman who gave birth to him.
Soon after his recovery, Hollywood started his quest to find his biological mom by seeking help from the Japanese Embassy and the U.S. Embassy in Tokyo. 
However, the information his adoptive parents gave him was not enough to find her. Even hiring a private detective did not help, so he eventually gave up.
A chance encounter with another military man a few months later would give him renewed hope in his search for his mom.
He met then Adm. Harry Harris, whose mother was Japanese, at a wine bar in an airport on his way to a military conference in Germany.
"I told him the story about having the heart attack and wishing I could find my mother. And he said, 'Bruce, I can help you.' And I said, 'You know what, you're an admiral and all, but you can't. I've been to the embassy. I've tried this, and you just can't help any.' "

"You know, Bruce, seriously, I can help,"
an adamant Harris said.
Just ten days after Hollywood gave Harris the information he had, he received a call from the Japanese Embassy.
Subscribe to
NextShark's Newsletter
A daily dose of Asian America's essential stories, in under 5 minutes.
Get our collection of Asian America's most essential stories to your inbox daily for free.
Unsure? Check out our Newsletter Archive.
"Colonel Hollywood we're really pleased to tell you that we found your mother, Nobue Ouchi,"
the caller said.
In minutes, he was on a conference call with his mom and an interpreter. His mother, who did not speak English, was crying as she spoke. 
The interpreter explained:
'Well, tomorrow is your mother's 65th birthday, and the birthday present that she dreamed of her whole life is that you would come back to her."


According to the interpreter, his mother never married,
"because she said in her heart there was only room for one man. And it was you, and she knew you would be back."
Then the interpreter went on to reveal that his mother ran a restaurant which she named Bruce.
Shocked that her business was named after him, Hollywood thought it was too good to be true. 
"And I thought, 'This is either the most incredible story I've ever heard or this woman is crazy, and these things aren't true,' "
Hollywood said.
He would later learn that Nobue had known his name before his adoptive parents brought him to the United States.
They gave her a photograph of the baby who they had named him Bruce. They promised her that they will give him a good life.
When Hollywood arrived at his mother's home in Shizuoka, Japan ten days later, he found that all she said was true, including the restaurant she had named after him.
His mother told him that his birth father was shipped home to South Carolina just as he had started the paperwork for their marriage.
It took many months before Nobue received a call from him. Believing he could not be trusted, she refused to talk to him. She also did not tell him that she was pregnant.
Realizing how it would be extremely difficult to raise a mixed child at that time, Nobue decided to give him up for adoption despite her father offering to support her and the baby.
The baby ended up under the care of American couple Edward and Eleanor Hollywood, who were both stationed with the U.S. Air Force at a military base in Japan. 
Aside from revelations about their past, their first meeting was also filled with moments when they bonded over chats and walks together.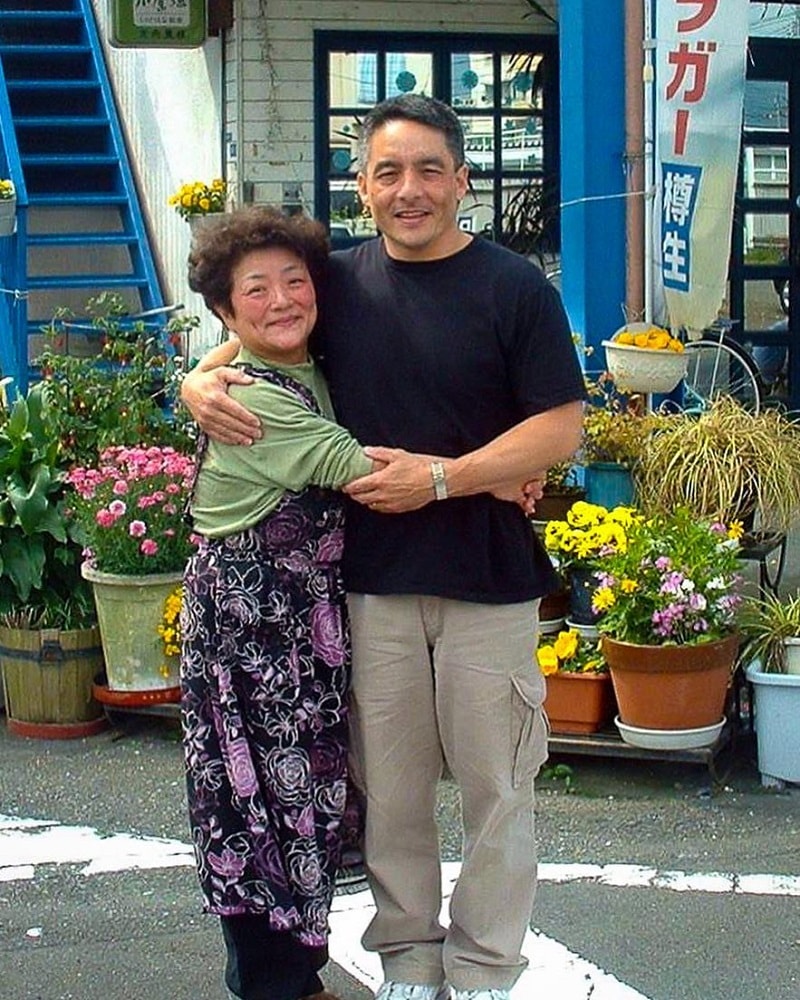 They met multiple times after that, with Hollywood often visiting Japan and bringing her to Washington. 
To communicate more effectively, both of them began taking language lessons, with his mom studying English while he studied Japanese.
In 2009, just three years after their heartfelt reunion, Nobue died of a heart attack.
According to Hollywood, finding his mother allowed himself to identify as a Japanese American.
He had previously not known about the internment of Japanese Americans during World War II.  Nowadays, he is active in the Japanese American community, serving on the boards of the Japanese American Veterans Association and the National Japanese American Memorial to Patriotism in World War II.


"The last 12 years, I finally became a Japanese American. Before that, I had no Japanese American identity. I just had Japanese American features. … But as I got integrated into this community, I ended up becoming incredibly proud of this heritage that I had,"
he said.
"I've got to tell you if I didn't live it, I almost wouldn't believe it."
Hollywood's story of his mom is similar to the many experiences collected in an archive about Japanese women who married American GIs after World War II. The insightful project, called "Japanese War Brides: An Oral History Archive," was collected by Kathryn Tolbert, who, like Hollywood, is also a child of a war bride.