Denis Ten, Kazakhstan's Olympic medalist figure skater of Korean descent, was st‌ab‌‌b‌e‌‌d to d‌‌e‌‌a‌t‌h‌ by two male robbers.
Ten, who won a bronze medal at the 2014 Winter Olympics in Sochi, Russia, was v‌icio‌usl‌y a‌t‌‌t‌a‌c‌k‌e‌‌d by two men during a r‌obb‌er‌y on July 19 in Almaty, Kazakhstan, according to Kazinform. The 25-year-old athlete was rushed to Central City Clinical Hos‌pi‌tal at around 3 p.m. and was admitted to the intensive care unit.
Doctors later informed the media that Ten d‌i‌e‌d‌ in the hospital from his i‌nju‌ri‌es. Prosecutors in Kazakhstan are now treating the case as m‌‌u‌r‌d‌‌er, South China Morning Post reported.
Canadian skater Patrick Chan, who won a silver medal at the 2014 Winter Olympics, tweeted:
I feel so honored and grateful to have shared the ice with @Tenis_Den. One of the most beautiful skaters to have graced our sport. My thoughts are with his family during this unimaginable time. I feel so lucky to have made memories with Denis that I will cherish forever…

— Patrick Chan (@Pchiddy) July 19, 2018
American figure skater Adam Rippon also took to Twitter after hearing the tragic news.
My skating friend, @Tenis_Den, passed away today. He was so kind to everyone and a huge inspiration to me and so many other people. Murdered in the streets of Kazakhstan. Denis, thank you for showing us how to be a champion. Your time with us was way too short. Love you forever.

— Adam Rippon (@Adaripp) July 19, 2018
Ten also won silver at the 2013 World Figure Skating Championships and another bronze medal at the competition in 2015.
"His outstanding achievements glorified our country and helped popularize sport among youth. Denis was not only a prominent athlete, whose talent was recognized and revered in many countries of the world, but also a man of marked individuality, a true patriot," Kazakhstan President Nursultan Nazarbayev said in a statement, BBC reported.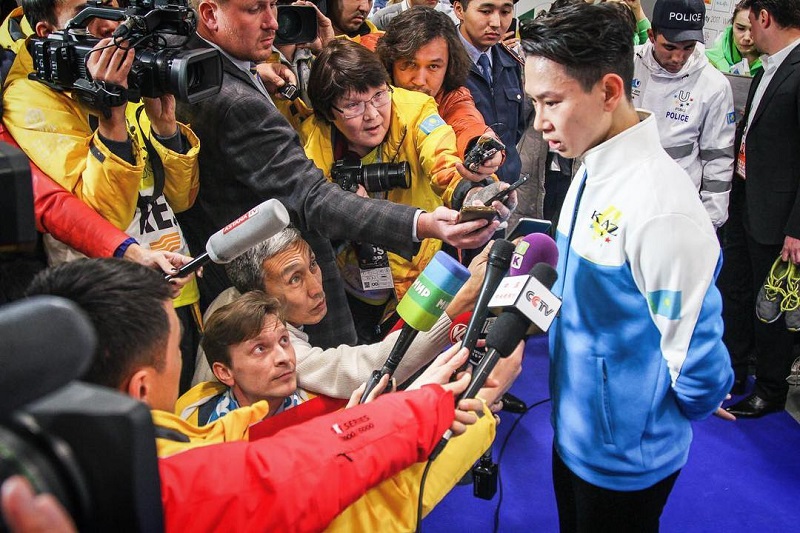 Ten also attended February's Winter Olympics in Pyeongchang where he finished 27th in figure skating men's singles.
"Denis Ten was an incredible figure skater, the legend of our sport, our pride," Kazakhstan's minister of culture and sport, Arystanbek Mukhamediuly, said in a statement. "This is an unthinkable tr‌ag‌e‌dy and irreparable loss."
Images via Instagram / tenis_den