The K-beauty market has transformed into a multi-billion dollar industry, bringing in over $13.1 billion in 2018.
Korean skincare products alone are projected to be worth roughly $7.2 billion by 2020.
From Asia to Europe, these picture-perfect products, nicely wrapped in millennial pink packaging are heavily advertised by well-known celebrities and influencers who have supposedly achieved their perfect skin by using these miracle products. With enough repetition and limited understanding of marketing, it could be easy for some to fall under the spell of these multi-billion dollar companies.
But of course, this doesn't paint the full picture.
I've known many people who have seen and experienced the benefits of these products first hand. I've personally sworn by K-beauty and skincare products for most of my life and it's always worked brilliantly. Until it didn't.
While I was fortunate enough to never struggle with acne through my teens, I was hit with hormonal acne in my early 20s. I realized then that acne was far more complicated than dealing with a few embarrassing red pimples in high school —  hormones, genetics, stress, among other variables, can play a large role in breakouts, including adult acne.
In the case of hormonal breakouts, I discovered charming skincare products had little to no effect. Desperate to avoid taking medication, I reached out to a local Korean skincare clinic that offered acne treatments.
Bloom Medical Aesthetics in Irvine, California
specializes in various skincare and medical procedures, from microneedle therapy to dermal fillers. I chose to go through their acne treatment and booked five facials, spacing them out to every two to three weeks so my skin would have enough time to heal in between sessions.
The regimen is said to focus on blackheads, whiteheads, acne blemish treatment, and preventing new breakouts. While treatment methods can vary for different skin types, the acne facial exfoliation and extractions are carried out by their trained estheticians. 
Subscribe to
NextShark's Newsletter
A daily dose of Asian America's essential stories, in under 5 minutes.
Get our collection of Asian America's most essential stories to your inbox daily for free.
Unsure? Check out our Newsletter Archive.
For the first session, I was led into a little room with gentle music playing then told to climb into the spa treatment bed with a heated mattress pad. And shortly, the esthetician came in to begin the procedure.
While acne treatments vary depending on the client's skin type, acne type and the esthetician themselves, these steps are generally practiced universally: cleansing, exfoliation, steam, extractions, vacuum pore cleaner, LED treatment, face mask, cold therapy machine, moisturizer and SPF.
The first step is to cleanse, removing all makeup, dirt and oil on your skin to create a clean canvas. Then, the esthetician exfoliated my skin using a gentle enzyme peel.
Social media advertising often promotes mechanical exfoliant products such as face scrubs, containing large particles like sea salt, apricot and walnut seeds, or brown sugar. However, these jagged particles can create micro-cuts on your skin, making it even more prone to bacteria and breakouts. The enzyme peel, on the other hand, is velvety and feels just like a normal cleansing product but leaves your skin feeling smooth.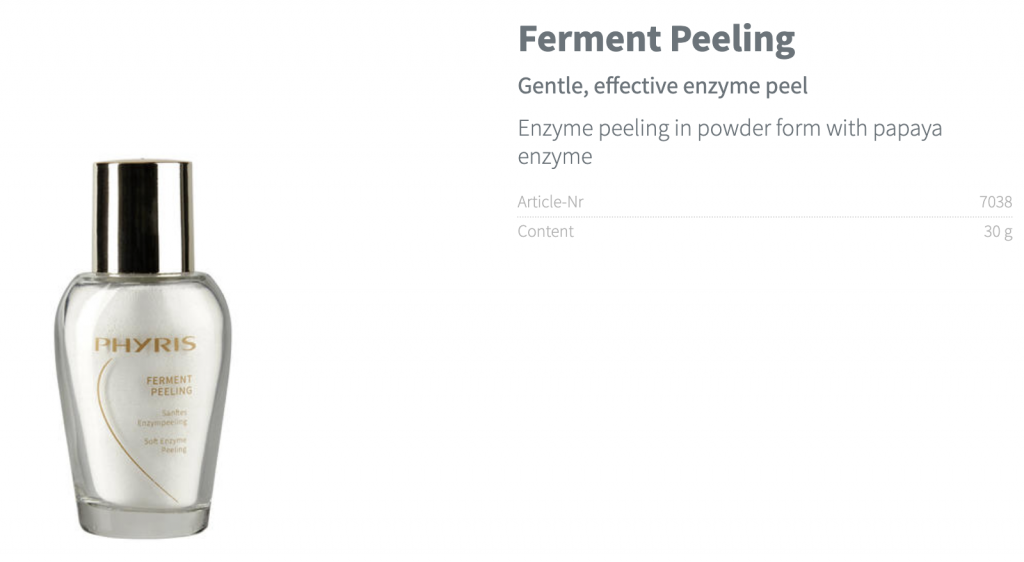 Next, to prepare the skin for extractions — the main event — a steam machine was used to open up the pores. The extraction is basically like being in an episode of Dr. Pimple Popper, and yes, it can be painful. Using an acne removal needle, they stab the pimple and extract the pus using a loop-shaped tool.
After this ordeal comes the fun part — the vacuum pore cleanser. The neat little machine sucks all the gunk out of your pores and looks insanely satisfying. Following all of the extractions, they will apply the stinging anti-inflammatory acne medicine.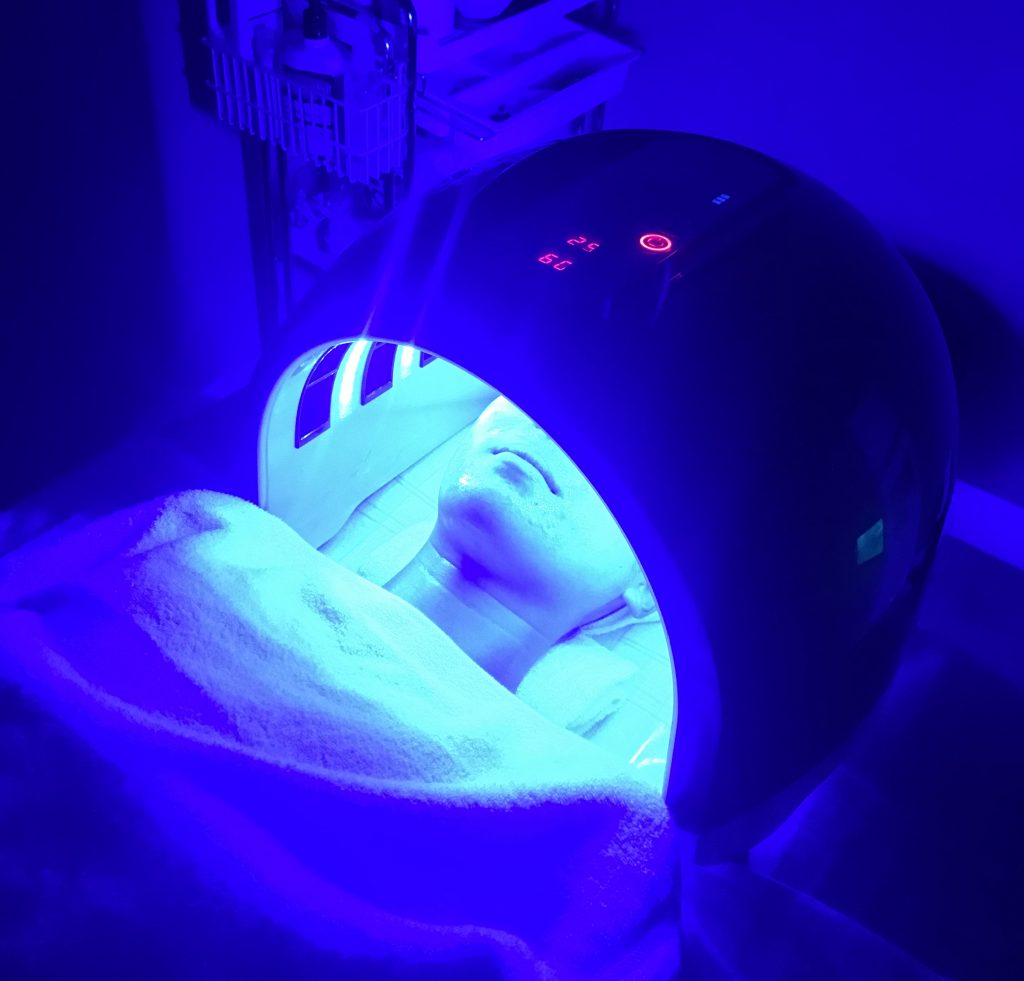 Then, they placed a funny-looking LED light dome over my face. LED light therapy has been gaining popularity over the past year with compact versions of this tool being sold for at-home use. The blue LED light kills acne-causing bacteria and although it may look a bit silly, it has been proven to be effective for many adult-acne sufferers.
Towards the end of the treatment, they put on a cool face mask which immediately made my skin feel calm and relaxed. To conclude the facial, the esthetician used a cold therapy machine to tighten up my pores again and applied moisturizer and SPF 50 suncream to protect my skin from the relentless Californian sun outside.
After each session, I noticed my skin felt noticeably smoother despite being red and sensitive from the extractions. For the next week, there were minor acne scabs that healed up and fell off within just a few days.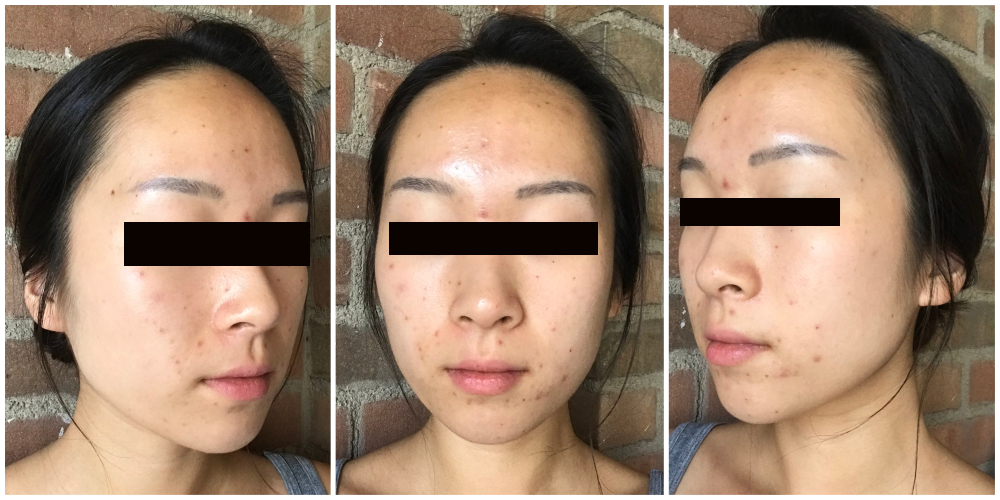 After the first session, there was an immediate improvement. Although acne treatments are far from miracle workers and take patience for visible improvement, it nevertheless improves the texture of your skin.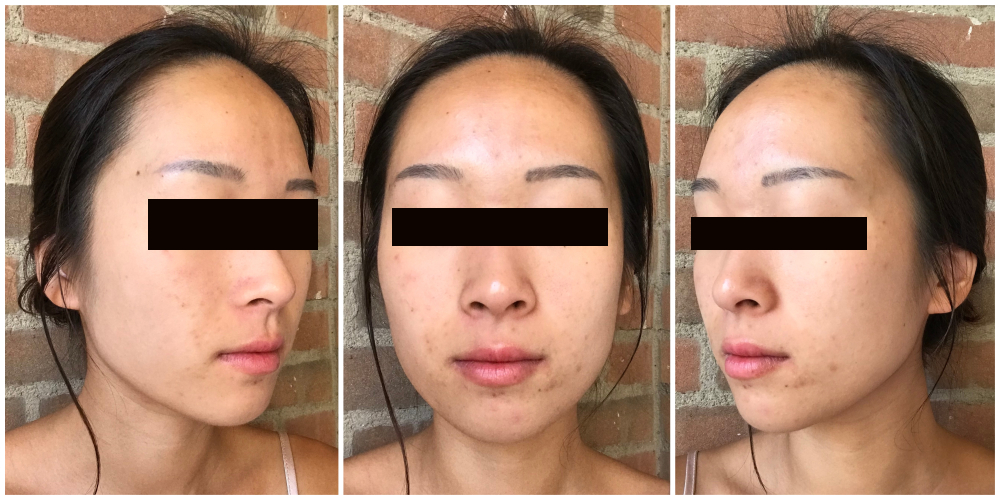 Around the third and fourth sessions, I noticed the acne had significantly gotten better, although I was left with some scarring where the breakouts were most concentrated.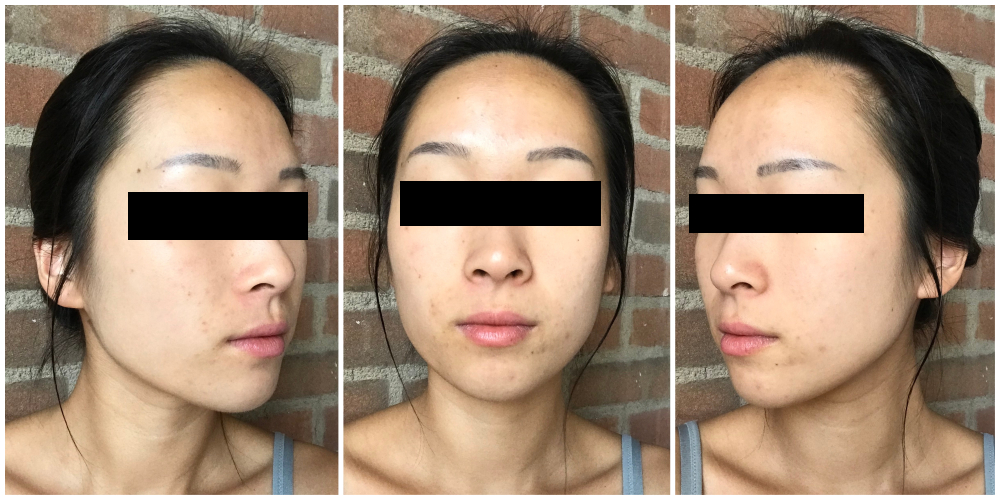 By the end of the fifth and final session, I had little to no spots, just minimal scarring which I'm sure will fade after some time. My skin texture and discoloration had significantly improved and in general, my skin looked much healthier.
Before my decision to turn to a Korean skincare esthetician, I'd explored countless top-rated acne products, but to no avail. I've invested in both Korean and non-Korean products, changed my diet and dedicated hours to research for at least a couple of years, but in just a matter of 5 sessions, the acne treatment was able to clear my face in ways "Sephora's top-picks" couldn't.
I've come to realize once again that the beauty and skincare industries are built on clever and repetitive marketing tactics. While billionaire celebrities such as Kylie Jenner promote their own skincare lines claiming this to be their secret to flawless skin, the truth is that they have unlimited funds to spend at the world's best dermatologists and beauty clinics and likely never actually go near the products that they promote.
Repetitive targeted advertisements on Instagram and Facebook from paid influencers can be highly convincing or at least make you slightly curious. However, these aesthetically pleasing, heavily photoshopped images are nothing but deceptive ads.
Acne treatments aren't exactly miracle workers either, it takes consistent visits to the clinic and patience to see real results. It's tempting to stop receiving treatment immediately after your skin clears up but especially in the case of hormonal acne, halting treatment could mean your acne coming back just as quickly as it went away.
These facials, however, do seem to at least deliver real results. My skin is the clearest it has been in years since starting these treatments to the point I no longer feel the need to wear foundation every day, and for that, it was worth every penny.