A volunteer diver d‌ie‌d while working to rescue the young boys who have been trapped deep inside a cave in Thailand for almost two weeks.
Former Thai Navy SEAL Saman Kunan, 38, was placing oxygen tanks inside the cave around 1 a.m. on Friday when he reportedly d‌ie‌d due to lack of oxygen.
Fallece un buzo en las tareas de rescate de los niños atrapados en una cueva de Tailandia https://t.co/bAK8lkkBtb pic.twitter.com/xQH5YvFado

— eldiario.es (@eldiarioes) July 6, 2018
"His job was to deliver oxygen. He did not have enough on his way back. It was sad news," Chiang Rai Deputy Governor Passakorn Boonyaluck was quoted as saying.
Tasked with delivering oxygen to the location of the 12 soccer players and their coach, Kunan lost consciousness upon his return. He was given first aid but subsequently died.
Rescuers have become increasingly concerned about the dropping oxygen levels inside the cave as the rescue effort continues.
Per one way trip, each diver takes around five hours treading a long and dangerous path to deliver three heavy oxygen tanks to the trapped boys.
Despite the unfortunate death, the volunteers have vowed to continue providing the boys with oxygen as the planned extraction, which involves the boys swimming out of the cave with divers, could still take months.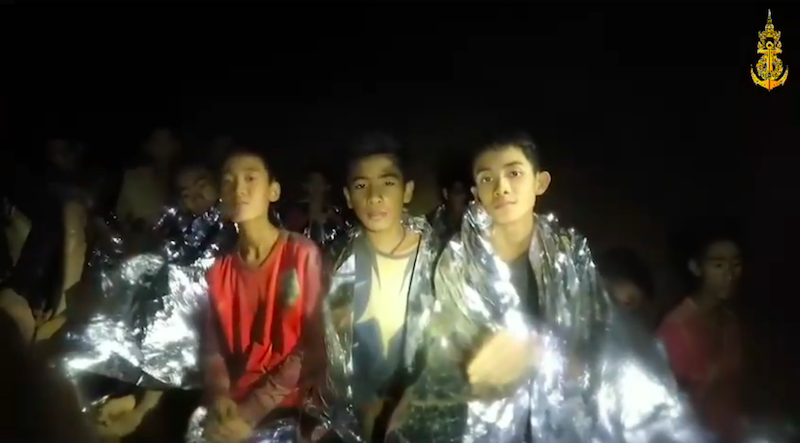 "We have to try everything," a representative of the rescue team told The Guardian.
"We will soldier on," Thai SEAL commander Arpakorn Yookongkaew said. "We won't let our colleagues d‌i‌e for nothing."
Over a hundred Thai Navy SEALs are working together with divers and experts from Australia, the U.S., the U.K., China, and other countries in the rescue effort.

In a statement posted on Facebook on Friday, the Thai Navy SEALs honored their former colleague with a touching tribute.
"Saman Kunan… was a skilled and talented Seal and a triathlon athlete. He loved adventurous sports. Even after he departed the Seal unit, he still kept in touch and maintained a tie with the rest of his former colleagues. He always participated in the Seal activities until the last step of his life. Saman left us while working as a diver and in a time where all divers joining forces to complete the mission. His effort and determination will always remain the hearts of all divers. May you rest in peace and we will accomplish this mission as you had wished."
Thailand's king also announced that the fallen hero will receive a royal-sponsored funeral.
Featured Image via YouTube / Guardian News